Taiwan singer Melody Chiang, or Jiang Meiqi, released her new album A Poem in Lover's heart earlier this month. Her new work has aroused greatly differing reactions among fans, with some considering it to represent the best of Melody Chiang, while others are disappointed by its experimental blend of poetry and song.
The thing that's so special about Melody Chiang's new album are its poetry extracts, which are read between tracks by famous celebrities, including singer Rene Liu Ruoying, actresses Zhao Wei, and even Melody herself. Although some fans don't like this new experimentalism, these spoken word interludes are designed to create a poetic atmosphere for the actual songs.
For those who love the old Melody, the song Love Letter in the Past appeals in a similar manner to her previous expressive ballads. In fact, it has been touted by some as the most touching love ballad of 2005. The song's based on the lyrics writer Yao Qian's own experiences. When he was tidying up his belongings before moving house, a love letter fell out from its hiding place of many years. Inspired by this chance event, Yao Qian inked his overwhelming feelings into song. This slow ballad combines guitar, vocals, and a reading from Rene Liu Ruoying, to create an atmosphere that is both poetic and touching.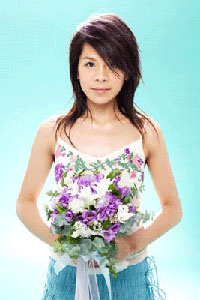 Mustard is not spicy is a rock song produced by the Taiwan "Godfather of Pop," Lee Tsung Sheng, for his upcoming musical extravaganza The Song of Film, which celebrates the first hundred years of China's film industry. Within this specific song, a rock and roll style musical arrangement and bold lyrics express the character of a straightforward, outspoken girl. Maybe even mustard isn't spicy in comparison to her.
Melody rose to fame with slow ballads such as I'm OK and You're In Love. Although many of the tracks on this new album are still slow songs, we can see that some of them are influenced by the guitar style of Brit-pop style. Whatever the style, the album's composers have adapted them so that they are suitable for Melody's voice, with songs such as My Heart Is As Deep As the Sea, and Who Believes.
Some of the songs on this album, including Is this love, No Name and One day, are dedicated to Melody's father who passed away last year when she was rehearsing for a music drama. Despite this enormous and grievous loss, she somehow managed to finish the musical. For example, the song One Day expresses her memories surrounding her father.
Music fans may have differing opinions about this new album, but one thing is for sure -- this is the the first album within the Chinese speaking world that's a hybrid of poetry and songs.
(Source: CRI.com June 23, 2005)