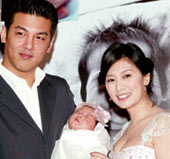 Taiwan's hot entertainment TV show "Kang Xi is Coming" has a new, albeit temporary, face. Actress Jia Jingwen has taken over the role of hostess for the mother-to-be Xu Xidi. Jia is an old hand at the mothering thing after giving birth last June, or that's what she thinks. After only four months of being the supreme caregiver, Jia is back at work. She denies rumors that she needs to earn "milk money," and says, "I'm back at work because I am enthusiastic about acting." Or maybe she is just unenthusiastic about whiling away the days alone with her baby while pinning for her man.
Jia, 35, is a single mother. Her boyfriend and the baby's father is Sun Zhihao, a filthy rich logistics businessman. Rumors abound about Jia and Sun's imminent wedding, but there always seems to be an excuse for the delayed affair. While Jia was waiting with a bun in the oven, Sun immersed himself in the busy season at his logistics company, thus conveniently missing the proper time for a marriage before Jia ballooned. A pregnant bride would just not do, so time passed without wedding bells. Now Jia is back to her slim frame, a wedding may do, but Jia is stilling waiting for her baby's father to pop the question.
During a recent party for the baby, both families looked happy. Sun's mother even gave Jia a gold rose pendant that is valued in the millions. Some speculate that the rose may be a peace offering by Sun's mother who has made her dislike of Jia no secret (apparently mother dear thinks Jia is too low class for her precious boy) and has worked hard to make sure a wedding did not take place.
But the old bat isn't the only one standing in the way of a happy marriage. Sun has been seen gallivanting around town with various women during Jia's pregnancy and after. He even spent an entire night with his former lover. In facing these obstacles, many believe that Jia's enduring love and position as a sophisticated single mother is impressive. Nonetheless, her status stays the same as the woman likely to marry Sun.
After only a few months of motherhood, Jia is back on her feet and has even gotten the show to change its name from "Kang Xi is Coming" to the "Kang Yong Report." This change signifies that Jia has no intent of stopping her career to mother her wee one full time.
Jia's first guest was the popular and active politician (and playboy) from Taiwan, Li Ao. After just finishing a high profile trip to the mainland, Li, 70, is back in the spotlight. During the interview, Jia raised a few eyebrows, and maybe more, when she jumped into Li's lap to conduct the interview. "Mr. Li is never strict to a pretty woman," says the flirty Jia.
While sitting on an old politician's lap has created a buzz, most are still concerned with Jia's decision to return to work so quickly. Does she need the money to feed herself and her child or is she just bored of waiting for a man to make her complete? Regardless of her motives, a sexy, independent mother is undoubtedly better than a desperate housewife.
(Source: cityweekend.com.cn October 31, 2005)