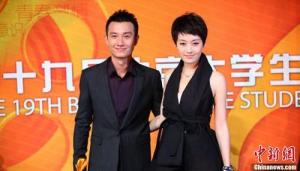 Chinese actress Ma Yili (right) and her actor husband Wen Zhang (left)attend the awards ceremony of the 19th Beijing College Student Film Festival in Beijing, on April 26, 2012. [chinanews.com/Li Xueshi]
Chinese actress Ma Yili, who has always kept a low profile, has recently become an Internet sensation with her response to her actor husband, Wen Zhang, who recently admitted having an affair with Yao Di, his co-star on the popular TV drama Naked Marriage. Wen's admission of his affair with Yao came only after photos of the two sharing an intimate moment surfaced.
On the morning of March 31, 2014, Wen posted a message of apology to Ma for his marital infidelity on Sina Weibo, China's twitter.
Shortly afterwards, Ma, who gave birth to the couple's second child earlier this year, responded on Sina Weibo: "Being in love is easy; being married is not. It is to be cherished," which had more than 700,000 retweets and more than a million comments.
Ma and Wen were recognized as a devoted celebrity couple, though Ma was eight years older than her husband.
Born in Shanghai in 1976, Ma started her acting career in a 1994 TV drama called Vacuum Love Records, known as China's first youth idol drama, in which her sweet appearance and strong-willed character left a deep impression on the audience.
For many years, Ma sporadically appeared in a smattering of works, and in general she kept a low profile in the entertainment world.
In 2000, a popular TV drama, Black Hole, put her acting career back in the spotlight. Afterwards, Ma acted not only in historical dramas, such as Princess Pearl 3 (2003) and Qiao's Grand Courtyard (2006), but also in modern life dramas, such as Happy Family (2001) and Don't Say Love Is Bitter (2007).
In 2005, Ma met Wen after they both worked on a TV drama called Blades. The two soon fell in love, but their relationship was met with opposition from many of their friends, due to their age difference.
However, Ma still pursued her love. In 2008, the couple tied the knot and had their first daughter that same year. To show his love for his wife, Wen named their daughter Aima, meaning 'Love Ma' in English.
After giving birth, Ma spent most of her time taking care of their daughter, but still continued with her acting career.
In the meantime, Ma has won various honors and awards, such as the Golden Phoenix Award and Huading Award. She also received Best Actress Award at the Ninth Changchun Film Festival for her role in Life Today (2007), Best Supporting Actress Award at the Third Chinese Film Festival for her role in Tracks Kong Lingxue (2011), and Best Actress at the First Asia Television Rainbow Award for her role in Marriage Battle (2012).
Being Frank in Nature
Ma used to be famous for her casual frankness in the entertainment world. More than 10 years ago, Ma attended a talk show hosted by Qiu Wei, who was also well known for her sharp tongue, but the host eventually withered when she sat across from Ma's fiery, crowd-pleasing honesty.
During the talk show, Ma, who sat on the left of Qiu, spoke so calmly and orderly that Qiu later admitted that she seldom met interviewees who made her feel intimidated, and that her first impression of Ma was: 'A short-haired woman is not easy to deal with.'
Recalling that talk show, Ma said, "At the time, I was sharp-tongued and didn't leave a way open. It was easy to offend others."
Nowadays, Ma, who often speaks with a smile, still keeps a calm demeanor even when she is crowed at by a group of reporters. "Compared to my former self, I can put myself in the position of others," she said.
However, when she was invited to attend a variety show, Ma sat there, keeping a straight face, because she didn't like the host. Then the director asked her to show her smile, Ma thought aloud, "That person tries to please the public with claptrap. There is nothing worth laughing at here. I would rather not have attended the show."
Ma, who had decided to change her sharp-tongued ways, found that suppressing her forthrightness was no easy task. "I'm still an honest person. I just speak what I think," she explained.
Being Soft with Life Inspiration
Nowadays, Ma often starts her conversations with "since I gave birth to my daughter," as motherhood has – understandably – become a defining feature in her life.
Ma, who also serves as UNICEF Special Advocate for Breastfeeding and Early Childhood Development, often shared stories of her first daughter on Sina Weibo, amusing netizens with tales like the time her daughter challenged other little girls to a fight in order to stake her claim on her "boyfriend."
"A mother should learn to observe her child, which requires responsibility and patience; she should sum up her experiences and reflect upon herself, which requires diligence and wisdom; she should also chat with other mothers to learn from them, which requires communication skills; she should surf the Internet and read more books to learn from experts... It seems complicated but it's indeed not difficult. As long as you love your child, you know all you do is for the good of your child," wrote Ma, online.
In an effort to develop her daughter's independence, Ma often behaved as a strict mother. Her daughter once forgot to bring her cup when taking a train journey, and the girl refused to drink water provided on the train.
"One must be responsible for what he or she does. Since you forgot to bring your cup, you must accept the corresponding price." said Ma.
Despite her maternal sternness, Ma has become much gentler since she got married. Her gentleness is built on reason and should be attributed to the inspiration from her life experiences.
"Since I got married, I have discovered that one has to face many things in marriage. For example, I never made sweet remarks to build towards a compromise, but now I know I should make some concessions and said something nice. I think the other person involved will understand me and also give way, and then the two will have the same views," said Ma.
Before marriage, Ma used to believe that love could maintain the temperature of marriage. "But this isn't the case. Loving each other is not enough to manage a marriage. The two need to communicate with each other, while such communication can't act on impulse without due consideration. Occasionally, one needs to endure and come to terms with a soft heart," she said.
In response to her husband's extramarital affair, Ma's latest post on Sina Weibo indicates that the "good wife" might have made a concession again to cherish their marriage.
(Source: nd.chinanews.com/Translated and edited by Women of China)