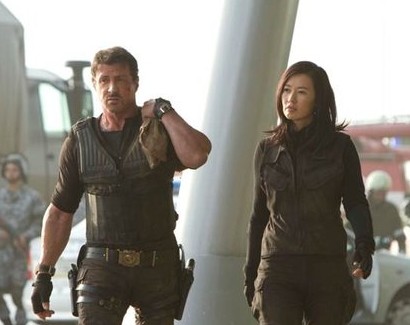 Yu Nan (R) stars beside Sylvester Stallone in The Expendables 2. [touxw.com]
Chinese actresses since Gong Li have typically taken the same route of forging powerful actress-director alliances on the way to international fame. Gong Li's was director Zhang Yimou, and for up-and-coming actress Yu Nan, it was supposed to be Wang Quan'an, one of the famous sixth-generation directors.

However, to everyone's surprise, Yu did not follow in Gong's footsteps, instead striking out on her own.

Her feature film debut in 1999's Lunar Eclipse earned her the Best Actress award at the Deauville Asian Film Festival, and kick-started her career working with several of China's sixth-generation film directors.

She subsequently starred in three more films directed by Wang Quan'an: Jingzhe, which earned her the Best Actress Golden Rooster Award and the Best Actress prize at the Paris International Film Festival in 2003; Tuya's Marriage, for which she won the Golden Bear prize in 2007 at the Berlin International Film Festival and the Best Actress prize at the Chicago International Film Festival; and Weaving Girl, which won the Jury Special Grand prix and the FIPRESCI prize at the 2009 Montreal World Film Festival.

Yu has also worked with other major Chinese directors, including Wang Xiaoshuai in 2008's In Love We Trust, which won the Best Screenplay Silver Bear prize at the Berlin International Film Festival the same year, and Ning Hao, in his Chinese Western film, No Man's Land, in 2010.

However, there is a clear distinction between her on-screen image and real life. On the big screen, the 34-year-old is always featured with her sexy lips and a strong air of Eastern beauty; while in real life, she is just an ordinary girl from northern China.

"In the movies, I need to be the focus, but in life, it is not necessary at all," said Yu.

Yu is also known for taking up a diverse variety of roles. In Tuya's Marriage, Yu played a Mongolian woman who agrees to divorce her disabled husband so that she can remarry a man who will be prepared to take care of both of them and their children. In Design of Death released this April, she shows off a sexier side, and in the movie The Expendables 2 to be released this summer, she will take up a machine gun and fight side by side with the elite group of men known as the best mercenaries in the world.

'Guns Aren't Sexist'

After she landed the role in The Expendables 2, a report said, "Nan will make sure the new movie isn't a total sausage fest because, believe it or not, women can kill armies of faceless bad guys as well. Guns aren't sexist."

The Expendables movie franchise is well-known for its all-star cast of strong male leads. While the first movie saw the role of women confined to that of damsels in distress, the sequel will see Yu standing side by side her male team members and wielding her own weapons. She plays Maggie from China, assisting the role Bruce Willis plays.

The story behind her casting is a little unusual, not least because she landed the role unprepared. When she was notified that she would be auditioning for the part, she was shooting another movie in Thailand.

Exhausted from her work, she was extremely reluctant to audition for the role. When she landed in Beijing at one in the morning, her agent told her, "You have to try out for The Expendables 2. If you land the part, you'll start shooting in three days."

So less than ten hours after she arrived, she found herself once more at the Beijing airport with her bags, headed to the United States. As soon as she arrived, she was handed the thick script.

After running several lines with Yu, the director Simon West realized that she was completely unprepared and questioned if she had even read the script, causing a disagreement between the producer and Yu's agent. In the end, Yu had to act as peacemaker.

Finally, she said: "Let's have the audition right now. What do you need?"

After it was all over, Yu returned to her hotel room and fell into an exhausted sleep. She was woken up by her agent who told her: "Pack up, we will be leaving for Bulgaria tomorrow." She had successfully landed the role.

When Yu arrived at the studio in Bulgaria, she found that it had been transformed into a 1940s New York avenue with everything blown to pieces. Yu went to talk to Sylvester Stallone, who was sitting in a truck followed by many people with guns, and was starting to shoot a scene.