Women Warriors of the 1970s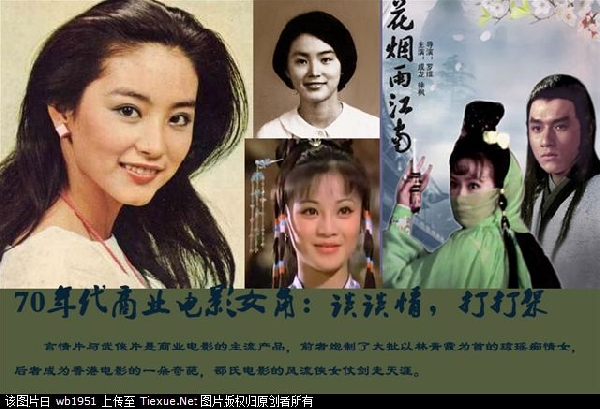 Brigitte Lin (L and Upper M) and Xu Feng (R and Lower M) [miltt.com]


Martial arts films and romances monopolized the film market during the 1970s, establishing many Chiung Yao girls (the name given to leading actresses in the movies adapted from famous Taiwan writer Chiung Yao's romances) and women martial arts stars. Among them, Brigitte Lin, Joan Lin, and Hsu Feng were outstanding.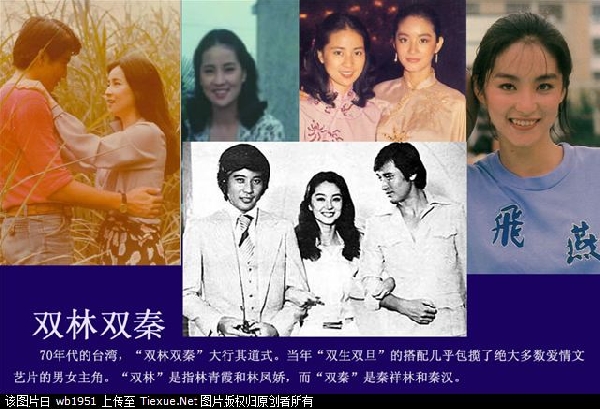 Brigitte Lin (R) and Joan Lin (L) [miltt.com]
The Two Lins—Brigitte Lin and Joan Lin became flesh and blood personifications of Chiung Yao's characters. Their intelligence, beauty and devotion represented women's highest aesthetic standards.
Brigitte Lin, born Brigitte Lin Ching Hsia in November 1954, is from Taiwan. This popular actress, regarded as an icon of Chinese cinema, has acted in both Taiwanese and Hong Kong movies. She retired in 1994, but took a minor role in the 1998 film Bishonen.
Lin was born in Taipei, and discovered by a film producer in 1972. She first appeared in Taiwanese romance films based on the novels of Chiung Yao. She made her movie debut in Chuangwai (Outside the Window) and later began making films in Hong Kong. At the height of her popularity she was arguably one of the most sought-after actresses in the Chinese film industry. She starred in more than 100 movies.
Now-retired actress Joan Lin was born on 30 June 1953 in Taiwan. She is married to martial arts superstar Jackie Chan.
Poverty forced her to drop out of school at age 12. In 1972, at age 19, she starred in her first martial arts film, Angry Man in Chaozhou. Many of her films are adaptations of the novels of Chiung Yao.
Joan Lin won the Best Actress award of the 25th Asia Film Festival in 1979, and the same year the 16th Golden Horse Best Actress Award for her role in The Story of A Small Town. Lin made over 70 films during her ten-year career.
She met Jackie Chan in 1981. They married in Los Angeles the following year. Their only child, Jaycee Chan (now also an actor and singer), was born the day after they got married, when Lin retired from the film industry.
Hsu Feng was born in Taiwan. Her father was from southeastern Fujian Province and her mother from northeastern Manchuria. Her father died when she was six-year-old, and her mother remarried and had three more children. The family was poor, and as eldest daughter Hsu Feng felt an obligation to provide for the family. It was with this in mind that she answered a casting ad at the age of 15 which ultimately led to a part in King Hu's Dragon Gate Inn.
About two years later at the age of 19 she got a leading role in King Hu's classic martial arts epic A Touch of Zen. Movie critic Richard Corliss once called her the screen's gravest, most ravishing woman warrior. Hsu was on the panel of judges at the 44th Berlin International Film Festival in 1994 and at the 61st Venice International Film Festival in 2004.