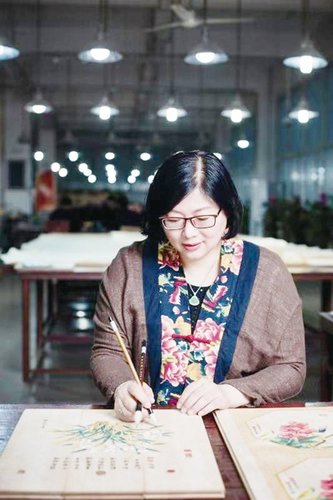 Pei Yanli [paper.cnwomen.cn]
The president of Hebei Bainianqiaojiang (BNQJ) Culture Communication, a company that specializes in decorative wooden crafts, has been committed to promoting traditional art at home and abroad for over a decade, according to a recent profile.
Pei Yanli says her company is a cultural and creative enterprise that take on the dual responsibility of creating social and economic benefits.
It was founded in Dongfangtou Village in Zhengding county, north China's Hebei. It later became one of the province's main cultural and creative enterprises through years of efforts.
Since it started, the firm has helped train over 500 physically-impaired individuals to learn handicrafts, explained Pei.
Nowadays, the company produces wooden floor paintings, wall paintings and ceiling paintings in many different collections.
Her company's products combine traditional and modern techniques, practicality and artistry, which are the keys to their success, says Pei.
In 2015, BNQJ cooperated with the Palace Museum in Beijing to produce replicas of paintings by the Qianlong emperor of the Qing dynasty (1644-1911). The replicas became popular among folk collections and interior decorations.
Nowadays, the company's artworks are well-known in China and exhibited and sold in Japan, the U.S., the UK and other countries.
In November, BNQJ held an exhibition at the Chinese Cultural Center in Moscow, attracting many parents and children.
Currently, BNQJ is developing a new project which provides access for users to learn the skills of wood painting via the internet, so as to help more people start businesses or find jobs.
On November 1, President Xi Jinping presided over a symposium regarding the development of private enterprises and delivered an important speech. Pei said Xi's remarks were inspiring to private entrepreneurs like her.
She said she will adhere to the principles proposed by President Xi and strive to make more contributions to poverty alleviation, assist people who are physically-impaired, and boost employment and entrepreneurship.
"My staff and I will continue to practice the spirit of craftsmanship and bring outstanding traditional culture of the Chinese nation to the world," she added.
(Source: paper.cnwomen.cn/Translated and edited by Women of China)