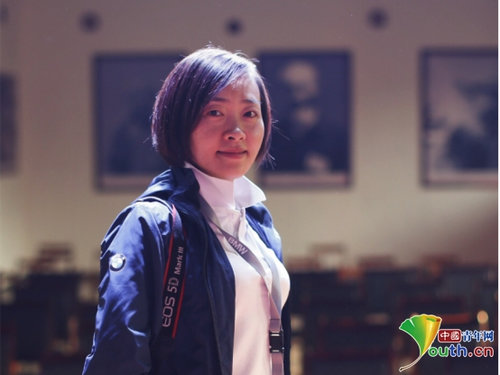 Deng Jiawen [Youth.cn]
Deng Jiawen, founder of a media company, has dedicated herself to promotion of Chinese intangible cultural heritages by producing mini documentaries over the past four years.
Deng recently made a promotional film for a large intangible cultural heritage-themed event.
To make the video she captured dozens of intangible cultural heritages such as horsetail embroidery, ancient Chinese paper-making and the forging of ethnic Miao women's silver ornaments.
Deng and her team have traveled across the country since 2013 for research and to collect numerous source materials.
Meeting Dilemma of Cultural Transmission
Prior to 2013, Deng made constant explorations before finding the proper orientation of her career.
After finishing her MBA study in the UK, she began to work for Discovery Channel which is well known for producing high-quality documentaries.
While studying overseas, Deng was able to observe the waves that Chinese culture sparked abroad from the perspective of an outsider.
"Overseas, national culture is the most fundamental and the easiest topic to talk about with others," she said.
During work, she found that Westerners rarely used films made by Chinese people when they told their stories about the Middle Kingdom, and there are great differences in the narrative angle used between the East and the West.
"If Westerners have difficulty understanding documentaries produced by Chinese people, our work will generate no effect," she said.
To solve the dilemma, Deng decided to further her studies in the United States, to see how the country carried out cultural transmission.
Before Deng's departure, one of her friends who engaged in intangible cultural heritage work introduced her to Yang Zhigang, a representative inheritor of painted Chinese snuff bottles.
The exquisite paintings inside the snuff bottles attracted her. Deng decided that she would focus on this field in the future.
During the years when Deng was abroad, the Chinese government enhanced its policy support to intangible cultural heritages, building a protection system of four levels – state, province, city and county levels – and adding 870,000 heritages under the system.
Starting Her Business
After coming back to China, Deng founded Great Seed, a cultural media company, to promote intangible cultural heritages.
As its main focus, Deng and her team chose video clips were not yet so popular in the country at that time.
"The videos that are three to five minutes in length is easier to reach people," she said.
After doing solid research and visiting inheritors, Deng defined the theme of her stories – handicrafts under a diversified culture.
"Things made by hand are one-of-a-kind. They reflect the character and emotions of their creators," she said.
"For example, embroideries made by people with different beliefs and from different cultures take on different colors, and the Buddha in Thangka paintings usually resembles the facial appearance of the painter."
In addition to distinctiveness, Deng also found another narrative perspective of intangible cultural heritages – their ordinary inheritors.
"Heritage projects are actually a narrow field. Only a small number of master-level inheritors remain at the top of the pyramid and are known by the public," she added.
"Most inheritors stay at the bottom of the pyramid with few people aware of their existence. They undertake great duty and mission."
Deng recalled that the experience which struck her most was when she visited Yang Huazhen, an inheritor of embroidery skills of the Tibetan and Qiang ethnic groups in southwest China's Sichuan Province, last year.
"That day happened to be Dragon Boat Festival. Yang, who was in her 50s, and embroiderers in her embroidery institute were performing the Guozhuang dance [a folk dance of Tibetan ethnic group]," she said.
"Actually, intangible cultural heritages are closely related to life. They have gotten into the blood of locals. I got many good shots that day."
Deng felt that starting from details of life, the truest aspects of inheritors are just the essence of her videos.
Paying attention to skills, inheritors and culture, Guangfu Nut Carving, a short video made by Deng's team, finished the top 15 at an international multimedia competition held by American alliance for arts business, the only Chinese film to enter the finals.
Adhering to Original Mission
Deng has always stuck to her original mission of digging into the spirit of intangible cultural heritages, telling their stories well and carrying out international and cross-field transmission.
"To help some endangered heritages from the real sense, transmission is only the primary part in the entire inheritance process," Deng said.
"The real value of transmission lies in introducing more resources and platforms, and involving them into the research, development and innovation of products, to make intangible cultural heritage projects return to practical life."
During her startup stage, Deng tried to build a closed cycle from transmission to research, development and innovation, but she met some setbacks.
At the beginning, Deng and her team put products on e-commerce platforms for sale. However, due to little demand, their yield was meager.
Deng's team also tried to help inheritors design and develop their products, but they had to give up the attempt due to their weakness in design.
"I think my biggest change since I started my business is that I am no longer that idealistic now. I have become more pragmatic," she added.
Although taking some wrong paths, she never forgets her original mission.
By live-steaming, fundraising and through other means, Deng designed more development paths for her company, constantly exploring new commercial models.
The young entrepreneur said she felt lucky to meet intangible cultural heritages because they help her understand life.
"When people see an artwork, they should also have a look at the lifestyle, attitude and philosophy that it contains. Only when we dig out stories from this aspect will our transmission work be meaningful," she concluded.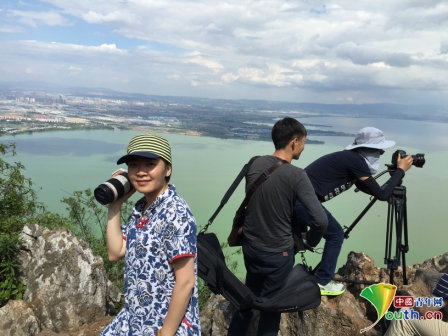 Deng Jiawen and her team [Youth.cn]
(Source: Youth.cn/Translated and edited by Women of China)