Shirley Shen and her small antique shop on Dongtai Road in 2015.[shine.cn]
Dongtai Road was a well-known antiques street market in Shanghai. For 20 years the busy market was crammed with shops and tourists – a huge amount of antiques was sold and traded there every day. But that all ended in 2015.
Owning a small antiques shop on Dongtai Road at that time, Shen Weiyuan, or Shirley Shen, was considered a "super star", and she credits the unique market for helping her find her true self.
"I feel that I have a predestined sense of mission," she says. "Every time, for whatever reason, at whatever point, I will be led to really beautiful things."
Indeed, Shirley has a strong and natural connection with antiques – she started by helping her father in the antiques business when she was a little girl in her hometown of Ningbo.
Then, at the age of 20, she left Ningbo for the bright lights of Shanghai. It would change her outlook.
At the beginning of her business on Dongtai Road in the 1990s, life was not very easy – most of her customers were foreigners and her English was poor. But she didn't let it get her down, and she began to learn English by herself and through her customers.
With devotion and a clever mind for business, Shen and her shop soon became popular with antiques collectors and other customers.
Every weekend, a number of antiques collectors from all over the world gathered together at her shop to buy her latest offerings and listen to stories about her beautiful collection. Some pieces she kept and vowed never to sell.
"I really appreciate those foreigners," she says, reminiscing about her old customers. "They really regard these collections as artworks."
The diligent businesswoman continued absorbing knowledge about art and culture of the Qing Dynasty, an era she was very fond of. The more she learned, the more she wanted to know. In the end, even Chinese sources of information couldn't satisfy her, so she began to find foreign references with the help of her foreign customers.
The year 2015 was a turning point in Shirley's life – Dongtai Road needed to be demolished. For her, it was a tough time. "Dongtai Road made me to be a better person," she admitted. "When it all ended, I felt I lost a close relative."
What was next? Shirley thought she should stop and ponder for a bit; reconsider her life. She slowed down her pace and tried to find another path.
"I wanted to be a disseminator of Chinese culture," she decided. "To share my collection, to let more people learn Chinese traditional handicraft, and traditional aesthetics from my collection."
Now, she has 400 to 500 pieces in her care, including Tian-Tsui hair accessories, women's clothing from the Qing Dynasty, and three-inch shoes for bound feet.
In order to share her collection, Shirley holds public speeches, gives lessons, and attends art activities all over the world.
In the future, she hopes she can do something even more meaningful. "I hope one day I can establish a museum for more Chinese people to learn and appreciate," she smiles.
Here are some selected pieces from her collection.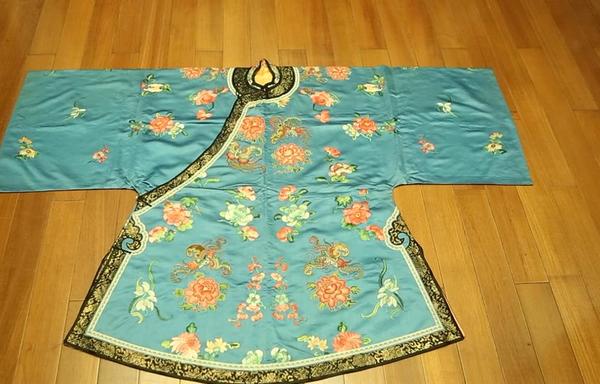 An article of women's clothing from the Qing Dynasty.[shine.cn]
Three-inch shoes for bound feet [shine.cn]
(Source: shine.cn)