Zheng Shenglan [Women of China/Fan Wenjun]
Zheng Shenglan studied in the United Kingdom, for four years, before she returned to China in 2013. While she lived overseas, she started to pay attention to women's needs and their advantages when they started businesses. In 2015, she established a company, entitled "Miss Startup." Zheng says she hopes to provide training and services that will help improve women's business-management abilities. She wants to see more and more women fulfill their business dreams.
Zheng has some of the typical traits of women born in Southwest China's Sichuan Province: She has a small, slim body, her voice is sweet, and she is a straightforward person, who treats others with her warm heart.
A postgraduate of Sheffield Hallam University, Zheng once believed that starting a business should not be a complicated matter, especially if the entrepreneur conducted enough research to know the needs of his/her customers.
During the Summer Davos Forum, held in Tianjin in 2014, Chinese Premier Li Keqiang delivered a speech, in which he called for the public's participation in "mass entrepreneurship and innovation." Zheng answered the leader's call, and she soon found a job in the college students' innovation and entrepreneurship center, which was affiliated with the bureau of human resources and social security of Sichuan's provincial government. When she was in charge of the center's overall management, she had many opportunities to meet and communicate with experts and supervisors, who gave advice and provided training to college graduates who wanted to start a business.
Entrepreneurs' Spirit
In Zheng's opinion, more and more women today not only shoulder the responsibilities of housework and taking care of their families, they also do very well in their workplaces. Compared with their male counterparts, women entrepreneurs demonstrate advantages in business negotiations and marketing management. The booming Internet technology and e-commerce sectors have offered great opportunities to businesswomen to make achievements in entrepreneurship and innovation.
In April 2015, Zheng established her company, Miss Startup, in the Gaoxin District of Chengdu (capital of Sichuan Province). Her company serves as a platform, through which women business leaders are provided with training sessions on entrepreneurship skills, marketing and building of brands, innovation and high-tech development, capital management and legal consulting services.
Why did she return to Chengdu to open her company? "I am a native of Sichuan Province. Chengdu, the capital of our province, is a vigorous city for people to start their businesses and achieve success. I want to give something back to my beloved hometown. By running Miss Startup, I hope women entrepreneurs will share the spirit of (promoting) independence, confidence and positive energy," Zheng told Women of China.
Impact on Each Other
Six months after Zheng established Miss Startup, her company organized a competition, in November 2015, for women entrepreneurs to acquire funds provided by investors and, thus, to develop their businesses. Approximately 1,000 candidates participated in the competition. Nine women entered the final, through which they obtained money to promote their products and build their brands.
It was not easy for Zheng to organize such a competition. "At the very beginning, my company was not well known enough to attract sponsors, who would be willing to provide the money needed to organize the competition. I visited quite a few enterprises, but most of the managers refused to provide money, because they thought the competition could not help them promote their own businesses," Zheng recalls.
She did not give up. "The purpose of organizing such an event was to help women entrepreneurs, from across the country, communicate and cooperate with each other. Participants to the event had an opportunity to get together, learn from each other and have a positive impact on each other. In this way, they learned effective measures to develop their businesses," Zheng adds.
By the end of last year, more than 9,000 people had registered as members of Miss Startup. Zheng's company had signed contracts that guaranteed its cooperation with 40-plus investors and 60-plus professional-services providers. The company had invited 136 supervisors to provide advice and training to Miss Startup's members.
On March 20 this year, Zheng opened Miss Startup's Shop No. 1 in Gaoxin District. Women entrepreneurs were offered space to exhibit their products related to agricultural production, biomedical techniques, healthy living or fine arts education. Earlier that month, Zheng applied to visit the headquarters of the All-China Women's Federation (ACWF), in Beijing, as part of the celebration events for this year's International Women's Day (March 8). During her visit, she told Song Xiuyan, Vice-President and First Member of the Secretariat of the ACWF, that she wanted to establish a "women's home" in the community where her company was located.
"I was encouraged when Song said not only could we establish a 'women's home' in our community, we could also establish an organization to help unite women at the grassroots level," Zheng says.
She hosted a meeting on March 31. Fifty-six women representatives from the local community voted to select the board members of their women's organization. Zheng was selected the organization's president. "Now that we have established a women's organization, we are able to obtain more support for safeguarding the rights and interests of women entrepreneurs," Zheng concludes.
Zheng Shenglan [Women of China/Fan Wenjun]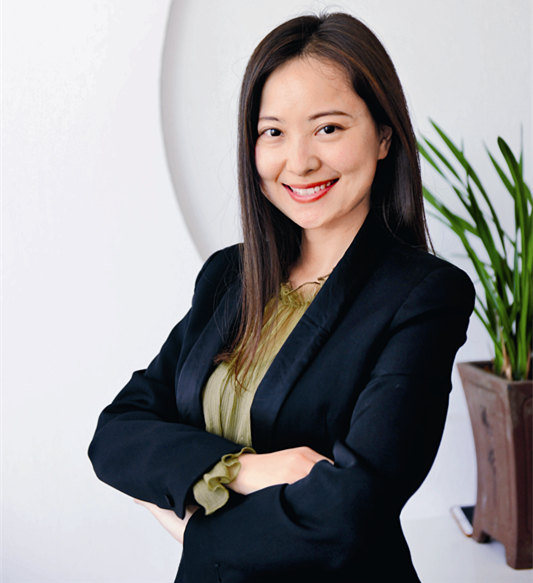 Zheng Shenglan [Women of China/Fan Wenjun]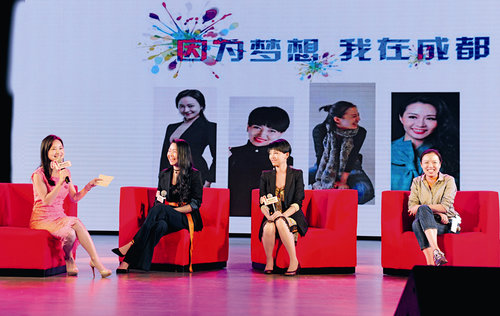 At a forum [Women of China/Fan Wenjun]
(Source: Women of China English Monthly July 2017 Issue)