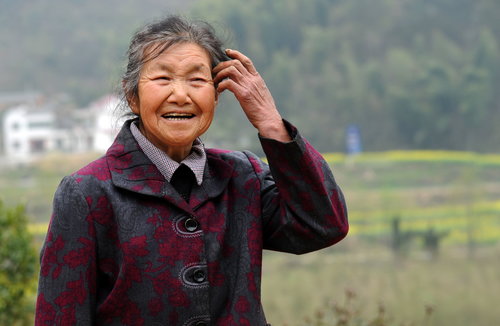 Cheng Shilian [Photo courtesy of A You]
A 77-year-old retired teacher who suffered many misfortunes in her life has started new businesses three times over the past two decades regardless of continuous setbacks.
Cheng Shilian, from Huoshan County in east China's Anhui Province, lost both her husband and only son through accident and illness. Her daughter-in-law suffered from breast cancer.
To help support her family and clear her huge debts, Cheng put all her energy into agriculture after retirement and has in recent years developed a successful career cultivating tea seedlings.
Losing Husband, Son
After graduating from senior high school, Cheng returned to her rural hometown where she served as a village cadre for three years. After that, she worked at a rural primary school for two decades.
In 1961, when she was 21, Cheng gave birth to a boy. To increase the family's income, her husband left home and worked at a cement plant far away. One day, in 1986, he fell off from a high place during work and died.
In 1993, Cheng retired. At 53, she started a business planting a special type of medicinal herb, and spent six months learning related techniques. But, during the harvest season, the price of the plant dropped sharply. Cheng lost every cent she invested.
In 2011, her son was diagnosed with cancer. She planted over 60 chestnut trees but her earning was little more than a drop in the bucket. To cover her son's medical costs, Cheng borrowed over 200,000 yuan (U.S.$ 19,850) in three years but still lost him.
Pulling herself together, Cheng set her mind to shore up the family for her grandson and daughter-in-law.
Failure on Her Second Entrepreneurial Effort
In 2013, after thorough investigation of the local market, Cheng laid her eyes on cultivating tea seedlings. She drew on experience from farmers who ran large areas of tea farms in the county whilst reading many books about related knowledge and skills.
As news of Cheng's venture spread, her relatives and friends called her up, reminding her of the huge investment risks. They tried to persuade her to change her mind.
After repeated considerations, she thought sustainable farming and eco-agriculture were the trends of the future and had good prospects. So, she persisted.
But, due to technical problems and inadequate experience, most of her seedlings withered and died.
Third Startup Attempt
Despite repeated setbacks, Cheng started all over again. In 2014, she planted new tea seedlings on her farmland, handling all the work on her own.
To prevent diseases and insects, the elderly farmer often carried a sprayer of over 30 kilograms on her back, working five to six hours a day.
Touched by her spirits, Ge Zhiyou, general manager of a local seedling company, gave her free technical guidance and helped her diagnose the problems her plants suffered. Ge was always ready to help regardless of a long distance between his company and Cheng's garden.
That year, all of the over 30,000 seedlings on her farm survived, earning her over 70,000 yuan (U.S.$ 10,447).
In 2015, she decided to expand her planting scale and sought support from the Office of Huoshan (County) Tea Industry. Staff of the office paid a visit to her tea garden, spoke highly of it and promised to grant her 2,000 yuan (U.S.$ 298) in subsidies for each unit of land annually.
Due to the high quality, all 80,000 seedlings that she cultivated that year were purchased by tea growers from nearby villages who rushed to buy.
In November 2015, just as Cheng was ready to make further expansion of her farm, her daughter-in-law Wu Huaqing was diagnosed with breast cancer. During her treatment, Wu received the government's serious illness assistance three times, and has enjoyed a minimum subsistence allowance ever since.
Wu's surgery incurred financial difficulties for their family. Staff from the local government visited Cheng's home many times, offering to help the elderly lady apply social guarantees. But she declined.
In 2016, Cheng contracted a piece of mountain land of over 4 mu (about 0.26 hectare) and cultivated 100,000 tea seedlings.
Later, she set her sights on tea oil camellia, thinking it was a good project that agreed with the trend for healthy eating.
Hearing of Cheng's start-up stories, a local company donated 14,000 seedlings.
This year, Cheng planted 10 mu (about 0.67 hectare) of tea oil camellias. She plans to expand her planting area next year.
Cheng has already chosen a new base – 22 mu (about 1.47 hectares) of bamboo forest located opposite her family's old residence. She said this plot would become a new milestone on her entrepreneurial road.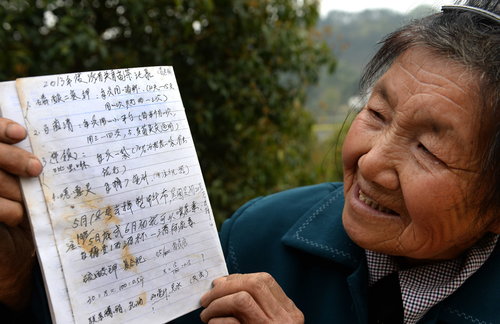 Cheng Shilian writes down how she cultivates tea seedlings on a notebook. [Photo courtesy of A You]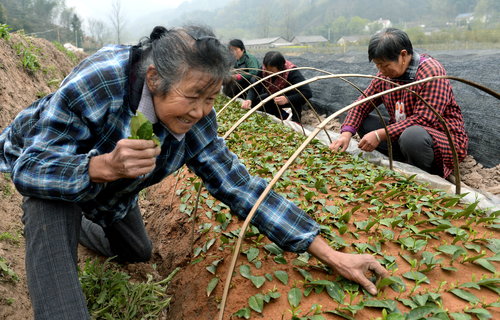 Cheng Shilian (L) works on her tea garden. [Photo courtesy of A You]
Cheng Shilian learns trimming techniques from a staff member of the Office of Huoshan (County) Tea Industry. [Photo courtesy of A You]
(Women of China)