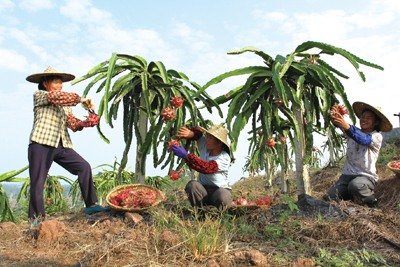 Women pick dragon fruit at a plantation in Guangxi. [China Women's News]
Chinese women in the nation's southern Guangxi Zhuang Autonomous Region have increased their revenues by planting dragon fruits.
The fruit grows well on hills, which is a typical topography across the region. The harvest season starts in June, when people usually get up early at 6:30 a.m. to pick the fruit.
In the village of Liantuan, an ethnic Zhuang woman named Guo Yueyuan, 44, says she enjoys her work at a local fruit company.
"Even though the work demands a huge amount of labor, I feel satisfied on the job because the workplace is near my home," said Guo, who rides three kilometers to the plantation each morning on a motorcycle.
Speaking of her tasks, Guo says she uses different farming tools and devices to carry out weeding, fertilizing, caring for buds, and making tied seedlings.
"My monthly earning is 2,500 yuan (U.S.$ 367), which is a large support to my household expenses," added Guo.
Despite the fact that her family was ranked as a disadvantaged one in the village, Guo believed her hard work could shake off poverty someday.
"There are more women like Guo who are diligent at work and industrious at managing household issues. That's the reason why I set the plantation in the village which gathered many impoverished families from the ethnicity of Zhuang," commented Lin Hanwen, president of an agriculture technology company based in the city of Nanning.
Nowadays, the plantations have grown to 267 hectares. This promising business has attracted over 130 workers, including two males.
Lin founded her kingdom of dragon fruit in 1997 and later developed it into a comprehensive company with the fruit as its core.
In 2013, she won the honor of the "Queen of Dragon Fruit" along with her enterprise at the National Pilot Project for Women's Modern Agriculture and Technology.
Through both online and off-line sales, this dragon fruit company has accumulated wealth exceeding 6.37 million yuan (U.S.$ 936,000).
Moreover, in recent years, over 1,000 women have benefited from the business by adding annual revenues at 12,000 yuan (U.S.$ 1,763) each.
"It is my social responsibility of acting in accordance with the targeted poverty relief initiatives in order to benefit impoverished women," said Lin, who also serves as president of Guangxi Female Talents' Council.
Statistics reveal Guangxi women's federations have invested a total of 10 million yuan (U.S.$ 1.5 million) in developing women's pilot bases in the field of science and technology. So far, 2,683 bases at levels of the nation, region, city, and county have been established.
Meanwhile, the federation's initiatives have supported over 1.2 million women in employment or developing their own startups. Those events have also increased the income of the 112,000 impoverished women who were recorded into local documents of poverty.
(Source: China Women's News/Translated and edited by Women of China)