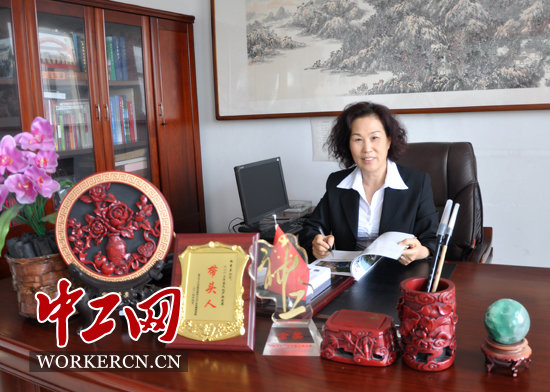 Zhao Sulan [workercn.cn]
A female entrepreneur from Shouyang County in north China's Shanxi Province recently won the National March 8th Red-Banner Individual award due to her contribution to the country's economy, culture and charity.
Zhao Sulan, 61, is president of Shouyang Sulan Commercial Development Company. Ever since she set up her successful sales business, she has strongly dedicated herself to promoting women's employment and entrepreneurship, preserving local culture and helping people in need.
Starting Business
Zhao used to work at a State-owned shopping mall. In 1993, with the privatization of many such commercial enterprises, she was laid off.
Zhao borrowed 35,000 yuan (U.S.$ 5,080) from her relatives and friends and rented two units in the mall, kicking off her road as an entrepreneur.
With many years' experience in commercial services she made bold innovations by adopting multiple marketing methods and built a good reputation with high-quality services.
As her business developed, she also set up a paper wholesale department, the county's first jewelry counter, a tea shop and a goods distribution center, respectively.
In 2002, Zhao established her current company. She invested nearly 10 million yuan (U.S.$ 1,452,000) in 2008 in building a shopping mall of 3,000 square meters, extending the number of its goods and varieties from 800 to 6,000.
Promoting Traditional Culture
Meanwhile, based on her county's rich cultural resources, she developed Shoukang Charcoal Carvings, presenting the unique culture of Fu and Shou art, literally "felicity and longevity", to customers.
Such work has been displayed at many international events, including the 7th Shenzhen International Cultural Industries Fair and the 6th Beijing International Cultural and Creative Industry Expo. They also won the golden award of the 1st Shanxi Industry Expo.
Shoukang Charcoal Carvings have received great popularity in the domestic market, in places such as Shanghai and the eastern province of Shandong. They have also been sold in the Netherlands.
In addition, Zhao spent 6.2 million yuan (U.S.$ 900,000) building the Shouyang County Exhibition and Sales Center for Fu and Shou culture, contributing not only to the inheritance of traditional art but the development of local tourism.
Zhao and her enterprise have won many provincial and municipal awards, such as the Shanxi Provincial Outstanding Entrepreneurs and the Jinzhong Municipal March 8th Red-Banner Individuals.
Fulfilling Social Responsibilities
Since 1993, she has recruited over 180 unemployed women and helped some employees start businesses by providing loan guarantees. Her company was named a demonstration base for women's reemployment by the municipal women's federation.
A charitable entrepreneur, Zhao has made many donations to impoverished students, elderly Party members, laid-off workers and people with physical impairments.
Moreover, she also supported the renovation of a local martyrs' memorial park, local Children's Day activities, anti-SARS measures and earthquake relief work, donating more than 600,000 yuan (U.S.$ 87,000) in total.
In the meantime, she won people's trust due to her good business reputation and benevolence, being elected as a deputy of the city's People's Congress four sessions in a row.
(Source: Youth.cn/Translated and edited by Women of China)