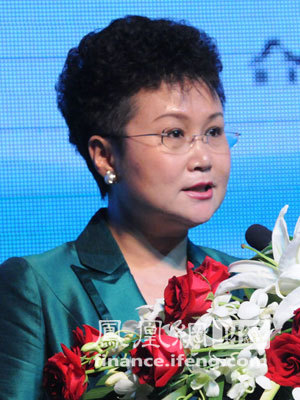 Li Qingping is selected as president of China CITIC Bank. [finance.ifeng.com]
Li Qingping was recently selected to be president of China CITIC Bank, China's seventh-largest lender in terms of total assets.
Li became the only current female president in China's large and medium-sized banking industry and the second female president ever in China's large and medium-sized commercial banking industry after Zhang Xiao, who served as president of Industrial & Commercial Bank of China from 1985 to 1997.
Established in 1987, China CITIC Bank is a nationally comprehensive and internationally oriented commercial bank, wholly owned by China International Trust and Investment Corporation (CITIC).
Born in 1962, Li gained a bachelor's degree in International Economics from Fudan University based in Shanghai Municipality in 1984 and a master's degree in International Finance from Nankai University based in north China's Tianjin Municipality in 2000.
When she graduated from Fudan University, Li landed a job with the Agricultural Bank of China (ABC) and worked for the ABC for more than 30 years, during which period she served as general manager of the ABC headquarters' International Business Department and head of the ABC branch in south China's Guangxi Zhuang Autonomous Region, with her last position being director of the ABC headquarters' retail businesses and general manager of the Private Banking Department.
In September 2013, Li stood out in the new round of cadre selection among financial enterprises and landed a position as vice-general manager of China CITIC Bank and member of the bank's Communist Party of China (CPC) Committee.
On May 6, 2014, it was announced that 52-year-old Li was to take over a concurrent post as secretary of the bank's CPC Committee from the bank's then president Zhu Xiaohuang. By convention, that position has always been held by the bank's president.
Zhu, who began working as the bank's president at the end of 2012, launched a number of powerful development strategies, mapping out detailed plans for the bank's overall strategy, organizational structure and competitive strategies.
Under Zhu's leadership, China CITIC Bank has witnessed remarkable changes, flying its own colors in network banking and consumer finance as well as adding flagship retail stores.
From March to April 2014, the bank carried out a series of new network tests, earning critical acclaim in the capital market.
Insiders think Li's experience in international finance and retail business will benefit China CITIC Bank's current transformation in advancing their retail strategy.
Li, who took office in early May, expressed her agreement on her predecessor Zhu's strategies in retail transformation and network banking at a general meeting of the bank's stockholders held on May 21, 2014.
"My work is to implement the fixed strategies, which are expected to achieve results in late 2014 or early 2015," said Li.
Li also mentioned the importance of e-banking businesses, saying that the transformation of China CITIC Bank will depend on the revolution of e-channels. "State-owned banks have an advantage in branches and personnel while China CITIC Bank has only 1,000 branches across the country," she explained.
"Network finance plays an important role in channels. The Internet or e-banking functions as an expressway. As long as we pave the way well, we can do well in retail and corporate businesses as well as other products that can bring in benefits to our customers," said Li.
(Source: Beijing Youth Daily/Translated and edited by Women of China)