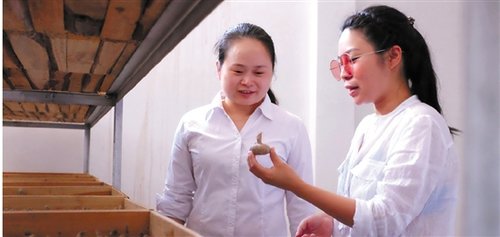 Sun Lingjuan (R) demonstrates how to cultivate saffron. [jhnews.com.cn]
A 35-year-old from the city of Yongkang in east China's Zhejiang Province has been dedicating herself to agricultural modernization over the last few years.
Sun Lingjuan is the general manager of Zhejiang Fangyuan Agricultural Technology Company. Having previously worked in manufacturing, she started her own business in agriculture in 2014, applying advanced technologies to the harvesting and production of saffron. Last year, her company's sales reached 100 million yuan (U.S.$ 15 million).
Early Experiences
In 2001, after graduating from Renmin University of China, she got involved in a joint venture in Beijing. At that time, she set up a short-term target for her career – to raise her annual income to 300,000 yuan (U.S.$ 45,000) within three years.
Working day and night, she reached the target in advance and even surpassed it. "In the second half of the third year, I was promoted to head of a branch company," she said.
Just as her career took off at lightning speed, her parents called her repeatedly, urging her to return home. Sun said her family are traditional, and they needed a child to tend to them since the other sibling, her elder brother, was serving in the army.
Therefore, she quit her job, which at that time brought her an annual income of 750,000 yuan (U.S.$ 112,500). "I would have moved abroad if I hadn't gone back home," she recalled.
In 2009, after returning to Yongkang, she found a job in a local enterprise. "I said: 'I am going to be a CEO.' Others all laughed at me, adding there was never such a senior role in the small place," she stated.
At that time, the enterprise just adopted a production model of family workshops. But with diligence and rich working experience in the joint venture, Sun once again reached her goal, becoming the CEO of a group company earning 1.5 million yuan (U.S.$ 225,000) per year.
However, Sun was never content with where she was. "As my age increased, I am in growing pursuit of health," she continued.
After thorough consideration, she decided to make another audacious attempt – to engage in agriculture and start her own business.