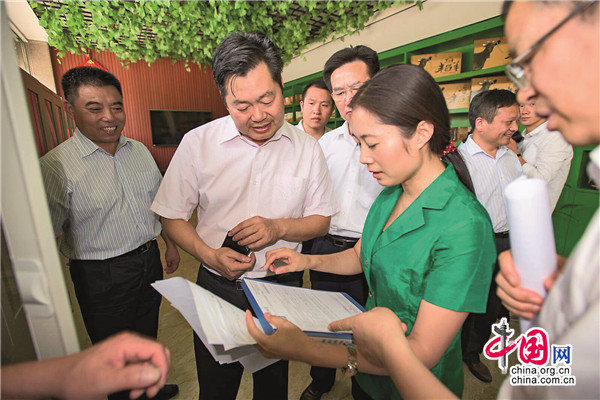 Liu Yinxiu (R2) [china.org.cn]
An enterprising 37-year-old woman, born in a mountainous village near Luotian County, central China's Hubei Province, has helped impoverished locals increase their incomes through breeding sheep over the past few years.
Liu Jinxiu said that when she was 12, she had to drop out of school due to her family's financial situation. The next year, she left home for the city to find a job, hoping to improve her family's prospects.
After a total of 12 years, Liu found employment working in a mill, being a kindergarten teacher, trying her luck as a vendor, and finally became the owner of a clothes shop.
Due to her consistent efforts and perseverance, she became a successful entrepreneur in logistics when she was just 25.
Returning to her village as a wealthy woman, Liu found a vast number of her neighbors were still in poverty. Many youngsters had left as migrant workers, with only the elderly or the physically impaired staying behind. Hence, her hometown had become more and more depressed, Liu concluded.
As Liu was usually helped by her caring neighbors in her childhood, she made a firm determination to try her best to lift the villagers out of poverty.
In accordance with the region's geographical location, Liu came up with an idea to raise sheep. At the beginning, all of her family members and friends disagreed with her when she told them. But, her resolute mind of improving villagers' lives moved everyone around her.
Therefore, she and her father began to live in a thatched cottage in the mountain, attempting to raise a herd.
At the beginning of 2004, Liu contracted a sizable grassland. After her preliminary results, a fierce fire destroyed the whole forest. Meanwhile, in 2008, serious snowfall led Liu to make a loss of more than 300,000 yuan (U.S.$ 43,000).
Despite this, she still insisted on developing livestock to lead the locals.
In 2009, Liu started making money and mobilized all of her fellow villagers to follow her example. Since then, each impoverished household has earned over 20,000 yuan (U.S.$ 2,800) at the end of the year, Liu said.
Thanks to Liu's establishing a cooperative for breeding sheep in 2007, the number of farmers who have joined her ranks stands at 7,700. And 3,000 among them have completely escaped poverty including some 340 households that were in extreme poverty before, Liu explained.
Furthermore, she also provided free lambs for disadvantaged families.
To better assist the locals in developing their business, Liu set up a company in 2011 and organized a professional group focused on research.
So far, her own breeding farm produces nearly 10,000 sheep annually.
Due to her great contributions to the villagers, Liu has been honored as a National March 8th Red-Banner Pacesetter and a Model Worker in Hubei in recent years.
At the nation's so-called "Two Sessions" held in March 2015, Liu submitted a proposal as a grassroots representative aimed at assisting impoverished farmers in her hometown to develop the livestock industry.
To her surprise, her proposal was publicly emphasized by the Standing Committee of the National People's Congress, Liu stated.
Hence, in the past year, she has played an active role in arranging all official matters related to developing the livestock industry in the local area.
(Source: China Women's News/Translated and edited by Women of China)