Yang Jie and a wolf [China News Agency/Geng Dandan]
A 43-year-old woman from Jimusaer County in northwest China's Xinjiang Uygur Autonomous Region has made a successful career for herself by raising wolves and opening a wolf visitor center to the public.
Yang Jie and her 71-year-old father developed the Wild Wolf Valley, the biggest wolf sanctuary in Xinjiang. Under Yang's tender care, the number of wolves in her care has grown from 60 to over 150.
Now the center, situated in the rural countryside, attracts many visitors, which not only has improved the living conditions of her wolves but has also brought her a good income.
From Opposition to Participation
In 2008, Yang's father rescued two wolf cubs and brought them back home. Hearing that he was raising such animals, local herdsmen sent him another nine cubs. This initially aroused strong opposition from the rest of Yang's family.
"At that time, we all disagreed with my father. To show him how we felt, we did not even go to see those wolves," Yang said.
Nevertheless, Yang's father still tended to the pups with great care. However, as they started to breed, he encountered a stark problem – the wolves began to fall ill one after another.
To help, Yang took over from her father. She cleaned the shelter, gave injections to the sick animals and put them on medication. Gradually, they recovered under Yang's care.
Yang said that although she was in contact with the wolves, she still dared not to stand too closely to them. It was difficult for her to understand the intimacy between her father and his wolves until a small matter changed her mind.
Once, Yang and her husband took a wolf to feature in the production of a film. "That day, my husband went away when our wolf was asleep. After the wolf woke up, it could not find him. So it bit its chain and tried to search for him. It wasn't until my husband came back that it calmed down and fell asleep again. I suddenly felt that it was not such an emotionless animal as I thought," Yang recalled.
From a Layman to an Expert
Yang has taken care of her wolves for eight years. Each time she walks into the wolf house, she is surrounded by the pack of animals, which all lick her to show their greetings. She remembers every wolf's name.
Yang said: "Animals are born with a special kind of alertness. They won't become intimate to you easily. Some of my wolves were brought up or looked after by me, so they show reliance on me. This feeling is great."
The youthful breeder told journalists that every wolf pack has a leader, and the leader features a strong physique, bravery and wisdom.
"It's not easy to become a 'wolf king'; their face and body are full of scars. But their rank is high above the others. If other wolves surrender to its leadership, they will lick it, wag their tails or lie on the ground on their back. Some wolves are even not allowed to approach the leader," she added.
Over the years, Yang made a thorough study of the language and habits of her wolves and can now be called a wolf expert.
Better Life for Wolves
"Raising wolves is a huge expense. We spend at least 2,000 yuan (U.S.$ 300) on their food every day, let alone their medical expenses and the wages of feeders," Yang stated.
She added that they have spent millions since they began to raise wolves.
To let them live a better life, Yang and her father developed the Che Shi Gu Dao scenic spot. They have spent 170 million yuan (U.S.$ 25 million) on it and marketed it as the wild wolf valley.
"We just wanted to show wolves in a better way and let people know that there is such a valley here. We hope visitors grow in number and our wolves' living conditions get better and better."
Yang told journalists that they are developing tourist products such as wolf-hair brushes and wolf-bone wine.
"Currently, our space is limited. We hope we could send our wolves into the mountains, to live in a natural environment. We want to get the assistance and financial support of the government. We feel the dawn of victory is just ahead of us," she concluded.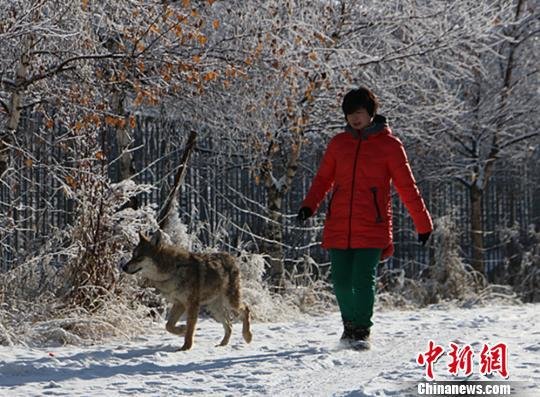 Yang Jie walks with a wolf. [China News Agency/Geng Dandan]
Yang Jie and several of her wolves greet each other. [China News Agency/Geng Dandan]
(Source: China News Agency/Translated and edited by Women of China)