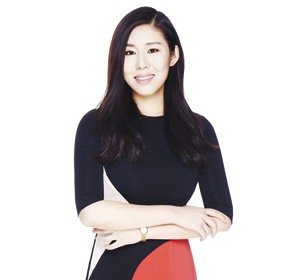 Ling Zihan, CEO of TechBase [China Women's News]
Ling Zihan, 29, has established TechBase, China's first platform for women's technological startups, aspiring to change "half the world."
Having studied in the School of Government, Peking University, Ling took a different course upon graduation. While her classmates were busy preparing for exams or overseas study, Ling cooperated with a store owner at the business hub Wudaokou, selling bags and ornaments.
Due to opposition from her family and a lack of experience, the business ended up a failure. However, this trial inspired the woman to further her study in business. "Even the smallest business requires great knowledge," she said.
After finishing a postgraduate program at the University of Florida, U.S. and an exchange program in France, Ling worked with multiple companies, including the leading global information provider Nielsen.
In 2013, she joined Lean In, a nonprofit organization and online community dedicated to helping all women achieve their ambitions.
While working to connect technology and internet professionals with female college students who are looking to begin a business, Ling found most of the aspiring entrepreneurs she met lacked support, and that women are less likely to win startup funds compared with men.
"If women fail to get deeply involved in the internet, their future economic status will be at great risk," Ling emphasized.
With this in mind, she initiated the women's technological incubator TechBase in 2015.
Despite various challenges, such as shortage in funds, fierce completion and retreating partners, Ling led her team to hold the first Her Start Ups women-led entrepreneurial competition in the first year.
Without any resources available, she visited enterprises and corporations in person to seek support for the event. Thanks to her efforts, about 100 participating teams got suggestions and instructions from professionals, and eight received a total of 50 million yuan (U.S. $7.7 million) in venture investment funds.
The second scheme of the competition started registration on April 15, welcoming participants from across the world.
Ling hopes to build the TechBase into an international platform for women entrepreneurs and provide them with the greatest support possible.
"We can't say that we'll change the whole world, but at least we can change half," the ambitious woman claimed.
(Source: China Women's News/Translated and edited by Women of China)