Ren Lihua shows off her company's line of Chinese ethnic dolls. [Kunming Daily/Guo Man]
A cabinet full of colorful, delicate dolls catches one's eye as one walks into the meeting room of the Kunming Hanhang Folk Art Gallery & Handicraft Corporation Limited in Kunming, capital of southwest China's Yunnan Province.
"They belong to our fourth-generation line of Chinese ethnic dolls, with their cute cartoon shape, big head, small body and large eyes," says Ren Lihua, general manager of the company.
"For our fourth generation line of products, we blended foreign elements with Chinese national culture and colors," Ren continues. "They are very popular among young people."
The hand-made dolls, which represent China's 56 ethnic groups, have been very successful, finding a ready market in Europe, America, Southeast Asia as well as south China's Hong Kong, Macao and Taiwan.
Venturing into the Doll Business
Ren majored in decoration design when she was studying at the Kunming University of Science and Technology. When she graduated in 1991, she began working as a designer in an industrial enterprise. Although she worked there for a number of years, she felt that the job stifled her creativity.
In 1998, she realized that Yunnan's tourism industry had big potential for growth. Ren, who was fond of trinkets, came up with an idea to develop tourist souvenirs with ethnic minority characteristics.
She rented a three-room house and hired seven or eight people to start her workshop.
"At the time, there was a glut of low-quality, poorly made ethnic minority dolls in the market, so I thought that making dolls that were high-quality and had collector's value would be a great way to break into the market," says Ren.
Ren set her sights on the cultural elements of Yunnan's 26 ethnic minorities. In the daytime, she looked up materials in the library and consulted scholars on the customs and traditional costumes of these minorities. In the evening, she racked her brains to design original dolls that could best represent Yunnan's ethnic minority cultures. Eventually, Ren produced a line of dolls representing 26 ethnic minorities.
In 1999, the Kunming World Expo brought a turning point to Ren's life. Her exquisite, colorful and elegant dolls stood out from a great many folk handicrafts at the expo. The event went a long way towards promoting her business.
In 2000, Ren and her dolls were invited to attend an exhibition in east China's Shanghai. To her surprise, an American business customer signed a contract worth several thousand dollars with her.
The American customer suggested that she should take her dolls to attend the China Export Commodities Fair, also called the Canton Fair, held annually in south China's Guangzhou City. The fair offers dozens of business opportunities every year.
Although she did not manage to secure a booth, Ren still set off for the fair in 2001. She rented an eight-square meter booth at the Dongfang Hotel located just outside the fair complex.
"In the daytime, foreign traders attended the fair but in the evening they would come around to our booth," Ren said. "We got some orders."
In 2002, Ren was assigned a booth at the fair with the support of the Yunnan Department of Commerce.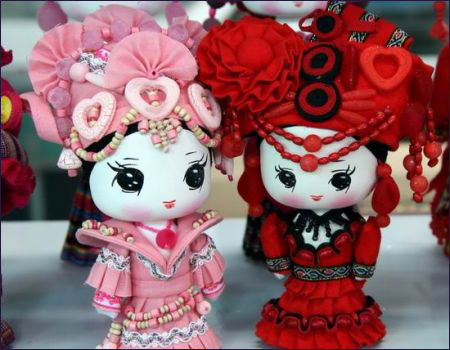 Two of Ren's Chinese ethnic dolls [Kunming Daily]
Breaking into the International Market
Since then, Ren's company has received more and more orders and developed many commercial agents and wholesalers in many domestic cities, such as Beijing, Shanghai and Guangzhou.
Eventually, some of her customers asked her why she did not manufacture dolls that represented the rest of China's ethnic nationalities.
Ren realized that the 26 ethnic minority dolls that currently formed her repertoire could not meet the demands of her nation-wide clientele. She began working on a line of dolls to represent all 56 of China's ethnic groups.
Following this strategic decision, foreign business customers also began to custom order dolls featuring their own countries' cultures.
Nowadays, Ren's company is able to manufacture more than 100 types of dolls. Together with the other handicrafts they produce, such as cloth flowers and purses, the company has applied for more than 100 patents.
In 2009, China's Ministry of Foreign Affairs selected Ren's dolls as the national gift to be used on foreign-related occasions. Thus it was that the dolls began to make their mark all around the world.
"What belongs to a nation belongs to the world. We should seize the moment and try to make the dolls reach the highest standard possible," said Ren.
Fighting against Fake Products
As Ren's business grew, it also attracted copycats and counterfeits. "Someone began to copy our products and the counterfeits seized at least 30 percent of our market share," said Ren.
Accordingly, Ren made up her mind to fight against the counterfeiters.
Since early 2012, Ren has begun to study business administration at Yunnan University, which helped her devise a way to protect her business. She discovered that a company from southwest China's Guizhou Province was making the counterfeits. She decided to take them to court and she won the case.
"The toy company was ordered to suspend its production. Although other counterfeiters might show up in future, the case has slowed down their momentum," said Ren.
Nowadays, Ren has set about developing the fifth-generation line of dolls. She aims to reach an annual production value of 10 million yuan (US$1.6 million) in two years time and further promote her company's Chinese ethnic minority dolls to the world.
(Source: Kunming Daily and yunnan.cn/Translated and edited by womenofchina.cn)