[www.sina.com.cn]
In her lifetime, Zhou Xuan made more than 40 movies and recorded 200 songs in those films. During the 1930s and 1940s, she was a world famous singer. But her life always remained a riddle. During a chaotic period, she overcame difficulties and made a life for herself. Unfortunately, the ruthlessness of society could not save her from life and she finally went crazy and died. Her 40 years of life were difficult. She desperately fought against the roaring tides of that time, but she was finally swallowed by the current. To the world, she remained a series of recollections and riddles.
Zhou Xuan was born as Su Pu in Changzhou, Jiangsu Province. The girl suffered many setbacks in her childhood. At the age of three, she was taken to a family named Wang in Jintan Country by her uncle who was a drug addict. Her name was changed to Wang Xiaohong. Later, the Wang couple divorced and she was sent to a family named Zhou in Shanghai and renamed Zhou Xiaohong.
Pretty Exotic Flower in Shanghai's Songs & Movies
In 1931, Zhou Xiaohong joined the Bright Moon Song & Dance Troupe in Shanghai. There, she stood out conspicuously by playing the leading role in the Song & Dance Express Train. Later, she joined Xinhua Song & Dance Troupe, and the famous musician Li Jinhui suggested that she change her name to Zhou Xuan, which was adapted from a patriotic Japanese resistance song "Zhou Xuan Yu Sha Chang Zhi Shang" (which means fighting the enemy on the battlefield). In 1934, all the Shanghai televisions rallied to hold a singing competition. Zhou sang well and was named a top ten singer with a "golden voice".
Zhou began her acting career in 1935 and played a role in a film by Tianyi Studio. In 1936, she entered Yihua Film Company, and starred in Joyous Day, All Loves. She also acted in It's a Mad Night by Xinhua Film Company.
[www.qq.com]
In 1937, Zhou was the heroine Xiaohong in Street Angel,which was filmed by Mingxing Film Company, and successfully played a singer who was insulted and ruined in old society but still dreamt of a bright future. This film became her representative work of performance art. After that, the roles she played in a series of films were the loveliest images in Chinese movies. After the "8.13 Event", Zhou performed in a grand modern drama, Safeguard Lugou Bridge. Later, she followed the Shanghai Drama Group to Philippine to engage in anti-Japanese and national salvation propaganda.
In 1938, Zhou and the "Prince of the Peach Flower", Yan Hua, wed in Beijing and she began working for Shanghai Guohua Film Company, starring in more than 20 films, including Lady Meng Jiang, Lady Lee, The Story of Tung Siu-yuen, and Tale of the Western Chamber. In 1941, Zhou and Yan divorced, causing a sensation in Shanghai.
In 1943, Zhou began working for China Film United Co., Ltd, starring in The Girl of Fishing Family and Dream of the Red Mansion. In May 1945, Zhou held three solo concerts at Shanghai Jindu Theatre and sang songs from three films The Girl from the Fishing Family, The Song of Harmony and The Flight of the Phoenix. Though the tickets sold for as much as 3000 yuan (Old Currency),the tickets were still all snapped up.
Zhou came to Hong Kong after China won the War of Japanese Resistance and starred in An All-consuming love; You're Smart in One Way, I in Another; Recall to Jiangnan, and Sorrows of the Forbidden City. Then she appeared in Night Inn, filmed by Wenhua Film Company. In 1950, she returned to Shanghai and starred The Peaceful Pigeon. Because she was ill, she was not able to finish the film, and in 1957, Zhou passed away from disease.
An Imperfect Love
Yan Hua was Zhou's first husband. When reading about Zhou, you can feel that although they parted in the end, she loved Yan the most. In him, Zhou entrusted her dreams and she found a father, a brother, a friend and a mate.
After joining Bright Moon Company, Yan Hua helped her a lot. Yan's stalwart body, square and upright face, and sensitive eyes made Zhou feel affection and admiration. Yan helped her solve many problems and Zhou's love for him grew.
Zhou began working for Yihua Film Company after the Xinhua Song & Dance Troupe was dissolved, while Yan followed Great China Song & Dance Troupe on a Southeast Asia tour. Before his departure, Zhou handed him a black notebook. Yan hurried back to China before the year was up because from her diary, he read about her love for him. He was eager to tell her how much he missed her and loved her. For love, Zhou Xuan gave up the chance to tour with Zhao Dan and stayed in Shanghai. Later on, they married in Beiping (Beijing). But the happiness of the marriage did not last long. Rumors made Zhou suspect Yan had an affair; rumors also caused Yan misunderstand to believe that she was dating others. They quarreled and then Zhou Xuan walked out. Because both of them were not calm enough, irresponsible reports by the media added fuel to the flames, finally ending their marriage.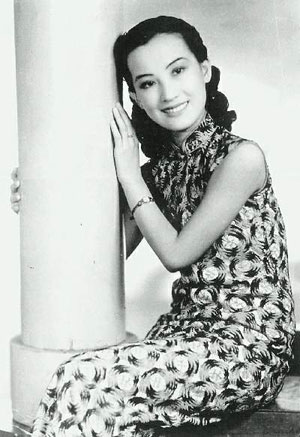 [www.qq.com]
When they signed the divorce agreement, Yan Hua signed it in an office in Pudong Mansion and Zhou signed it at her home.
For a long time afterward, Zhou did not go near love until she met Shi Hui. Zhou Xuan had watched Shi Hui before and met him at the backstage of Shanghai Drama Group. He created various images vividly and became Zhou's idol. He talked about his past with a solemn humor,fascinating Zhou. Shi Hui came to be an important part of Zhou's life, but they were both busy acting. In addition to this, due to Zhou's past love history, she had a preconceived notion of love. In 1946, before Zhou set out for Hong Kong, they were reluctant to part and they spoke about their love for each other.
After shooting two films in Hong Kong, Zhou immediately came back to Shanghai. In the film Night Inn, she worked with Shi Hui for the first time. As soon as Night Inn ended shooting and before the movie's public showing, Great China Company urged her to go to Hong Kong and fulfill her contract. Consumed by the flame of love, she could not think clearly; pressed by her career, she had no time to think carefully. She hurried to Hong Kong, but before she left, she became engaged to Shi Hui.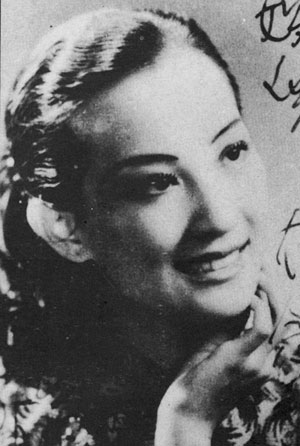 [www.qq.com]
In Hong Kong, Zhou people around her constantly told her Shi Hui's love for her was diminishing, and Shanghai's tabloids even reported on this. People told her to separate from Shi Hui. Like a cold wind, Zhou's flame of love for Shi Hui slowly died.
Returning to Shanghai, the meeting with Shi Hui was filled with distant and guarded greetings. Miss Xu, who was strongly against the marriage, spoke as Zhou's spokesperson. She scolded Shi Hui for breaking his promise and Shi Hui said that Zhou had said "she would never marry insiders," which was published by the media. After an awkward silence, Shi Hui let out a long sigh, clapped his knees with both hands, and then stood up, with a movement bidding farewell to her like the hero at the end of Gone with the Wind.
After experiencing the break up of love, Zhou was mentally and physically exhausted. A young businessman by the name of Zhu Huaide, who she had known for a long time, did everything to please her. He looked for doctors for Zhou and watched over her savings, tripling her profits. And that officious Miss Xu spoke highly of Zhu. Zhou was stricken. At the end of the spring of 1949, after arriving in Hong Kong, Zhou and Zhu began living together. To show that he cared about Zhou, Zhu decided he would return to Shanghai to hold a wedding after the war. Moved by his sincerity, Zhou handed all her savings to Zhu. But after Zhu took the money back to Shanghai, there was no news from him. In 1950, Zhou Xuan carried their child ,born after Zhu went back to Shanghai; however, when faced with the child in Zhou's breast, Zhu said, "I am afraid the child is adopted like you, right?"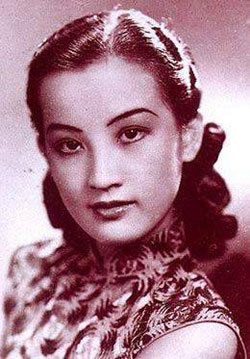 [www.sina.com.cn]
The surprising and unexpected denial showed Zhou's love for him was not sincere and destroyed Zhou's trust, hope and dream in him. The chilly coldness submerged Zhou. When she shot her last movie Peaceful Pigeon, the two words "blood test", like a flash of lightning scratched her fragile nerves. She cried desperately and bitterly. In her miserable voice, she wailed, "It is your flesh and blood, your flesh and blood! Test the blood! Test the blood!" She went crazy. The next five years, Zhou was trapped in a crazy world. In 1957, her illness got better. During this period, a Mr. Tang sincerely and whole-heartedly cared for her. They fell in love and married, and a son was born. But misfortune came to her again. On September 22 that year, she passed away.
Zhou Xuan in Her Son's Mind
"My mother is a kind woman who grew up in China. Singing was her life and she devoted her entire life to it. In the beginning, she just sang ditties, then she constantly learned and later she could sng Beijing opera and coloratura soprano. Her performing improved a lot. She wrote in her auto-biography: I love singing, more than life ... When I sang;a feeling creeps into my heart. Her biggest pleasure was her achievements in work."

"She had a nickname, Little Old Man. Why did she have this nickname? When she was 12 years old, she began performing on stage. When she was a teenager, she had played the role of an old man. Can you imagine how comical it was for Zhou Xuan, the incomparably elegant beauty, to play an old man on stage? That was how she got this nickname. She was funny and she had a lot of signs. When I paid a visit to Zhu Aizhen, she told me that my mother was funny. When she was happy, she would somersault and make faces. She often delighted people around her."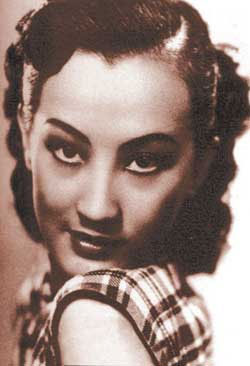 [www.sina.com.cn]
"In addition to her appearance, her character also contributed to her innocence. She liked quiet and she was modest, too. Even if she was not busy, she would not go outdoors; she would refuse party invitations, especially after she married. In her spare time, she liked reading Ba Jin's Family,and when she read, sometimes she would cry. That was when she thought about her own life. She also liked reading famous Western works and Western actors' & actresses' biographies, such as Hollywood star Ingrid Bergman's biography."
"My mum was strong. As a woman, she had her weaknesses, but she had her own opinion, which was proved when she resolutely divorced Yan Hua. She later parted from Liu (her former boss) and bore me. At that time, she was quite helpless, but she insisted on giving birth to me. In the 1940s, she played a lot of roles in patriotic films. I heard from many people in the movie industry that my mother never played traitors."
Now, Zhou Xuan's golden voice can still be heard around China and overseas. At the same time, she had nearly forty years of a miserable life as the singing star of one generation.
(Sources: Voice of China Youth, www.people.com.cn, International Herald Tribune / Translated by Women of China)