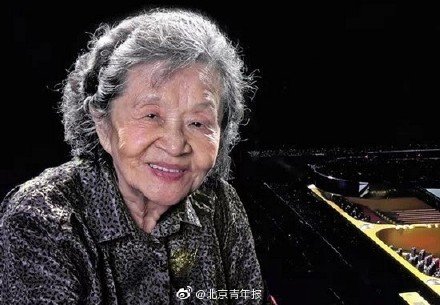 A file photo of Wu [Weibo account: Beijing Youth Daily]
Elaine Wu, or Wu Yili, known as "the first generation of Chinese pianists" died in Singapore on April 20 at the age of 89, according to media reports.
Wu was born into a notable family in 1930 in Heyuan, South China' s Guangdong Province.
She began practicing the piano at the age of 6 and then went on to study under the famous Italian musician and piano educator Maestro Mario Paci, who also tutored other Chinese pianists including Wu Leyi, Zhu Gongyi, Zhou Guangren, and Fu Cong.
At the age of 18, Wu played Beethoven's Piano Concerto No 1 with the Shanghai Symphony Orchestra for the first time to a warm response from the public and the profession.
She became the first piano soloist of the Central Orchestrain 1954 and was regarded as the leading national first-class pianist. She was received by then-Chinese Premier Zhou Enlai in 1962.
In 1983, Wu went to the US to further her studies and settled down in Singapore in 1993.
As the first compiler and player of piano accompaniment for China's best-loved classic compositionThe Butterfly Lovers, Wu also promoted Guangdong music. Yule Shengping is one of the musical works she arranged that became popular with the public.
Since she seldom showed up in her homeland, domestic people knew little about her until a video of a piano solo performed by her was widely shared on social media in 2017.
File photo shows Wu performingon a CCTV program in 2018.[Beijing Daily]

In 2018, she was invited to play classical music with renowned violinist LyuSiqing on a CCTV program.Though Wu was 87 years old at that time, her playing on stage was still perfect and delicate. Under her flexible fingers, the classic Butterfly Lovers was presented flawlessly and touched millions among the onlineaudience.
Lyu was shocked to hear the death of Wu and recalled their performance last year, saying it was a "very smooth" and "pleasing" experience.
He said they discussed details to make the performance better, such as the shifts and the emphasis of violin and piano in different parts before the show.
Wu said "Piano and music are my life" with tears in her eyes when she replied to the question"What does music mean to you?" in an interview.
Lyu said Wu's devotion to music inspires people to strive for the art they love, adding that it's a performers' obligation to pass the good music from one generation to another.
(Source: Beijing Daily Translated by Women of China)