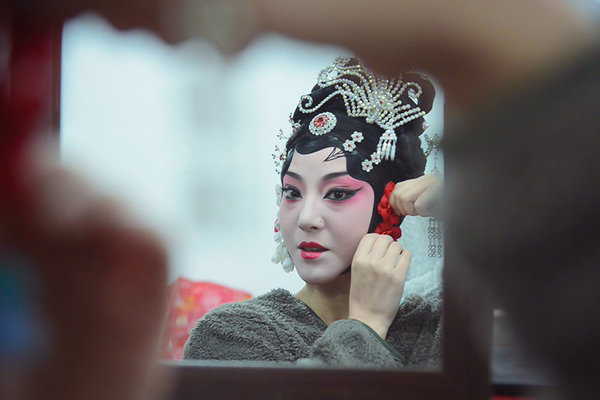 Wei Chunrong puts on an ornament amid her makeup for a stage performance. [people.com.cn]
A female performer from the Northern Kunqu Opera Theatre in Beijing has dedicated herself to promoting the popularity of China's Kunqu Opera over the past three decades.
Wei Chunrong, 46, became a student of Kunqun Opera when she studied at the former Beijing Opera School, which was later renamed into Beijing Opera and Arts College, when she was just 10.
Kunqu Opera, with a history of over 600 years, is said to be the origin of all other Chinese opera styles. As a comprehensive art, it has grown and made significant contributions to the country's literature, history, music, dance and aesthetics in general.
There was no market for Kunqu Opera when Wei and her classmates graduated at the end of the 80s. Therefore, many of them had to give up their passion and instead engaged themselves in acting, singing or business.
Like many of her classmates, Wei was thrown into perplexity and worked hard in search of her direction.
After a while, she followed several senior figures to learn more about Kunqu Opera.
Wei recalled that it was the period that she further deepened her understanding of Kunqu Opera and gradually acquired the essence in relevant role-plays.
She cautioned other Kunqu Opera practitioners in a recent interview that there was actually no need for them to intentionally dumb down and forsake the opera's essence to pander to the public and follow emerging fashion trends.
On the contrary, they should strive to take the lead in providing the public with professional guidance in pursuit of high-end cultural and artistic elements.
Wei said there is no hurdle for Chinese young people and foreign audiences to experience the beauty of Kunqu Opera under current social circumstances.
The Northern Kunqu Opera Theatre found in a survey that over half of Kunqu Opera enthusiasts are youngsters and as many as 83 percent of audiences would like to visit the theater a second time.
During an overseas show in Austria several years ago, Wei and her colleagues received high acclaim from a senior German professor and his students, who could enjoy their performance without any linguistic assistance.
They said traditional Chinese operas have outperformed their foreign counterparts in certain aspects, especially when it comes to stage presentation.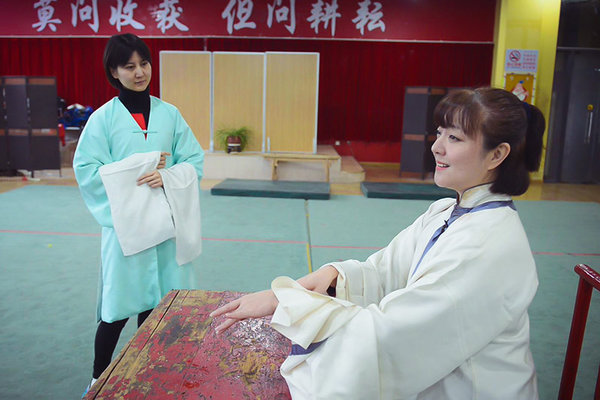 Wei Chunrong (R) demonstrates a stage performance to her student. [people.com.cn]
Wei Chunrong puts on her makeup for a show. [people.com.cn]
(Source: people.com.cn/Translated and edited by Women of China)