Hua Xiaoyi [Women Voice]
Famous Chinese classical dancer Hua Xiaoyi staged her first contemporary performance, Every Moment, on November 21-22 at Shanghai Majestic Theatre.
Consisting of four parts, the production was directed by Xu Rui, vice-president of the Beijing Dance Academy, and choreographed by British choreographer Akram Khan, along with Chinese artists Lou Menghan and Gao Chengming.
The 25-year-old Hua is a new icon for classical dance in her country.
She won the top awards of the CCTV (China Central Television) Dance Contest and the Seoul International Dance Competition, as well as being a two-time winner of the Tao Li Cup, the top honor for young Chinese dancers.
Against her long career as a classical dancer, Hua made a bold, solid breakthrough in her latest work, say critics.
"This is the first time that I see 'dance' from a new angle and welcome the 'stage' with a different state of mind," Hua said.
"There must be some challenges, especially things that are strange or unknown to us, in life to overcome. I feel thankful to them for making me enjoy this moment."
Since April, Hua has been to many cities around the world, such as Moscow, London and Seoul, to meet well-known dancers, building up an international production team for Every Moment.
In her audience's eyes, this contemporary production is just a performance; but for Hua, it is a kind of ''rebirth".
Born in Dalian, northeast China's Liaoning Province, Hua was introduced to Chinese classical dance by her parents, both enthusiasts.
At 12, she went to Beijing to study at the affiliated school of the Beijing Dance Academy and later study Chinese classical dance at the Beijing Dance Academy.
Now, Hua is a member of the dance troupe of the Beijing Dance Academy.
Although winning several major awards, she never felt satisfied and she constantly seeks breakthroughs.
"My heart wants it. It could be a breakthrough or progress. I just want to look at myself through another mirror," Hua said.
"Maybe some dancers worry whether their techniques are good. But what I care more about is how different I am."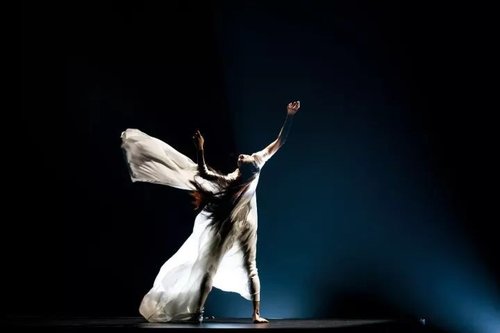 Hua Xiaoyi performs her contemporary dance piece 'Every Moment'. [Women Voice]
Hua Xiaoyi performs her contemporary dance piece 'Every Moment'. [Women Voice]
Hua Xiaoyi performs her contemporary dance piece 'Every Moment'. [Women Voice]
Hua Xiaoyi performs her contemporary dance piece 'Every Moment'. [Women Voice]
Hua Xiaoyi performs her contemporary dance piece 'Every Moment'. [Women Voice]
Hua Xiaoyi performs her contemporary dance piece 'Every Moment'. [Women Voice]
Hua Xiaoyi performs her contemporary dance piece 'Every Moment'. [Women Voice]
Hua Xiaoyi performs her contemporary dance piece 'Every Moment'. [Women Voice]
(Source: Women Voice/Translated and edited by Women of China)