Liang explains her butterfly-patterned embroidery work. [Gmw.cn]
News outlet Guangming Online featured a special live-stream with ethnic Bouyei embroiderers at a rural workshop in southwest China's Guizhou Province on August 6.
The broadcast was part of a series launched by Gmw.cn and livestreaming site Douyu on the theme of "Paying Tribute to Intangible Cultural Heritages and Craftsmen's Spirits".
At the workshop in Nakong Village of the province's Qianxi'nan Bouyei and Miao autonomous prefecture, eight embroiderers sang whilst they worked.
Liang Zhongmei, 53, lost an arm in an accident at seven, is the region's only officially-certified inheritor of Bouyei embroidery.
Running her own workshop and giving embroidery training, Liang is an inspirational figure in local women's eyes, say officials.
"Women of the Bouyei have all learned embroidering skills from their mothers more or less since their childhood," she explained.
The workshop contains several embroidered baby slings that have been used by three generations of Liang's family, and still maintain their brightness and color.
"In the eyes of the Bouyei, baby slings contain great maternal love. The patterns on them symbolize happiness, good luck and Bouyei people's hopes for a better future," Liang explained.
The patterns of Bouyei embroideries vary from person to person. "Embroiderers can think up and draw the pattern first. They embroider whatever they like," she added.
Liang is especially good at making butterfly-patterned embroideries which can sell for over 1,000 yuan (U.S.$ 149) each. Some of her works have been given to foreign guests by government officials as national gifts.
"Ethnic Bouyei women generally start embroidering at seven or eight. Their clothing and shoes are made with the cloth which they weave, dye and embroider themselves," said Wei Xiuchun, head of the villagers' committee.
In recent years, with the development of the tourism, local embroidered products have gained increasing popularity. Many women who had moved away returned to the village and became workshop members.
The traditional craft has not only boosted local women's incomes but also raised their status in their family.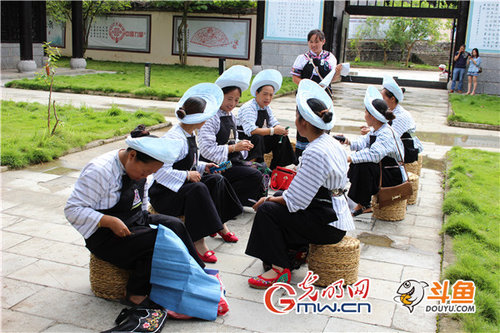 Women make embroideries in a workshop of Nakong Village. [Gmw.cn]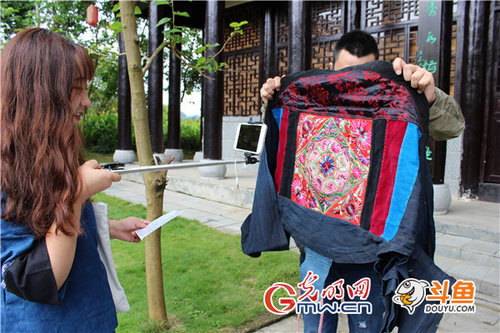 The workshop keeps several baby slings made by Liang's ancestors. [Gmw.cn]
Nearly every ethnic Bouyei woman can embroider. [Gmw.cn]
(Source: gmw.cn/Translated and edited by Women of China)