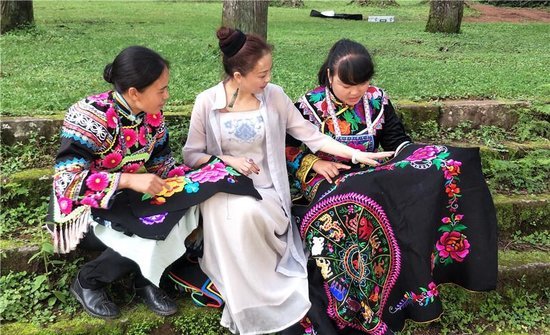 Luo Jun (C) gives embroidery guidance to two Yi women. [Xinhua]
Forward-thinking Yi women of the ethnic group in southwest China's Yunnan Province are helping keep ancient traditions alive through entrepreneurship and innovation.
These days, Luo Jun, president of an ethnic costume company and director of a Yi embroidery cooperative, from Dayao County in the Yunnan's Chuxiong Yi Autonomous Prefecture, is always busy with her business.
After returning from an innovation-themed cultural industry expo in the province's capital Kunming last week, Luo received a team of officials and experts who came to her company to make a "protected eco-origin product" examination and appraisal.
On August 22, she went back to the city, taking part in the final of a provincial-level competition on innovation and entrepreneurship. "Innovation brings vitality and market to my company," Luo said.
"Innovation has also stimulated over 1,000 embroiderers in my hometown to join in the big tide of starting business, as well as broadening the road for women living in the mountains to achieve a moderately prosperous life."
Building Yi Embroidery Brand
Luo's Miyilu Folk Dress Products Company has 33 employees and maintains contact with more than 1,000 Yi embroiderers.
It designs and makes traditional dresses, bags, shoes and other embroidered products with strong ethnic flavor unique to the Yi.
In recent years, Miyilu has developed several new product series such as home furnishings, car decorations and dolls with Yi characteristics.
Luo has managed to mobilize a large number of Yi women to take part in production and processing in the industry.
Through unified brand marketing, Luo and her team have turned the self-made and self-used Yi embroideries into artworks and commercial goods.
In 2016, her company achieved an annual sales of 16.18 million yuan (U.S.$ 2.41 million), helping improve the incomes and living conditions of Yi women from poverty-stricken mountainous villages in the region.
This year, its total sales value is expected to grow by 20 percent, said Luo.
Creating Flexible Employment Model
Shaking off poverty is what several generations of Yi people in the county have longed for.
In June 2009, before Luo started her business, she carried out thorough investigation and market analysis.
Dayao County is located in an arctic-alpine mountainous area which has a slow economy and big, widespread disadvantaged population. But local Yi women are all good at embroidering, which is extremely popular in the market.
"Yi embroidery has gone into the blood of every Yi woman. But in the past they saw it as no more than a basic skill and only embroidered to meet their own needs," said Luo.
"So I decided to organize embroidery training for female Yi villagers, to help them learn new techniques and change the destiny of them and their family with their own hands."
Luo's company adopts a relatively flexible and loosely-organized employment model.
Embroiderers scatter among Yi villages, managing their own work and life, while the company is responsible for designing and developing various products.
After products and processes get mature, Miyilu assigns "orders" to its scattered members who can either work in its workshop or do embroidering at home at scheduled time in required quality.
Conforming to local reality, such forms of work have gained great popularity.
Moreover, whist receiving orders from Luo's company, some enterprising embroiderers with broad sales channels also sell products themselves or manage their own embroidery shops.
Based on Tradition, Seeking Innovation
To inherit and promote the embroidery culture of Yi people in a better way, Miyilu has integrated modern fashionable elements into designs which meet the demand of consumers from different age groups, culture and consumption levels.
"Our goal is to make our products a hit not only on fashion show but also in the market," she added.
In addition, Luo has brought Yi people's traditional craft to classrooms of local vocational schools, helping train a large number of young craftspeople in the past six years.
Meanwhile, Luo's company has become a province- and prefecture-level demonstration base for developing ethnic folk culture and stimulating mountain villagers', especially women's, entrepreneurship and poverty alleviation.
A Yi embroidery product [Xinhua]
Luo Jun speaks at an embroidery training session. [Xinhua]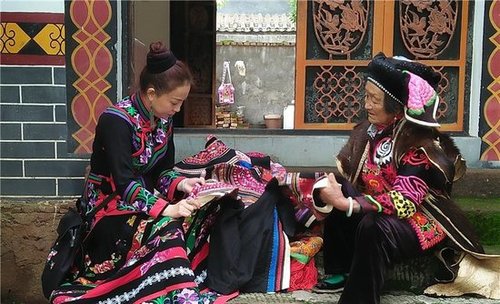 Luo Jun (L) and an elderly Yi woman discuss embroidering methods. [Xinhua]
(Source: Xinhua/Translated and edited by Women of China)