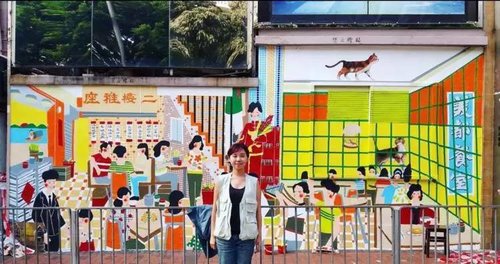 FlyingPig stands in front of the large fresco on Mido Cafe's outer wall. [qdaily.com]
A young female illustrator from Hong Kong has dedicated herself to drawing local decades-old shops and store fronts over the past few years.
In 2015, the woman, nicknamed FlyingPig, published her first collection featuring 10 places. Apart from the images, she has included stories as told to her by the owners.
Chu Wing Kee
Chu Wing Kee is a hardware store with a history of nearly 60 years. It sits in Possession Street, one of the oldest streets in Hong Kong, and sells various daily necessities. Most stores there are from the last century.
FlyingPig first made an illustration of a store there so she could sell it. But finally she presented the picture to the boss for free. "I disliked earning money by taking advantage. I wanted to get people to know about these shops another way," she recalled.
Since then, FlyingPig has been painting old stores and giving one scanned copy to their owner.
Mido Cafe
Founded in 1950, Mido Cafe is the longest existing restaurant in Hong Kong. It lies at the intersection of Temple Street and Public Square Street.
The two-floor eatery still maintains its original design style, kitchen equipment and signature dishes of the 50s, attracting both locals and tourists. In addition, the cafe is also a favorite location for Hong Kong films and TV series such as Goodbye Mr. Cool and Revolving Doors of Vengeance.
When she first illustrated the cafe, FlyingPig made friends with its boss. In June 2017, she created a large fresco on its outer wall. It took 20 people four days to complete.
The mural is about the cafe. In it, Reclamation Street is still a stretch of open water in the bay. As soon as fishermen go ashore, they like to dine in Mido Cafe. They even hold wedding banquets there.
"I'm grateful to those passing neighbors for their impromptu participation and creation," wrote FlyingPig on her Facebook account.
Shanghai Wah Lai Beauty Parlour Co.
Shanghai Wah Lai Beauty Parlour Co. in Choi Hung Estate is one store that FlyingPig often talks about with others.
Between the 50s and 80s, the barber shop was part of the mainstream of Hong Kong's hairdressing circle. Nowadays, its barbers are those old masters in white uniforms, some of whom are in their 70s.
For FlyingPig, the shop used to be a mystery. She cherished a great curiosity about its old-fashioned rollers, stickers and barber chairs. "When I passed by the shop at a young age, I was eager to know what it looked like behind its frosted sticker," she explained. At the time, most Shanghai barber shops only served men.
One Father's Day, FlyingPig asked her father to get a haircut at the barber shop. This way, she completed her illustration and meanwhile became an acquaintance there.
She gave two paintings to its boss and even drew portraits for all the workers. "I often chat with them and give my blessings during festivals," she noted.
Portraying Local Neighbors
From the winter of 2015, FlyingPig drew portraits for local residents beside a large sidewalk snack stall in Yau Ma Tei – for about one hour at weekdays and in the afternoon at weekends. Her project lasted more than one year.
In April 2017, FlyingPig held an exhibition of 101 portraits, which embodied 101 stories of local residents, sitting or standing next to the stall.
At the end of the exhibition, she presented all the portraits to their protagonists. In her opinion, the brushes and paper have turned out to be effective means for her to establish and maintain human relations.
Although FlyingPig has worked as a full-time illustrator for only two years, she has made herself a figure in Hong Kong's illustration field. In 2016, she hosted her first solo exhibition.
"In the spring of 2013, I drew in the street for the first time. Since then, I have developed the habit of doing some painting every week, and gradually found that I was fascinated with the city, its old streets and stores," wrote FlyingPig in the exhibition's introduction.
"This way, I have got to know local residents. Their stories have built up our city as well as me," she added.