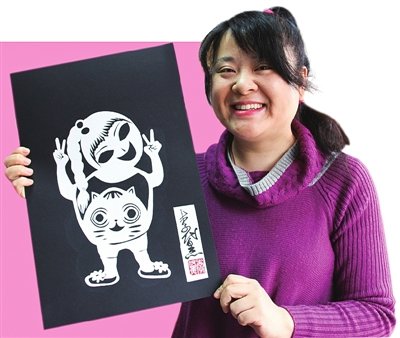 Li Dai shows her paper-cuts. [shmh.gov.cn]
A young woman from east China's Shanghai Municipality has produced over 4,000 paper-cutting works despite congenital cataracts leaving her nearly blind in childhood.
Li Dai, 38, was born into a scholar-gentry family. Both her parents were teachers.
Under the influence of her father, who was an art teacher before his retirement, Li has developed a keen interest in painting since her childhood. However, she has seen little improvement in her eyesight even though she has undergone two operations for her cataracts. She had to put the paper as close as possible to her eyes when she was drawing.
Li's father thus advised her to pursue her artistic dream in paper-cutting, which relies more on one's hands and imaginations instead of eyes, when she was 6.
Since then, Li has used her hands to make vivid paper-cuts out of hundreds of papers and her life has thus become more meaningful and colorful. She has represented the life, fairy tales and folk stories of Chinese people with her paper-cutting works.
So far, her works have received wide recognition from both insiders and the wider public. Her paper-cuts Opera Figures was housed by Tianjin Theatre Museum early in 1993. Moreover, her creations of Romance of the West Chamber and Two Children Debating the Sun were presented with the silver medal of Traditional Chinese Folk Arts in 2007 on the occasion of Chinese Cultural Heritage Day.
In addition, Li's paper-cuts have been published and she once displayed her unique skills in the Avenue of Stars, a program broadcast by China Central Television, in last December.
Right now, Li has allocated more time and energy to taking care of her elderly parents, whose health is not as good as it once was, and she often follows them to attend charity events when she is free from her work.
Paper-cuts made by Li Dai [shmh.gov.cn]
(Source: China Women's News/Translated and edited by Women of China)