Zhu Xiaoli performs tea ceremony. [WeChat]
A tea specialist from Hangzhou, capital of east China's Zhejiang Province, has dedicated herself to learning and promoting the nation's traditional brewing culture over the past 10 years.
Becoming Tea Master
Zhu Xiaoli's father was a tea lover, so her childhood was filled up with the assorted aroma of leaves. Under his influence, she gradually developed a passion for the aromatic beverage.
In 2007 she moved from her north China hometown to Hangzhou and has since stayed in this "Capital of Tea" for nine years.
Upon her arrival, she found a job at a teahouse where she systematically learned her specialist knowledge and about the standards and skills of brewing different teas.
She is now a tea expert and was crowned champion of the 2014 National Tea Culture Vocational Skills Competition.
"Tea has long been part of my life," she said.
Applying Standards to Life
For many people, it is even more enjoyable to watch specialists making a cup of tea with elegant and ordered movements than to drink it.
"In addition to the basics, it's quite an important lesson for beginners to learn assorted standardized actions," she said.
Zhu recalled she practiced hard to perfect each action of the whole brewing process in her early days after coming to the city.
"For example, your movements need to be gentle and coherent when picking up the tea set. The strength of your motion has to be moderate when pouring water into a teapot or cups," she explained.
"Your motions need to be smooth and harmonious the whole way."
Most importantly, people should add their own concentration and ideas during the process, which explains why the feeling shown varies from person to person despite the same brewing actions, she added.
"It can be seen with a single glance at your motions whether you take it seriously or not."
Zhu explained that she follows these norms not only when making tea but in her daily life.
Incorporating Understanding of Life into Design
During the recent city-level skills tea ceremony competition, Zhu designed a piece on the theme of "Tea Fragrance in Four Seasons" presenting the city's year-round beautiful scenery through different teas.
"I like Hangzhou. Its beauty can be seen in different seasons, and I want to let people feel its beauty as they enjoy a cup of tea," she said.
Meanwhile, Zhu has dedicated herself to making local tea culture find favor beyond the country's borders.
From 2012-2014, she joined cultural delegations organized by the local government promoting China's traditional tea culture in countries such as Australia, Japan and New Zealand.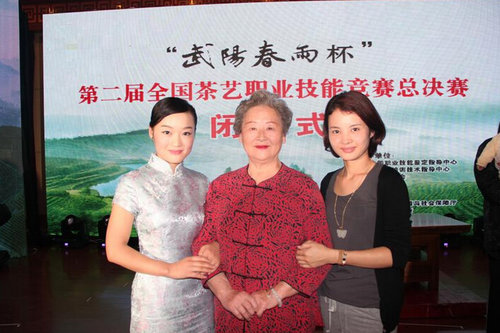 Zhu Xiaoli (L) at a tea ceremony contest [cztv.com]
Zhu Xiaoli (L) and two other tea experts [cztv.com]
(Source: Youth Times/Translated and edited by Women of China)