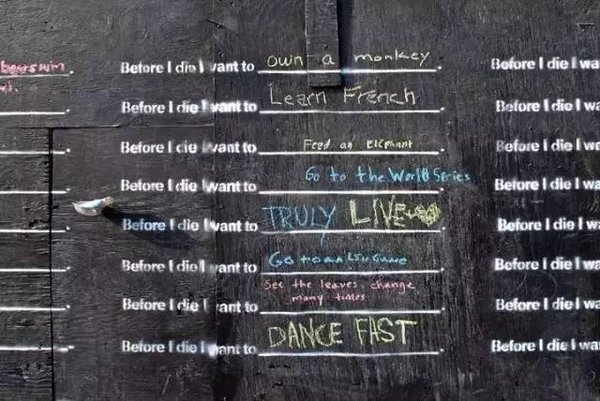 One of the blackboards [jxzc681 at Wechat]
Candy Chang, an ethnic Chinese woman artist from New Orleans, sparked a global storm by raising a blank fill-the-blank question, provoking people's thoughts about their lives.
Among the "Top 250 films" listed by Douban, a movie and book review platform in China, a movie named The Bucket List gained special attention. It's a story about two elders trying to realize their dreams in their later years.
Carter, a lead in the film, gave up his dream of being a history teacher and made a living as a blue-collar mechanic to raise his three children. However, with the help of Nicholson, his next-bed cancer patient friend in hospital, Carter enjoyed most of the things he used to yearn for. The two elders went parachute jumping, drag racing, and on a round-the-world trip amongst other things.
Once a survey of 1,000 people asked whether they would want to know the exact time of their death and 96 percent of them said no. Compared to the grave questionnaire, a question in the streets of New Orleans appears thought-provoking. Some walls in the city's streets were covered thickly with sentences in one same pattern:
"Before I die I want to have a monkey"
"Before I die I want to learn French"
"Before I die I want to have true love"
"Before I die I want to…"
The designer of this blackboard wall was an ethnic Chinese artist named Candy Chang.
In 2009, Candy lost one of her most important family members. It was not until that time that she realized death was so close to her. "Life is composed of many unpredictable things, you never know which could come first, accident or tomorrow," said Candy.
The accident started her thinking about the meaning of life. She started remembering the people who had entered her life, the things she wanted to do but didn't, the wasted time, her lost friends…
From Candy's perspective, life can be easily occupied by things that don't actually matter; meanwhile the truly important things have usually been forgotten. She then came up with an idea.
Some huge blackboards were tacked on the walls of a deserted house downtown, on which there have were printed hundreds of sentences with blanks: "Before I die, I want to________."
Row by row, the sentences appeared in the community. Every passerby could see them clearly. With chalk prepared aside, people coming and going would write in their answers, their deepest aspirations.
Candy hadn't thought about what the result could bring at the start. Surprisingly, the blackboard was filled with answers the next day.
"With a serious expression on his face, an old man in a wheelchair wrote: 'Before I die, I want to support myself,'" said an observer.
While Candy was watching, a beautiful girl wrote: "Before I die I want to have a true relationship."
A shirtless man with tattoo wrote: "Before I die I want to protect the peace of the world."
A young punk band posed for a group photo in front of the blackboard and wrote: "Before I die I want to sing in front of thousands of people."
Every once in a while, Candy erases the old answers to make room for more answers and wishes. Those answers reflect different characters as well as various life stories:
There are some ambitious answers like:
"Before I die I want to be a pirate"
"Before I die I want to run a restaurant"
"Before I die I want to become a sensation."
And there are also many sad sentences:
"Before I die I want to watch my daughter graduating from school"
"Before I die I want to tell my dad that I love him"
"Before I die I want to hug him/her"
"Before I die I want to be myself."
They're ordinary and trivial, but they're the groundings of people's lives. Passersby left a part of themselves on the wall: cynics left their jokes whilst sincere and serious people often left a short sentence after thinking long and hard and grabbing a piece of chalk.
People even returned to say they'd realized their dreams. A man brought his bride Joanna to the blackboard, on which he once wrote: "Before I die I want to marry Joanna."
"I was so moved to see those wishes," said Candy. "Everybody wants to love and be loved, everybody wants to be themselves, and everybody wants to have no regrets when they leave the world."
Several months later, the deserted house was sold and the blackboards were gone. But Candy has recognized the power of those words. She planned to expand the activity to other communities in New Orleans.
More respondents were involved in the activity, some printed it on a beach, some posted it outside parking lots, and some even put it in their national parks. Shortly after, the activity was spread to some 60 countries in six continents.
A simple fill-the-gap sparks people's way of thinking about life and awakens their sleeping mind.
"Before I die, I want to make the person I love happy"
"Before I die, I want to live with you"
"Before I die, I want to be free from money"
"Before I die, I want to be a brave person"
"Before I die, I want to know who I am"
"Before I die, I want to…"
Candy's blackboards stirred up just as much chemistry in Taiwan, China. "It makes me think what the most important thing in life is, and what I need to do with the rest of my life, to make it meaningful," said a respondent in Taipei.
Though The Bucket List is a beautiful story, not everyone can have the chance to make up their pities before dying. "If we have one in mind, why not try making it come true at once? How sad it would be to find out 'I have never lived' at the moment of death?" said a commentator.
Just like godfather Alfred D'Souza noted:
"To love, like you've never been hurt;
To dance, like no one is watching;
To sing, like no one is listening;
To work, like you don't need any money;
To live, like today is the end."
Candy Chung [jxzc681 at Wechat]
Candy prints the sentence on the wall. [jxzc681 at Wechat]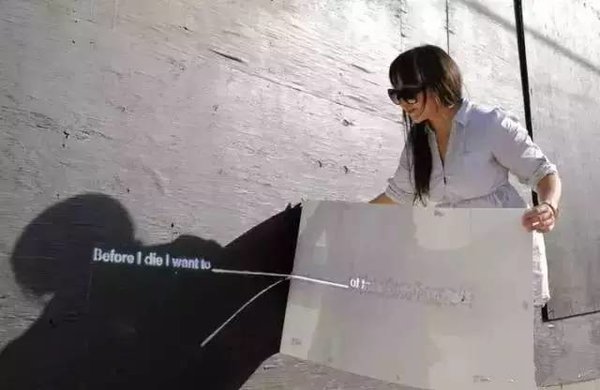 Candy prints the sentence on the wall. [jxzc681 at Wechat]
A passerby writes his answers [jxzc681 at Wechat]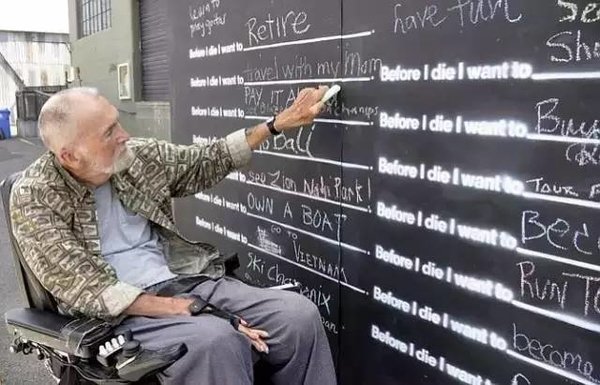 A elderly man writes his response. [jxzc681 at Wechat]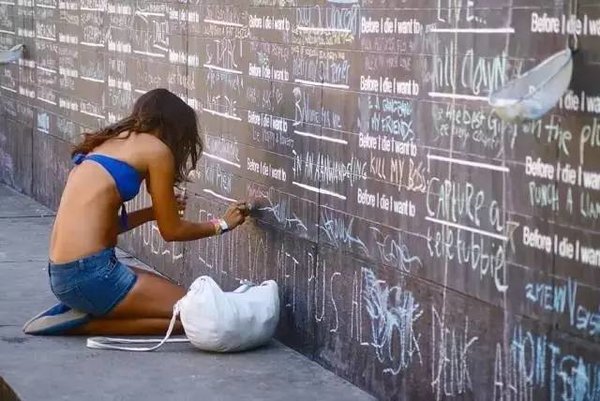 While Candy was watching, a beautiful girl writes: "Before I die I want to have a true relationship." [jxzc681 at Wechat]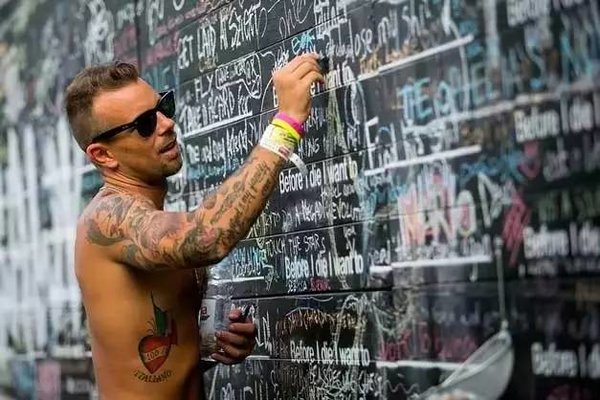 A shirtless man with tattoo writes: "Before I die I want to protect the peace of the world." [jxzc681 at Wechat]
A young punk band posed for a group photo in front of the blackboard and writes: "Before I die I want to sing in front of thousands of people." [jxzc681 at Wechat]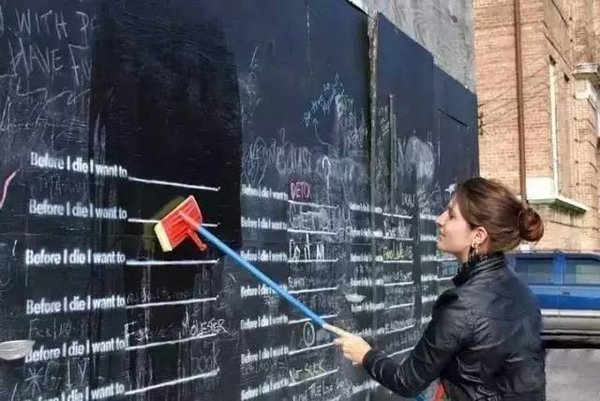 Every once in a while, Candy erases the old answers to make room for more answers and wishes. [jxzc681 at Wechat]
"Before I die I want to marry Joanna." [jxzc681 at Wechat]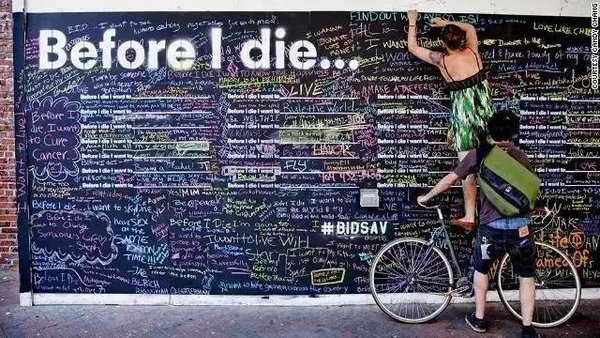 Those answers reflect different characters as well as various life stories.[jxzc681 at Wechat]
Several months later, the deserted house was sold and the blackboards were gone. But Candy has recognized the power of those words.[jxzc681 at Wechat]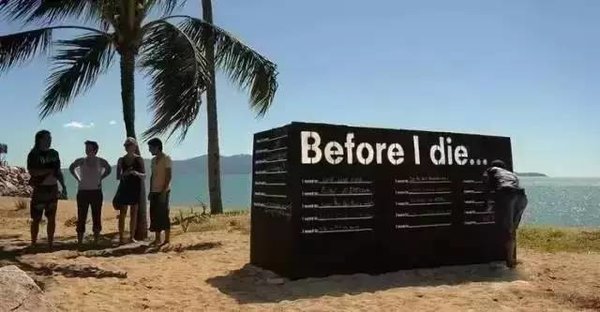 Shortly after, the activity was spread to some 60 countries in six continents. [jxzc681 at Wechat]
Shortly after, the activity was spread to some 60 countries in six continents. [jxzc681 at Wechat]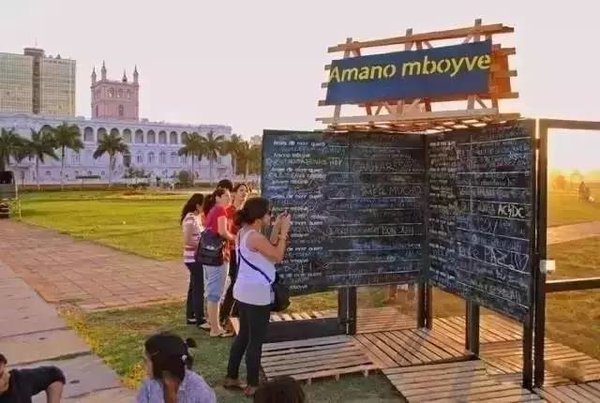 Shortly after, the activity was spread to some 60 countries in six continents. [jxzc681 at Wechat]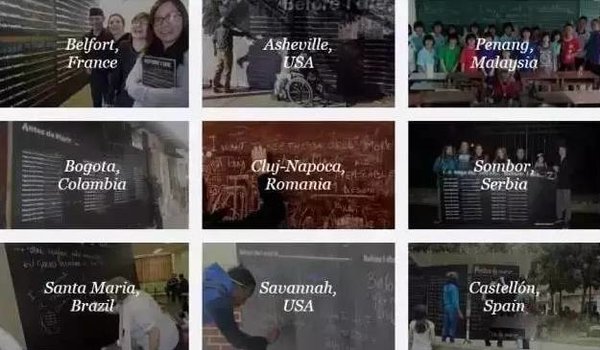 Shortly after, the activity was spread to some 60 countries in six continents. [jxzc681 at Wechat]
(Source: jxzc681 at WeChat/Translated and edited by Women of China)