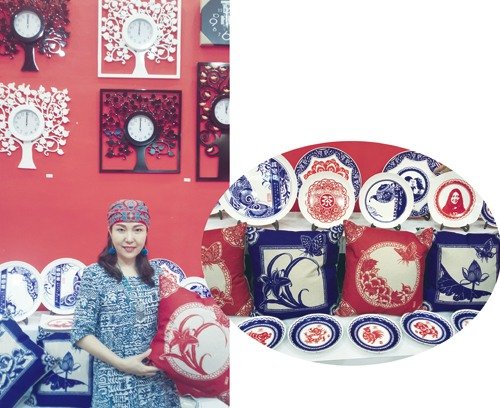 He Hong [China Women's News/Ye Haiyan]
A female middle school teacher from east China's Jiangxi Province quit her job in 2005 and has spent the past few years establishing the first listed intangible cultural enterprise in China to promote the traditional art of paper-cutting at home and abroad.
He Hong has already held many large-scale solo exhibitions for her exquisite creations and remarkable skills since she took up the craft. Now, she is considered as the "Queen" of Chinese paper-cutting by many people nationwide.
Due to her father working in the local cultural center, she was lucky to have an opportunity to learn from some experienced folk artists when she was 5.
With the increasingly proficient technique day by day, she began traveling far and wide to pursue modern ideas and pattern designs from more people, seeking inspiration wherever she went.
Over the past 10 years in her teaching career, she was dedicated to advancing the craft in combination with teaching courses. According to her, more than 150 students have received first prizes and special awards in paper-cutting contests under her guidance.
By chance, she set her sights on business and established her own company, aiming to further expand the traditional art's influence. With her great efforts focused on researching contemporary consumption trends, she has created various kinds of household articles featuring traditional traits and fashionable styles. To her surprise, all her paper-cutting products have sold well in more than 3,000 stores across the country.
In the course of running her start-up enterprise, she has set up a complete supply chain including design and production as well as sales, which has made many improvements compared with traditional business models.
In addition, she constantly extends her business to clothes, electronics and gifts, along with other industries.
She stated, "Tradition and fashion share a similar idea to some extent."
(Source: China Women's News/Translated and edited by Women of China)