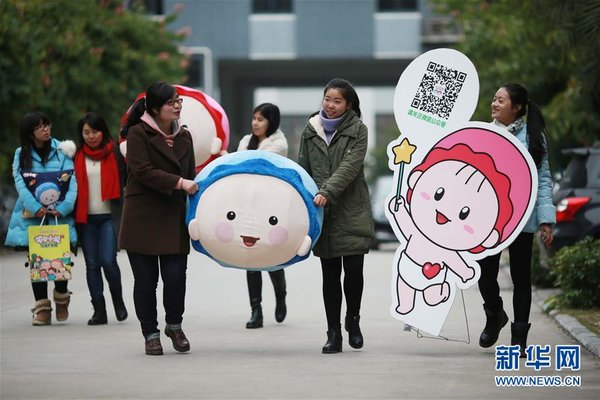 Staff from Crane Animation demonstrate the cartoon characters Keke and Xiaoai on the street in Guilin, Guangxi Province on December 14. [Xinhua]
The hit Chinese original animation "Keke Xiaoai" featuring moral, safety and general knowledge education for children kicked off the broadcast of its 9th season online on December 14.
First aired on the state broadcaster China Central Television (CCTV) in 2012, "Keke Xiaoai" has been distributed by TV stations across China, as well as featuring on some 50 online video sites and platforms, winning over 30 billion views in total.
"In the next five years, we aim to create an education brand focusing on quality learning for children and public welfare," said Wang Yuxiao, founder of Crane Animation, producer of the series.
Anime Lover
Wang knew little about animation-making as she made up her mind to join the industry. The decision sprang from a keen interest ignited whilst watching Japanese animator Hayao Miyazaki's movies at university.
As her major in university was not related to animation at all, she moved to Beijing and enrolled herself in a training course.
To save money, she rented a shabby basement. She plunged herself into the study of animation every day until she got a chance to work for a local anime firm.
After joining the company, she started from the very basics and found her lack of drawing skills was restraining her further development. Therefore, she got up at 5 a.m. every day to practice. Her efforts paid off. She won recognition from her boss and colleagues and joined the core creators' team.
Further Study
The transition from amateur to professional did not come about easily. However, Wang made a surprise decision to quit the well-paid job and pursue a postgraduate study in animation in Australia.
"As we lag behind westerners in animation, we need to go out and see what gap there is and learn from them," she said in an early interview with youth.cn.
During two years' study in Australia, Wang saw many students work part-time at restaurants or supermarkets. But she felt that this was only helpful in earning living expenses. She wished to do something related to animation.
She sent her resumes to many animation companies and secured two chances, by which she not only could earn her rent but also enrich her expertise.
After graduation, she got offers from many foreign companies. For many, it seemed that the dream of becoming a premier animator would be more easily achieved by working for a foreign company. Surprisingly, she decided to create her own business back at home.
"Everything you do should serve your ultimate goal. By this way, you can grow strong most rapidly," she said, adding that every step she took, including learning animation in Beijing, pursuing further study in Australia, doing a part-time job as an animator and starting up her own company in China, was working towards her ultimate dream.
Business Starter
Crane Animation started up as a studio of three people, one responsible for screenwriting, one for animating and one for contacting other companies.
The team ate dinner at the office when they were busy and often had meetings until midnight. But all of them felt tireless.
On July 6, 2012, they delivered four episodes of their self-made "Keke Xiaoai" to the children's channel of CCTV. Soon it became a hit on TV and the Internet.
In 2013, 12 channels of CCTV and over 1,000 local TV stations broadcast the animation. The annual online clicks touched 3 billion.
The animation also won many rewards, including being named as one of the Top 100 Most Promising Companies Created by Overseas Returnees.
Positive Energy
Anyone that comes into contact with Wang feels that she is energetic, confident and smiley.
"I used to aspire to be the best animator. Later I found a good animator cannot make a good animation herself as it requires team efforts," Wang said.
The team she leads are a group of young people of the generation born in the 80s and 90s. They work five or six days a week. During the recess at noon, they gather together to exchange ideas or carry out some activities relating to Keke and Xiaoai, the cartoon characters they create.
Such an orderly and relaxing working environment is what Wang wishes to foster.
She also hopes to pass on the positive energy to more people through "Keke and Xiaoai", she said.
For each ultra-short, 30-second episode, the team would select the storyline from dozens of scripts. They then discuss in details about how to present the story in a way that is easier for understanding and acceptance.
When asked about the secrets of her success, Wang said: "You need to have an idea and get it executed resolutely until success."
"Of course, the idea must be positive," she said with a smile, grasping the chance to advocate the concept of positive energy.
(Source: Xinhua & youth.cn/Translated and edited by Women of China)