When the Gala Concert of the 8th Shanghai International Opera Master Class concluded on the evening of August 20, 2011,the audience stood up and gave the performers a standing ovation.

The class art director, Zhou Xiaoyan, walked up onto the stage and congratulated her students on their excellent performance.

Watching her on stage, you would not have been able to tell that this sprightly woman was born in 1917. At 96, she still teaches vocal studies as a tenured professor at the Shanghai Conservatory of Music.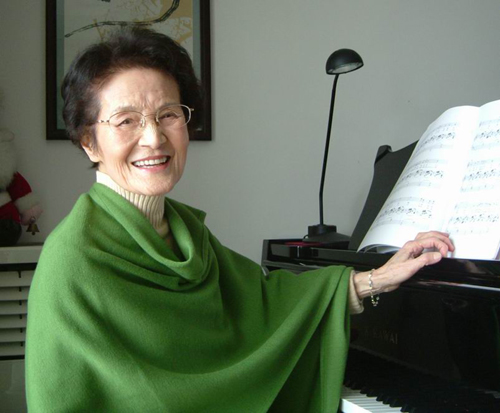 Zhou Xiaoyan, 96, is a vocalist and tenured professor at the Shanghai Conservatory of Music. [shcmusic.edu.cn]


The Great Wall Ballad

Zhou rose to fame for singing through harsh circumstances. When Japanese troops invaded China in 1937, Zhou, a member of an art troupe, wanted to do something to raise the Chinese people's morale. On a simple stage in Wuhan, south China's Hubei Province, she sang The Great Wall Ballad, a song about the desire of war refugees from northeast China to return to their hometown, which was occupied at the time by the Japanese troops after the Manchurian Incident in 1931.

The song has become the hallmark of Zhou's career. On her way to France in 1938, she stopped by Singapore to sing the song for the overseas Chinese living there. Touched by her performance, they donated to China's war efforts against the Japanese invasion. Some even volunteered to join the Chinese army to fight the Japanese.

At the 50thanniversary of China's victory against Japan, Zhou was invited to sing the song again at the Great Wall of China.

In 2005, her students held a concert in Shanghai to mark the 65th anniversary of her teaching career. Zhou was asked to sing the ballad again as the year also marked the 60th anniversary of China winning the war against Japan. Some of her students were afraid that she would not be able to pull it off, as she was already 88 years old at the time. They advised her not to do it as it might not be good for her reputation.

"I will be 90 in two years. My voice is definitely not as good as it was when I was younger, but why should that stop me from singing the song? My love for the country has always been the same," said Zhou.

International Fame

In 1938, Zhou went to France where she spent eight years studying vocal techniques. In 1946, she held her first solo concert in Luxembourg. Her performance was praised by people from different backgrounds. It was said that her voice was pure --- as solid as crystal, as brilliant as a diamond.

Later, she received invitations to perform at many established theaters across Europe. Across theaters in Italy, Germany, England and Switzerland, she was dubbed the 'Nightingale from China'.

In 1947, she attended the Prague Spring – the first International Music Festival in former Czechoslovakia. She also held concerts in five of its major cities.


Zhou (R) and her teacher, Alexander Tchepnin, in France [shcmusic.edu.cn]


Return to China

At the peak of her vocal career in Europe, she returned to China. In 1949, she attended a cultural conference held by the Chinese government, where she received a notebook in which former Chinese Premier Zhou Enlai (1898–1976)had written a message encouraging her to work for the people's music. Many established writers such as Ba Jin and Ding Ling also talked with her and encouraged her to make further achievements in her music.

"I always keep the words of Premier Zhou and the writers in mind. It is my honor to be a singer and teacher for the people, which is my goal in music," said Zhou.

That year, she landed a teaching job at the Shanghai Conservatory of Music where she would spend the rest of her life grooming students into brilliant vocalists.

In her teaching, she places a heavy emphasis on Chinese songs. When one of her students held a solo concert during which he sang only foreign songs, she was so angry that she suggested that every student in the vocal department learn to sing four Chinese songs a semester.

Treat Students like Family

For Zhou, her students are a part of her life and she has always treated them like her own family.

One of her students, Wei Song, began studying at the Shanghai Conservatory of Music in 1973. Due to the ongoing Cultural Revolution (1966-1976), Zhou had to take Wei and other students to her home whenever they wanted to listen to Western music.

In doing so, she was taking the risk of being fired and prosecuted, as Western music was forbidden during that time. Bravely, she would pull down the curtains in her home and play the records for her students.

This was the first time that Wei heard the Western style of music, opening the door for him to become an excellent tenor.

Another of Zhou's students, Liao Yongchang, came from a rural area in southwest China's Sichuan Province. A simple boy, he was so shy that he was not even able to say hello to Zhou when he met her for the first time. He was unfamiliar with piano and musical theories, and he sang with a strong accent.

Zhou was patient with him and taught him to sing line after line. Under her guidance, Liao made rapid progress. With her help, he went on to pursue a master's degree in vocal studies.


Zhou (Right, back) teaches Liao Yongchang (L) to sing in class. [shcmusic.edu.cn]


From 1996 to 1997, Liao took part in several international vocal competitions and won three prizes. After learning that he had studied under Zhou, Plácido Domingo said that Liao's success was certainly because he was talented, but more importantly because he had Zhou as a great teacher.

When Liao returned after winning first prize at an international competition, Zhou told him to keep a humble heart. Following her advice, Liao has always led a peaceful and simple life, regardless of the ups and downs of his career.

In fact, Liao, the shy boy who couldn't even smile at Zhou before, has not only gained international fame, but is also the vice principal of the Shanghai Conservatory of Music and director of its vocal department.

At most of his concerts, he will sing the song My Teacher, I Always Miss You as a way to show his gratitude for Zhou. "I lived alongside Teacher Zhou for dozens of years, she is as close to me as my mother," he has said.

Aside from teaching her students with great patience, Zhou always keeps her door open to them, providing needy students with free accommodation and food.

Li Xiuying is one such student who has benefited from Zhou's help over the years. When she was a student, she lived in Zhou's home for several years.

During holidays, Zhou often invites her students to have dinner at her home to ease their homesickness.

Despite her outstanding contributions, Zhou remains humble and she always attributes her students' success to their own diligence and talent rather than her teaching.

Still Going Strong

In 1988, Zhou established the Zhou Xiaoyan Opera Center under the Shanghai Conservatory of Music. Although she was already in her 60s, she threw herself into making the center a success.

The next year, the center and the Jiangsu Opera and Dance Theater planned to jointly stage the famous Italian opera Rigoletto in Nanjing, east China's Jiangsu Province. Zhou worked hard at the rehearsals every day.

Unfortunately, shortly before the opening night, she had an accident and broke her legs. Afraid of delaying the performance, she decided to undergo the surgery in Nanjing. Just a few days after the operation, she invited her students to her ward to teach them.

As soon as she was discharged from hospital, she wheeled herself in a wheelchair to oversee student rehearsals. Thanks to her guidance and her students'efforts, the performance turned out to be a great success.

In the past few years, Zhou's center has staged a number of famous Chinese and foreign operas such as La traviata, Don Carlos and The Land. It has also held many opera concerts.

Zhou's center has not only played an important role in promoting opera performance in China, but also played a significant role in fostering opera singers by opening the Shanghai International Master Class in 2000.

Many established foreign and Chinese vocalists have been invited to give lectures to young singers, teachers and students there.

When asked when she will retire, Zhou said, "I am a tenured professor, so I will work until I am unable to."

Since her husband died in 1996, she has been teaching students in her home. In the mornings, she gives lessons to two students and in the afternoons, to the other three. If her classes are interrupted due to conferences and gatherings at the conservatory, she will make it up on the weekends.

"For the sake of art, I must live every day as if I will die tomorrow," said Zhou, explaining her dedication to her teaching work.

(Source: eol.cn/Translated and edited by womenofchina.cn)
Please understand that womenofchina.cn,a non-profit, information-communication website, cannot reach every writer before using articles and images. For copyright issues, please contact us by emailing: website@womenofchina.cn. The articles published and opinions expressed on this website represent the opinions of writers and are not necessarily shared by womenofchina.cn.