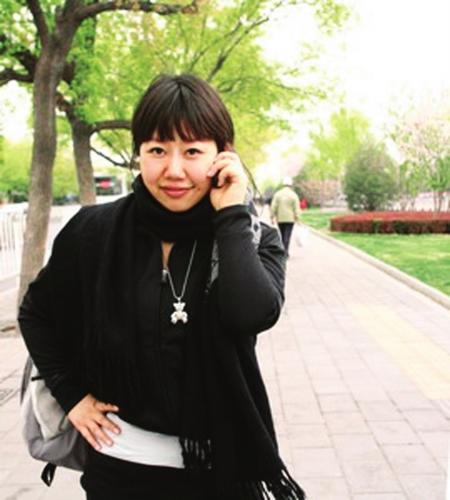 Cartoonist Xiong Dun [Huaxi Metropolitan Daily]
Comic books featuring original work are achieving blockbuster circulations these days in China. The monthly circulation of China's top three comic periodical, MT TIME, Comics World and Comics SHOW has respectively reached 5, 3 and 1.2million.
Original comics, a previously obscure sector of China's booming book publishing industry, have apparently now gained full momentum; and the trade is producing outstanding turnover, says to Wu Huaiyao, the founder of China's List of Rich Writers, a significant cultural index in mainland China sponsored by Huaxi Metropolitan Daily, an authoritative newspaper circulated in southwestern China's Sichuan Province.
Last November, Wu Huaiyao and his team from Huaxi Metropolitan Daily initiated China's List of Rich Cartoonists 2011. "We are just trying to ride the wave. The ranking order was decided by cartoonists' total royalty incomes in the past decade (2001-2011)," Wu said.
Upon release, the List of China's Rich Cartoonists created a buzz and succeeded in bringing the previously low-key group of comics artists into the limelight.
Renowned Taiwanese cartoonists Zhu Deyong and Ji Mi took the top two places and Zhou Hongbin who is from mainland China, made it to third place. Their total royalty incomes for the past decade are respectively 61.9 million Yuan (US$9.5 million), 25 million Yuan (US$3.8 million), and 18.3 million Yuan (US$2.8 million), reports Huaxi Metropolitan Daily.
Among the 15 cartoonists listed, 13 are rising stars from mainland China and the royalty incomes for their separate reprints all exceeded one million (US$ 152,846). It is commonly recognized that, besides the increasingly booming market, national incentive policies set forth in recent years have also contributed to the recovery of Chinese comics.
A Typical Success Story in the Age of Comics
Zhou Hongbing is acclaimed as one of the most successful cartoonists from mainland China. And it seems his steps upward to success were trodden on original Chinese comics' path to recovery and greatness.
Five years ago, the then 27-year-old Zhou Hongbin set up his own studio with several aides in a shabby apartment of merely 50 square meters. They worked like the devil everyday. To meet deadlines, the team usually ate instant noodles and stayed up until the small hours. And they had to cut back on ground area to save space for desktop workplace.
"One ardent teenage fan came to me one day and asked to join in; he said he was determined to quit school for comics and so, we let him stay. Shortly after that, one night, our kitchen faucet broke and he was happening to sleep on the ground near the kitchen. So, at midnight, the kid woke up to find himself lying in a pool of cold water. The next day, he just left," Zhou recalled the situation with a wry smile on his face.
Zhou was born into a common workers' family in north China's Tianjin Municipality. From elementary school, he was caught by the then soaring craze of importing comic books from Japan.
The hit comic Dragon Ball immediately tempted Zhou and turned the teenage boy into a loyal fan.
Dragon Ball was the masterpiece of Japanese cartoonist Akira Toriyama. The whole series comprised 42 books, each was printed in 3.6 million copies and all sold out in Japan. In the 1990s, Dragon Ball came to China and became an instant hit.
"I was liable to laugh as much as cry when reading this book," said Zhou.
Since then, Zhou started thinking about becoming a cartoonist in the future. After getting into middle high school, he began to draw replicas of pictures from his comic books. Soon, he decided comics would be his life-long pursuit although career prospects in China were bleak at the time.
After middle school, Zhou enrolled into a technical school so he would have more spare time to create comics, and he also began to submit work pieces to the few comic magazines of the time. A year later, one of his eight-panel comics was published.
"I got 800 yuan (US$123.1) and was excited about getting paid for something I enjoy. But after being informed the top cartoonists in China could only make around 3,000 yuan (US$461.5) a month at the time, I began to realize how hard it would be to make a living through drawing comics."
By 2001, after graduation from three years of college succeeding the technical school, the 22-year-old young man became an intern illustrator for an advertising company. However, the meager salary of 500 yuan (US$76.9) a month finally made him quit the job. "I could not ask for money from my parents any more. And I decided to earn myself a good life through drawing comics."
After some serious thought, Zhou decided to go freelance. "I went to newsstands and went through all sorts of magazines and newspapers that also printed comics. I wrote down their addresses and mailed my work to them. Some of the interested editors gave me calls. And I would paint whatever they needed." By the end of the first month, Zhou Hongbin had earned 4,000 yuan (US$615.4), a good money at the time in the field.
From 2002, against the backdrop of a booming publishing market, original Chinese comics began to tread on the path to recovery. Specialized comic magazines catering solely to the market emerged. They provided whatever their readers wanted. In 2003, Zhou compiled all his formerly published works for publication and he sold out 60,000 copies. Through his hard work, Zhou built up his reputation in the field.
"The favorable climate helped with my career. By 2005, many newly-rising comic magazines used my comic strips."
In January 2006, MK TIME, which later became one of the top three comic magazines in mainland China, was started in Wuhan, south China's Hubei province. Li Jing, the founder and chief-editor of the magazine had always admired Zhou Hongbin's works. So, he went all the way from Wuhan to Tianjin to visit the talented cartoonist. And two months later, Zhou's Raging Streetball began to be serialized by the magazine.
After one year's run-in period, Zhou and his editors from MK TIME created Star-stealing Girl in 2007, which proved to be Zhou's most successful comic strip and is still serialized in MK TIME till today.
Li Jing, the chief editor of MK TIME, said, thanks to the success of Star-stealing Girl , Zhou received a royalty income of 10.84 million yuan (US$1.72 million) just for the year of 2011. In a few years, the talented and studious young man had grown from penniless to newly rich.
When asked about his next step, Zhou responded with a radiant smile, "I will take a break and do some traveling when the Star-stealing Girl is finished."
Not All Is Smooth Sailing
While ardent fans cheer for the robust development of original Chinese comics, a recent tragedy called public attention to the living status of cartoonists, who are now pushed by the booming market almost to their physical limits.
Online comics darling Xiong Dun (the pen name for Xiang Yao, born in 1982) serialized her latest comic strip titled Go to the Devil, Mr. Tumor on tianya.cn, a major portal in China to pay for her several months' hospitalization for cancer. Although the work once again proved Xiong Dun's talent in creating light and jovial comics, her fans were stunned and saddened by the bad news.
The brief opening to Go to the Devil! Mr. Tumor goes like this:
I got really sick that morning (August 21, 2011) and could hardly make it to the bathroom door before falling over onto the ground, foaming at the mouth and twitching. And……the terrible part is that …I was totally naked …at the time.
With her sweet roommate bustling around calling help, all she could think of was that "Oh, that's the reason why I'm not supposed to go to bed…naked."
With her signature jocular dialogue, lively scenes and 'up' attitude, Xiong impressed all viewers with her incredibly strong mind and comic talents in turning something painful and worrisome into fun material.
Xiong Dun later confirmed to a reporter from Huaxi Metropolitan Daily she is now receiving chemotherapy in Beijing.
Xiong Dun, her real name is Xiang Yao, hailed from Lishui, east China's Zhejiang province, and was working as a full-time illustrator in an advertising company in Beijing before being diagnosed with non-Hodgkin's lymphoma, a cancer of the cells of the lymphatic system after a 'drop-dead' experience.
Before the hit comics about fighting cancer which gained her instant fame, Xiong's previous comics like A Bachelorette's Diary, Superwoman on Diet, or Maturing into Womanhood serialized online had already gained her a broad fan club.
"Many netizens left messages online to show support and some even offered to pay me visits at the hospital," Xiong Dun told the reporter in a cheerful voice. "Their kindness gives me courage."
When asked about her current condition, Xiong Dun confirmed she had been diagnosed with non-Hodgkin's lymphoma, a cancer of the cells of the lymphatic system. "Now, I stay at home to nurse my body for increasing leukocytes. Next week, I will go to hospital for the next round of chemotherapy."
"Don't worry. I will be OK. The chemotherapy will soon finish and my doctor is optimistic about my illness." the brave girl added.
Of course, the illness also pushed Xiong Dun to reflect on her living style. "Although doctors were unable to assign a cause to my illness, they are quite sure the result has something to do with the way I led my life." Xiong Dun admitted that she often stayed up late to meet deadlines and poor time management just made things worse.
"Several of my cartoonist friends also suffer from ill health. I hope my illness will sound alarm bells to other workaholics in the field. Cartoonists really should pay more attention to their health. You know, everyone should cherish their life and heath," said Xiong Dun.
The Other Side
"Our work is actually most times monotonous and painstaking," said Mu Fengchun, whose several hit books, including his masterpiece Sacred Saga (2004) have made him a legend in the field.
Mu Fengchun, also nicknamed by his fans 'Xiao Mu', hails from mainland China's metropolitan Shanghai, and was also listed in the rankings for rich cartoonists. He says the increasingly sleek industry is now pushing cartoon workers like him to the physical limits.
"People assume drawing comics everyday should be something romantic and enjoyable. But the reality is, the job is mostly monotonous and entails laborious effort. My typical working day starts at 6 am and ends at 10 pm. And there is no vacation or even weekends because of all the deadlines. I take a drawing board wherever I go. I draw comics whenever my hands are free."
Mu says serializing comic strips for print media especially puts them under great pressure. "You are supposed to meet the deadlines and create something good. Sometimes, I kept working for days without any rest."
Gui Huazheng (whose more widely-known pen name is A Gui), graduated from the reputable Luxun Academy of Fine Arts and was shot to the stardom by his hit comics Guibao series which debuted in 2009 and is now up to the seventh Guibao series book. Gui Huazheng, with his royalty income accumulating to 4 million yuan (US $615,385) took the eighth place of the list for rich cartoonists.
Gui Huazheng said during the past two years, he finished seven Guibao comic books. "Sometimes, I could barely get on my feet in the morning. I was just too tired."
Gui said what happened to Xiong Dun alarmed him at the right time. "I often worked the whole night until the wee hours and this has made me mentally and physically exhausted."
Gui usually works 16 to 18 hours per day. "I started to work since the second day of Spring Festival this year, and then I had a cold. And the anxious feeling about falling behind the schedule really drove me crazy."
Zhao Dong, a young cartoonist born in the 1980s, said a comic book usually entails a long period of working process. "You are supposed to compose the story, design the characters, set individual scenes, and details like tools, sceneries, and you have to collect material So, it's natural for cartoonists to work overtime. Most of us are suffering from cervical syndrome or stomach troubles."  
The Obscure Ones
Although some successful cartoonists are receiving millions in royalty incomes, the obscure ones are still struggling to survive on a meager monthly salary, reports Huaxi Metropolitan Daily.
According to Mu Fengchun, only a tiny portion of the huge group of cartoonists in China are becoming newly rich. Most professional cartoonists just earn a bare living.
They lived on meager salaries until the day one of their works makes a hit. These obscure cartoonists are badly paid. "Starters could only earn around 1,000 yuan (US$154) per month. In my hardest times, I drew around 80 panels each month and I was only rewarded with 2,000 yuan (US$309). After paying the rent for my tiny room, there is not much left," said Mu Fengchun.
Jin Chen, a veteran publisher of original comics, said the current comics industry in China basically belongs to a branch of 'fast food culture'. "Top comic magazines are considered the most preferred platform for obscure cartoonists to debut their brilliance. So, the media should shoulder the responsibilities of talent scouts. And, the other way around, the birth of new stars could also boost the brand names of the media."
(Source: Huaxi Metropolitan Daily / Translated and edited by womenofchina.cn)