Zhang Ruifang's illustrious stage and film acting career spans more than 70 years. The title role she played in the 1962 film Li Shuangshuang established her as one of China's finest actresses.
Zhang's performance as Li Shuangshuang made her an overnight star and won her the Best Actress award at the 1963 Hundred Flowers Awards. The role is also contrary to the then gender-stereotypical image of the rural woman as submissive housewife, mother and general factotum, as the character Li works alongside men doing heavy farm labor, is active in community work and quick to speak her mind. The late Premier Zhou Enlai personally commended Zhang in this role, having remarked, "You have done a great job. It's a good film."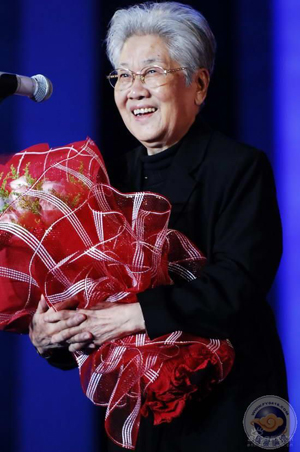 Zhang Ruifang with the lifetime achievement award she received on October 27, 2007 at the 16th Golden Rooster and Hundred Flowers Film Festival. [sina.com.cn]


Zhang was born on June 15, 1918 in Baoding, north China's Hebei Province. She went to art school in Beiping (Beijing) in 1935 to study western painting techniques. After the War of Resistance against Japanese Aggression broke out in 1937, Zhang and her fellow students formed a theater company that toured the country and gave performances to raise morale and promote patriotism. Zhang played leading roles in more than 20 stage dramas, and she and her peers Bai Yang, Shu Xiuwen and Qin Yi were honored as China's top four stage actresses during this period. Zhang joined the Communist Party of China in 1938 in Chongqing.

Zhang's first film role was in Sun Yu's Baptism of Fire (1940) as a Chinese double agent working for Japan during the War of Resistance against Japanese Aggression. Her next leading role was that of a rural character in On Songhua River (1946), a performance which won Zhang wide acclaim among the Chinese cinema-going public.
Zhang Ruifang in Li Shuangshuang [china.com.cn]


Since the foundation of the People's Republic of China in 1949, Zhang has acted in more than 10 films, among them Nan Zheng Bei Zhan (Civil War), Mother, Three Years, Li Shuangshuang and Along Sanba River. She retired from the stage and screen in 1982.

Zhang has also been active in the political arena, having been member of the Third, Fifth and Sixth National Committees of the Chinese People's Political Consultative Conference (CPPCC), as well as of the Third and Fourth Committees of the China Federation of Literary and Art Circles (CFLAC) and of the Fourth Executive Committee of the All-China Women's Federation. Zhang is former vice-president of the China Film Association Shanghai Branch.

In 2000, Zhang opened a welfare home for senior citizens in Shanghai's Changning District. There is space enough for more than 40 in this 20-room, 1500 square meter house. It is presently home to11 people between the ages of 73 and 93. But as Zhang explains, "I am not trying to run a business. I just want to provide a comfortable home for elderly people with common interests."

(Source: baidu.com / Translated by womenofchina.cn)

Please understand that womenofchina.cn,a non-profit, information-communication website, cannot reach every writer before using articles and images. For copyright issues, please contact us by emailing: website@womenofchina.cn. The articles published and opinions expressed on this website represent the opinions of writers and are not necessarily shared by womenofchina.cn.