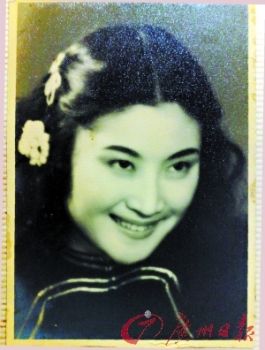 Yan Huizhu [File Photo]
Yan Huizhu [File Photo]
Yan Huizhu and her teacher Mei Lanfang (R), Peking Opera maestro [File Photo]
Peking and Kunqu Opera artiste Yan Huizhu (1919-1966), of the Mongolian ethnicity, was the second daughter of Yan Jupeng, star student of Peking Opera maestro Mei Lanfang, and wife of fellow opera singer Yu Zhenfei. Yan had a reputation for being haughty, proud, indifferent to others' feelings, and forthright to the point of rudeness. The offense she caused was undoubtedly a contributing factor to her untimely death.
Yan had one son, Yan Qingqing, whom she left to her husband's care before committing suicide.
Unsuppressable Star
More than 40 years since her death, a beautiful but solitary actress is at last being remembered and spoken of among Chinese opera lovers. She is Yan Huizhu, Queen of Kunqu Opera, and star student of Peking Opera master Mei Lanfang.
Yan was born in the autumn of 1919 in Beijing. She was the second daughter of Yan Jupeng, who was among the top four most popular Peking Opera actors at that time. Yan was not allowed to study Peking Opera as a child because it was considered an unsuitable pursuit for women. She nevertheless became one of the most famous performers of her time.
Yan Huizhu was a beautiful but headstrong and self-willed adolescent who made no secret of her passion for Peking Opera and ambitions to be an opera star.
Yan began learning the strict and physically punishing Peking Opera discipline at the relatively late age of 17. After just three years she had excellent Kunqu skills and singing ability far superior to more experienced actors and actresses. She became an undisputed star of Peking Opera at the age of 20 in Shanghai after performing Hu's Village with her father.
Spurred by this success, Yan Huizhu studied at the Cheng (Yan-Qiu) school of Peking Opera before deciding to learn from Peking Opera master Mei Lanfang. This was a challenging ambition, because male performers of the time rarely accepted women as formal students. Yan's relationships with many of Mei's close and important friends, as well as his daughter, however, persuaded him. Yan Huizhu began taking classes from Mei Lanfang at his house in Shanghai in 1943. Before long she was his star student.
Yan Huizhu learned from her teacher's performances as well as the classes he gave her. She never missed one of Mei Lanfang's performances when he returned to the stage in 1945 after China's victory over Japan. She would take notes throughout the play, and often sing along with her teacher where she sat. Her assiduous studies enabled Yan to emulate her teacher, and bring female Peking Opera characters more into vogue.
But Yan Huizhu's upbringing in a famous well-to-do family did nothing to tone down her innately haughty and overbearing character. Although proud of her, Master Mei worried about the effect his star pupil's personality might have on her public.
Collective Stardom
Yan Huizhu dressed uncharacteristically as a frugal student on May 27, 1949 before going out to join the rejoicing throngs lining Nanjing Road to welcome the People's Liberation Army and a new era in China's history.
But although wholeheartedly in favor of New China, Yan Huizhu nevertheless fulfilled her ambition of heading a private theatrical troupe similar to that of her teacher Mei Lanfang. She wrote, directed and performed its entire repertoire, and was outstandingly successful in her artistic enterprise. Before long she earned what was at that time the undreamt of fortune of tens of thousands of yuan.
When China later entered a new period of public-private style commerce, theatrical troupes all around China operated according to joint public-private management. It was a change that did not suit Yan Huizhu's mode of performance. Certain famous Peking Opera artists such as Li Yuru and Tong Zhiling successfully adapted to the contemporary political climate. They also maintained a good living from working at the Shanghai Peking Opera Theatre for monthly salaries of more than one thousand yuan. After Yan Huizhu eventually made the hard decision to work under state management she performed in a number of state-owned theaters in Shanghai. Her next step was to go to Beijing in expectations of performing with the China National Peking Opera Company. But for various reasons Yan did not get the reception in the capital that she expected. Mortified, she attempted suicide but was rescued. Upon her return to Shanghai she began working at the Shanghai Peking Opera Theater.
But Yan had to share the limelight in this more collective mode of work with other top actresses such as Li Yuru and Tong Zhiling. This arrangement severely limited her performance opportunities. She seldom appeared on stage more than once a month. Yan's egocentricity and pride at having studied under Mei Lanfang, and her unwillingness to cooperate, either with fellow artists or president of the theater Zhou Xinfang made her many enemies.
The crunch came in 1957 when the government invited intellectual, literary and artistic celebrities to a forum in Shanghai where they were encouraged to make comments and suggestions. Yan Huizhu used the forum as an opportunity to express dissatisfaction with her situation of the past few years. She told all present, among other things, "I want to act; just let me act." Her diatribe was quoted in full in the well known newspaper Wen Hui Po. When the political tide turned again a few years later Yan's complaints were construed as evidence of her "reckless attack on the Party." It was an uncertain time for all concerned, particularly those in the entertainment profession. As Yan had offended so many fellow artistes, no one was willing to help her. Premier Zhou Enlai and then Secretary for Culture in Shanghai Xu Pingyu eventually gave Yan Huizhu the chance to redeem herself by spending three months writing a profound self criticism.
Unhappy Ending
Not long after, Yan Huizhu unexpectedly married Yu Zhenfei, 20 years her senior and famous master of both Peking and Kunqu Opera . Wu's gentle, restrained character was in direct contrast to Yan Huizhu's flamboyant egoism. Those who knew the couple said their marriage was one of artistic convenience rather than love. Even then, there was fiction between them. It escalated from a tiff on their wedding night to dramatic clashes at work and in daily life. But it was a match that undoubtedly helped Yan Huizhu's career. The couple became twin stars of Peking and Kunqu Opera. Their six-month tour of Europe also did much to introduce Chinese traditional performance art to the Western world.
Yan Huizhu, however, did not learn from her mistakes during earlier political movements. Considering herself a superstar she wanted the same status as her husband Yu Zhenfei. She committed the cardinal sin of accepting an invitation from a "Taiwan friend" that would make her regarded by many as the country's enemy. By the time she made her way back to Shanghai Yan had amassed an army of critics, and her reputation was in ruins.
Shortly before the "Cultural Revolution" (1966-76) Mao Zedong's wife Jiang Qing commissioned a series of "revolutionary modern model operas" that exalted New China and the Chinese people. Yan Huizhu wrote and rehearsed a revolutionary play in support of this genre. Jiang, however, publicly rejected her contribution, saying, "Tell her to stay at home to reflect on her misdeeds!"
The "Cultural Revolution," started in 1966. During the first two-year phase many Beijing Opera troupes were forced to disband because they fell under the "Four Olds" category of old customs, old culture, old habits and old ideas. As leaders of the Shanghai Theatre Academy, Yan Huizhu and his husband Yu Zhenfei came in for heavy criticism and were forced to do the menial work of cleaning latrines. Yu Zhenfei's pleasant ways moved certain teachers and students to give him covert help. Yan Huizhu, however, bore the full brunt of Red Guard zeal. Students ransacked her home and confiscated her treasures. Devastated at the loss of her material wealth and artistic status Yan Huizhu hanged herself from a cross beam in her bathroom with a strip of white cloth she had used in her performances. She left her son Yan Qingqing to the care of her husband Yu Zhenfei.
"Huizhu's art was not her own creation but the result of the toil and study of many artists. She learnt so much from them, but gave it all up in less than five minutes!" was the comment of Wang Xiaotang, famous actress and Yan Guizhu's sister-in-law at a conference commemorating Yan Huizhu in the winter of 2007. Wang ended by saying, "All I have to add is that I hope Yan Huizhu's admirers and disciples are strong enough to live on, no matter what difficulties they face!"
(Source: Xinmin Weekly/Translated by womenofchina.cn)