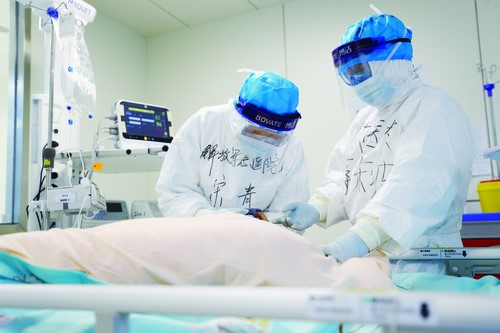 Song Qing (L) and her colleague treat a patient infected with the novel coronavirus in the ICU of Taikang Tongji Hospital in Wuhan, capital city of Central China's Hubei Province. [China Women's News/Wang Haoyu]
Song Qing, a medical worker with more than 50 years of experience in military medical service, has been fighting against the novel coronavirus (COVID-19) since the onset of the outbreak.
As a famous expert in critical care, Song, in her 60s, is energetic and skillful. When the epidemic broke out, she immediately applied for giving medical assistance to Central China's Hubei Province as soon as possible, which is her typical style.
It is her fourth time to take on such an important and urgent medical emergency, following the battle against SARS (severe acute respiratory syndrome) in 2003, the devastating Wenchuan earthquake in Southwest China's Sichuan Province in 2008 and an overseas medical relief mission to fight against the Ebola disease in Liberia, Africa.
However, her application to work in Wuhan, capital city of Hubei Province, was not approved because of her age. Though she was not allowed to work on the front line, her enthusiasm was not dampened.
After learning about a severe shortage of cardiopulmonary function monitoring equipment during a medical consultation teleconference, Song rushed to contact suppliers online.
With her persistent efforts, she purchased 100 sets of finger pulse oxygen saturation monitors and donated them to Wuhan.
As the fight against the COVID-19 heated and the number of senior residents infected with the virus increased, Wuhan was short of critical care experts.
On February 9, Song was informed that she would be heading for Wuhan. "I was so excited to finally get to the front line," she recalled. Song arrived in the city the same day and joined the fight the next day.
Song gave instructions and suggestions to ICU (intensive care unit) wards treating the severely ill patients infected with the virus. Song also gave professional advice on transforming traditional ICU wards into specially-equipped ones for COVID-19 patients, covering such matters as collective management of patients, equipment and medical staff.
She insisted that the devices in the ICU should be operated by professionals, but only to find that the department was short of such professionals.
Bearing "saving lives is the top priority" in mind, Song led the newly formed team to save lives while offering training on critical care to team members.
Thanks to her great efforts in training, the mortality rate has dropped significantly.
Though positive signs have started to emerge in the battle against the COVID-19 in Wuhan, Song is still quite busy giving lectures in local hospitals.
"I will not withdraw as long as I am needed here," she said, "It is our responsibility to train critical care professionals," said Song's in a husky but firm voice.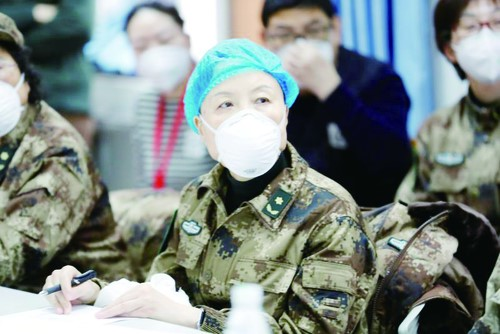 Ye Ping attends a medical consultation teleconference in Wuhan, Hubei Province. [China Women's News/Wang Haoyu]
Ye Ping, 67, a famous cardiologist, is another member of the military medical expert team sent to assist the anti-virus fight in Wuhan.
Ye was also informed of the mission on February 9. Without telling her child, she packed her luggage and some common medicines before departing.
On the day after her arrival, Ye examined CT images, all kinds of medical reports and listened to the concerns of clinical doctors.
"The main duty of our expert team is to give treatment advice," she said.
Ye is always busy giving medical advices on treating patients under complicated conditions in different wards.
In addition to the military hospital where she was dispatched to, Ye also went to Huoshenshan, Taikang Tongji and Guanggu hospitals in Wuhan.
According to Ye, the team was quite meticulous about the treatment plan for the senior patients, since they had complex and variable conditions.
A patient aged over 70 with many other diseases is getting better thanks to their treatment plan that is adjusted from time to time in line with the changes of his health condition.
Every medical consultation at the front line is a race against time, and the key to effective intervention is to identify the transition points of critical patients.
Ye said that because many patients are elderly people, they often suffer from chronic diseases and have poor immunity and weak recovery ability.
"Identification as early as possible can enable them to get timely treatment at the best time, which can protect the function of each organ, and help them go through the infection period of the COVID-19 smoothly," she explained.
Ye said that the expert team includes a number of specialists in geriatrics, basically covering all categories in that field. "We are all pleased to see that some critically ill patients have become mildly ill and others have recovered and been discharged from hospital."
Though retired for many years, Ye kept a strict self-disciplined schedule. She insisted on doing exercises every day at the residence even while working in Wuhan.
"We won't leave here as long as the people need the military to remain," she said.
(Source: China Women's News/Translated and edited by Women of China)