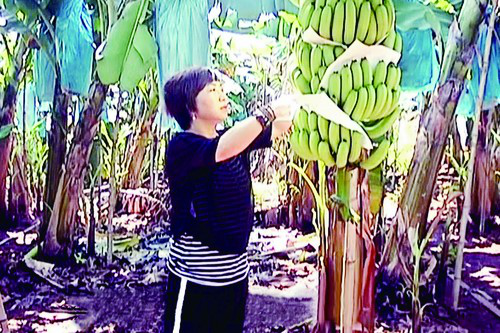 Xu Yongmei, president of Hainan Tiandiren Ecological Agriculture Co. Ltd. [For Women of China]
As president of an ecological agriculture company, Xu Yongmei has set up 41 tropical fruit bases totaling more than 1,600 hectares in South China's Hainan Province in the past 20 years, including Hainan's largest banana planting enterprise and China's largest golden diamond pineapple base.
In 2015, her company was listed on the new 'over-the-counter' market, becoming Hainan's first agricultural planting enterprise to be listed on the national capital market.
Xu has been engaged in foreign-trade businesses since she graduated the university in New Zealand. In 1999, by chance, Xu and her husband took over a longan base in the county's Meitai Village.
Later, she began to plant banana, because it requires less investment for a greater yield. In order to expand, Xu had to sell her car to support the business operation. Due to her diligence, Xu's business prospered and she set up her own company.
Her company has endured natural disasters and even rumors about bananas, but it has survived because of her strong faith and a good business reputation.
"Only by introducing technology into farming and establishing a modern enterprise system can agriculture develop well," Xu said. Her company researched and developed an agricultural information data management system to systematically and procedurally manage tens of farms across the province.
"It is very important to have corporate governance and to formulate a standardized management system if you want to run your company for 100 years," Xu said. "A business must introduce a standard modern enterprise management system, establish a platform and introduce top talents."
Besides operating the company, Xu has also been actively engaging in poverty alleviation. She held training courses on planting techniques for more than 7,800 impoverished people, guided 121 impoverished households to run businesses by themselves and helped 858 households totaling about 3,800 people to increase their income.
For more than 20 years, Xu has followed her original intention of developing in cooperation with local people and her company has explored poverty alleviation models to encourage impoverished people to escape poverty.
In December 2016, she signed a contract with Duoxian Village, in Lingao County, to invest 20 million yuan (US $2.86 million) to help the village plant honey pomelo and pineapple. In 2018, the whole village had escaped poverty.
By the end of 2018, Xu's company had carried out the work of targeted poverty alleviation for 4,883 households totaling 21,700 people, sharing out bonuses of 16.45 million yuan (US $2.35 million).
Every time her company builds a base, it also helps repair the road around the base. Following the poverty-alleviation work, schools were built as well and villagers were trained into industrial workers. "The enterprise has developed well these years while it has brought benefit to others," Xu said.
(Source: Hainan Daily/Translated and edited by Women of China)