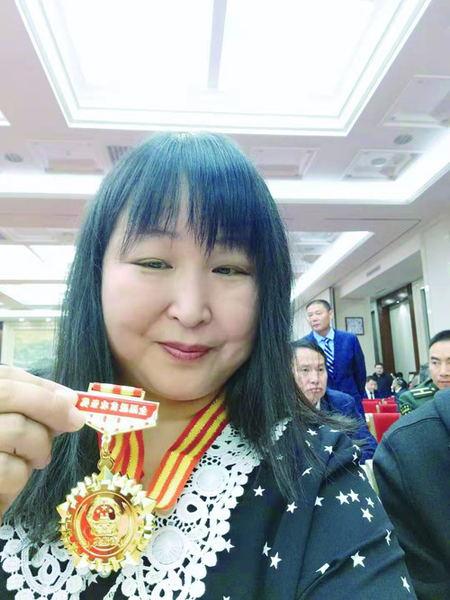 Yue Guiling is one of the 23 women awarded a national medal at a ceremony this October for their efforts in poverty alleviation. [China Women's News]
Yue Guiling is one of the 23 women awarded a national medal at a ceremony this October for their efforts in fighting against poverty and helping impoverished people live better lives.
Yue is chairperson of a planting cooperative in Hulun Buir, a city in North China's Inner Mongolia Autonomous Region.
Since graduating from university, Yue has been engaged in farming as well as sales, processing and circulation of agricultural products. She established the cooperative in 2010.
Yue has developed a model integrating her cooperative with impoverished families and planting bases since 2016. She has established a complete industrial chain focusing on intensive processing of green soybean.
Yue also established an online sales platform, which helped nearly 400 households shake off poverty and become rich.
In 2018, she led impoverished households to plant 589 mu (39.27 hectares) of green soybeans, helping each household increase income by about 2,200 yuan (US $315).
Under the leadership of Yue, local university graduates and the young people who have returned home for work set up e-commerce service centers in 100 villages and townships, to help villagers purchase supplies for farming and sell agricultural products.
They helped the villagers purchase more than 1,000 tons of goods, which saved them about 150,000 yuan. Via the platform, about 1,000 tons of soybean and 50 tons of dried vegetables are sold annually.
Yue has helped nearly 200 people get jobs via the agricultural e-commerce platform. Some grain products of the cooperative are exported to the Republic of Korea. Yue bought large drying facilities earlier this year, and she employed local women to process dried vegetables for selling online, so more rural women can get jobs at home and increase their income.
Her cooperative was recognized a national demonstration cooperative and a national demonstration base for women's poverty relief in 2017.
Yue was honored as a National March 8th Red-banner Holder in 2017. This year, she was awarded for her efforts in poverty alleviation and won a national honor as a pioneer in innovation and entrepreneurship.
Yue said she should learn more to be a good leader in the cooperative, adding that she should not only read books on farming but also learn from the veteran farmers to increase the production and quality.
"My dream is to contribute to rural revitalization and lead more female villagers to get rich through entrepreneurship and innovation," Yue said.
(Source: China Women's News/ Translated and edited by Women of China)