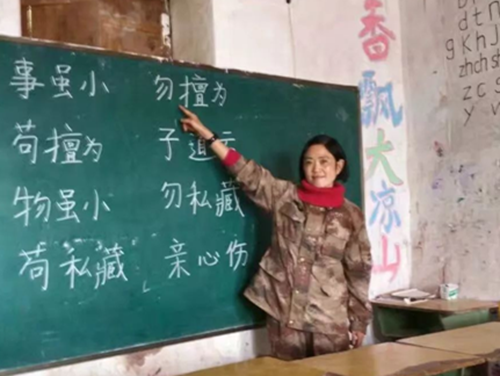 Xie Binrong teaches students at a primary school in Liangshan Yi Autonomous Prefecture, in Southwest China's Sichuan Province. [For Women of China]
Many Chinese refer to Xie Binrong as "a rose blooming in the mountain." Why? After having given up ease and comfort in Chongqing (in Southwest China), her hometown, she during the past five years has offered to teach children in Liangshan Yi Autonomous Prefecture, in Southwest China's Sichuan Province.
Xie joined the army in 1993, shortly after she graduated from Sichuan Normal University. She worked as an engineer with an air force troop stationed in North China, until she left the army and returned to Chongqing in 2013. A short time after, Xie learned the prefecture recruited volunteers to teach primary school students . She decided to take the job, to repay society for the care and assistance she had received.
In February 2014, Xie began teaching at a Yi children's primary school in Xichang, capital of the prefecture . That summer, she supervised students, in the prefecture's central primary school, during the final examination. When she collected the students' examination papers, she noticed many of the children had answered only a few of the questions. She was surprised when she learned some of the children could not write their names. Then, she realized helping local children improve their education was arduous work. So, she decided to continue teaching at the Yi children's primary school.
In August 2015, Xie began teaching at Zhaganluo (a village in the prefecture)'s primary school. Situated halfway up the mountain, the school was nothing more than an earthen house. Xie was the only teacher.
During the first week of the new school year, Xie taught her students how to do radio exercises. She also helped the children form good habits and trained them to be disciplined. She told the kids they must have good manners and treat others with respect.
Xie used corn, potatoes and other crops as teaching aids when she taught the children how to calculate. She also created ballads to teach the children how to read and write pinyin and Chinese characters. Many of the children took delight in performing the situation comedies, which were created by Xie based on their texts. Xie was gratified that many of the children became more lively and cheerful. Given Xie's help, many of the students improved their academic performances markedly.
"Education is crucial for the sustainable social and economic development of a region ... Through studies, students will increase their knowledge and broaden their vision. That will bolster their confidence in helping the villagers escape poverty through hard work (in future)," says Xie.
During the past five years, Xie has raised more than 20,000 yuan (US $2,857) toward the construction of teaching buildings at the schools where she has worked. She has also brought in capital to help the rural residents breed poultry.
Given her benevolent act (of teaching children in the remote area), the Publicity Department of the CPC Central Committee and China's Ministry of Veterans Affairs in November 2018 honored Xie as one of the "Most Beautiful Veterans" in China.
(Women of China)