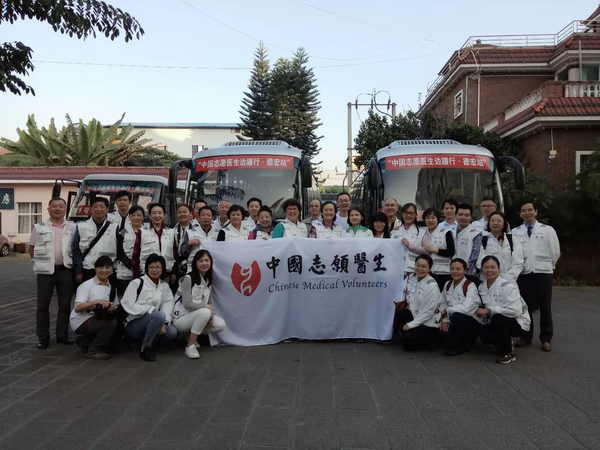 A group photo of a team of Chinese medical volunteers [China Women's News]
"I always think that doctors should not only rescue people with scientific medical skills, but also have heart-to-heart talks with patients to know what they are thinking," said Ling Feng, chief expert in neurosurgery of Xuanwu Hospital Capital Medical University.
Ling Feng (L2), chief expert in neurosurgery of Xuanwu Hospital Capital Medical University, is at work. [For Women of China]
Ling Feng is a well-known neurosurgeon in China who has treated countless patients and made great contribution to the field of the diagnosis and treatment of spinal cord vascular malformation. She once treated a five-year-old girl from a county of East China's Anhui Province, who had tumbled and hurt her head. Ling firmly opposed other doctor's diagnosis and proposal of surgery as she had carefully checked the girl and claimed that her body was in normal condition. In her view, it was unnecessary to operate on the girl because of the high risk.
Finally, no surgery was performed. Nine years later, the girl has no abnormality in her brain and lives a healthy life. The family just follows Ling's advice to physically check the girl's brain every year.
Ling began to engage in medical voluntary events 20 years ago. Hearing about the poor medical conditions in Binxian County in North China's Shanxi Province, she organized a medical team to provide free medical treatment to local people.
In 2017, with the support of her husband, Ling sold her house to raise two million yuan (US $285,900) and set up the Beijing Ling Feng Public Welfare Foundation, expecting to recruit more professional doctors to provide voluntary medical services.
Given Ling's efforts, the Volunteers' Working Committee of the Chinese Medical Doctor Association was established in March 2017, and Chinese Medical Volunteers Action was launched three months later.
In May 2018, entrusted by the National Health Commission, the team of the Chinese medical volunteer team began to provide better healthcare in 804 poverty-stricken counties around the country.
In the past two years, nearly 2,000 medical volunteers used their spare time providing free clinic service and medical assistance. They established more than 140 treatment centers in over 120 poverty-stricken counties.
Zhao Lijuan, former chief physician of the Pneumology Department of Beijing Tiantan Hospital affiliated to Capital Medical University, has participated in 10 voluntary activities since she joined the volunteers' team.
"In Dehong Autonomous Prefecture, in Southwest China's Yunnan Province, I treated an infant of only 20 days old, but with a congenital atresia ani. The baby's family was too poor to afford the operation fee. Fortunately, my friend's foundation subsidized the medical expense for the operation. Now, the baby is as healthy as other children. I think I have really done a particularly meaningful thing," Zhao said.
About a decade ago, Zhao suffered from physical disability as a result of a car accident, so she retired early. After hearing that professor Ling was organizing a medical volunteers' team, she decided to participate in the team because she wanted to serve patients and relieve their suffering. "Giving medical treatment to patients in remote, poverty-stricken areas makes me realize my value," said Zhao.
Providing better healthcare is intended to prevent impoverished people from falling into poverty caused by illness. In November 2018, the National Development and Reform Commission and the National Health Commission jointly released a three-year implementation plan aimed at providing better healthcare so that impoverished people could afford medical treatment.
"I was sad to see children suffering from diseases in remote, impoverished areas where there was a lack of medical staff and knowledge. After I joined the team, I gave free clinics to children in poverty-stricken areas, learned local people's needs and communicated with local doctors. I tried to promote my medical knowledge and treatment methods to the local people and medical staff in an understandable way," said Jiang Huaying, a pediatrician of Li Qiao Children's Hospital and a member of the Chinese Medical Volunteers team.
"So far, our team has nearly 2,000 medical volunteers and the number is climbing every day. We provide assistance to all patients in need," Ling said proudly.
(Source: China Women's News/Translated and edited by Women of China)