Twenty-three women from various sectors were given National Awards for Poverty Alleviation for their dedication, outstanding performance and contribution to the nationwide poverty-alleviation campaign at a ceremony held in Beijing on October 17.
The top-honor National Awards for Poverty Alleviation are conferred annually by the State Council Leading Group Office of Poverty Alleviation and Development, which launched the awards in 2016. This year, some 140 individuals and groups were given the Award for Endeavor, the Award for Contribution, the Award for Dedication or the Award for Innovation.
Women recipients of the Awards this year were role models who have independently lifted themselves and people around them out of poverty, poverty-alleviation officials in rural areas, entrepreneurs, and scientific and technological workers.
Niji Lhamo from Southwest China's Tibet Autonomous Region and Li Yaomei from Northwest China's Ningxia Hui Autonomous Region are two representatives of millions of rural women across the country. They received the Award for Endeavor at the ceremony for their firm determination to take the lead in helping their neighbors escape poverty and become rich through their hard work.
Niji Lhamo at her store.[Xinhua]
Lhamo, 35, comes from a rural family in Gar County of Ngari Prefecture. She was left with a lifelong disability in her left leg from a traffic accident suffered on her way back home after school in 1993. Nevertheless, she made up her mind to stand up again and to continue her study. To her dismay, the deterioration of her physical condition eventually forced her to leave school when she graduated from middle school.
The unexpected death of her mother was another blow to Lhamo just when she could stand up by herself. At that time, officials from the Women's Federation of Gar County encouraged her to change her life through hard work. With the support of the women's federation, she got a small loan and opened a shop in 2012.
In 2016, Lhamo got another loan and expanded the scale of her store. In 2017, her family escaped poverty, and she now lives a well-off life. She continues to do her utmost to assist impoverished people and the elderly living alone with no family.
The 55-year-old Li has lived with her teenage daughter and made a living by selling handmade brooms since her divorce in 2008. Her daughter visited Li's business partners from door to door, and borrowed money from them to care for Li when a malignant tumor was found in her stomach in 2013.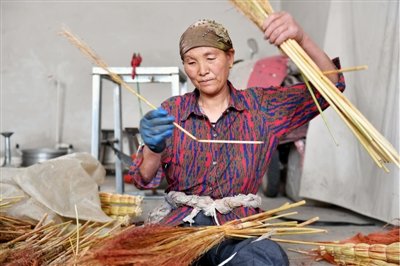 Li Yaomei is making a broom. [Ningxia Daily]
Li suffered serious injuries in her head, neck and legs in a traffic accident in October 2015. This time, she accumulated a new loan of 160,000 yuan (US $ 22,724) to pay for her medical expenses.
It took only three years for Li to pay back her previous loans through her broom business.
With the support of her daughter, Li has live-streamed her business and has become very popular with her online followers since she became involved with the internet in February 2018.
Li built a partnership with several impoverished families in the expansion of her broom-making business after she became rich. Every year, she helps at least 20 impoverished people get jobs.
The other female recipients of the Awards this year have all made countless efforts to bring the hope of a better life to impoverished people.
Qin Qian, 33, is a good example of making great efforts. She was appointed the first secretary of Sunzhuang Village in Zhoukou, a city in Central China's Henan Province, in November 2016.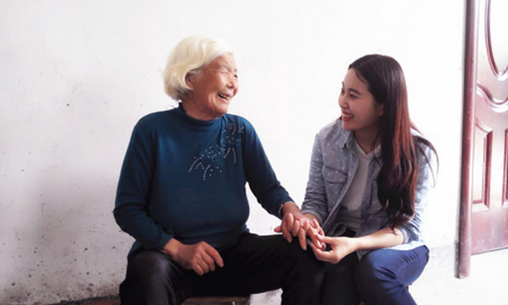 Qin Qian visits a local resident. [China Youth Daily]
Under her leadership, the village has built its own brand of spicy soup, a specialty of the province. Qin also boosted the willingness of local parents to send their children to universities and colleges through scholarships. In addition, she helped patients from impoverished families receive treatment and prevented them from falling into illness-caused poverty. Meanwhile, the village has invested several million yuan to pave its cemented road, plant more trees, and install streetlights. The village also invested money to build a canteen, football field and an administrative building for its primary school. Qin has helped the locals improve the living environment as well.
Thanks to Qin's efforts, the village's incidence of poverty has dropped from 34.2 percent several years ago to the current 0.9 percent.
Liu Qifang is a winner of the Award for Dedication. She is head of a social work service center in Changchun, capital of Northeast China's Jilin Province.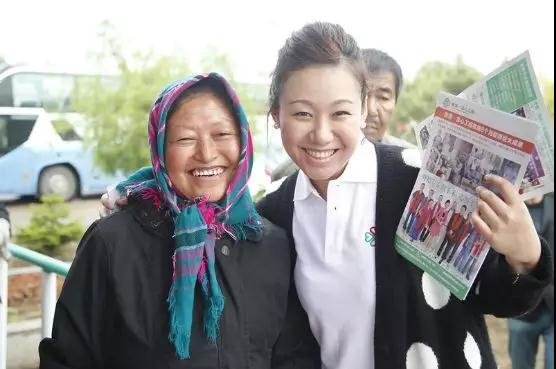 Liu Qifang and one of the beneficiaries of her charity project.[For Women of China]
After giving up the comfortable life in Beijing, Liu began working as a volunteer in Changchun in August 2014. She and her team of volunteers have helped more than 14,000 impoverished people with heart disease in rural areas of Jilin receive free heart surgeries in six years.
Jia Ru, head of a business incubation center in Xingtang County, North China's Hebei Province, is another recipient of the Award for Dedication.
The idea of giving necessary assistance to people with physical disabilities came to Jia when she opened her first store in early 2007.
Since then, Jia has never suspended her endeavors to help underprivileged people in the management of her business. She has opened 70 workshops in the county and helped 850 people with physical disabilities from 330 villages get jobs.
Wang Zheng, Liu Faying, Leng Juzhen and Jin Liping, were granted the Award for Innovation.
Jin is a researcher at the Institute of Vegetables and Flowers affiliated to the Chinese Academy of Agricultural Sciences. For three decades, she has led her teammates in a scientific study of potatoes and used their new scientific knowledge in the poverty-alleviation campaign.
Liu Faying, deputy headmaster of a primary school in Changyang County, Yichang City, Central China's Hubei Province, launched the first website of financial aid for education in China which has raised 21.17 million yuan from more than 1,990 people in over 10 countries and regions in the past 14 years. The donation has aided 21,000 students in poverty-stricken areas.
(Source: China Women's News/Translated and edited by Women of China)