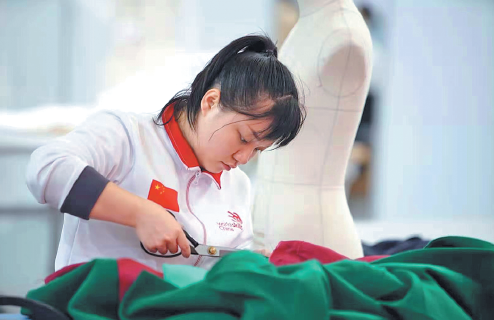 Wen Caiyun makes a coat during the 45th WorldSkills Competition held in the Russian city of Kazan in August. [For China Daily]
Playing with dolls may seem childish, but for 21-year-old Wen Caiyun it set her on the path to a world championship in fashion skills.
A graduate of Baiyun Technician College of Business and Technology in Guangzhou, Guangdong Province, Wen won the fashion technology competition at the 45th WorldSkills Competition held in the Russian city of Kazan in August.
The four-day contest was staged over 18 hours and covered four modules — drawing two formal items of attire, making a pattern for a skirt, designing and making a coat, and draping a dress.
The requirements for each module were only revealed to the contestants shortly before the contest started.
According to the website of the competition organizer, a fashion technology practitioner "designs and creates garments based on an understanding of aesthetics."
The practitioner must also have a strong foundation of technical skills including "design, pattern-making and use of specialized equipment for pattern-making, cutting, and manufacture."
Wen's interest in fashion started when she visited a doll-making company in Chaozhou, Guangdong, age 3, where her aunt Wen Li designed dolls' clothes.
When she was about 13, Wen Caiyun also visited a doll plant in Shantou, Guangdong, which her aunt had moved to for work.
"She liked the different designs. She liked to ask questions about designs and made one or two pieces in the design room," said Wen Li, a self-taught designer.
When she was about 7, Wen Caiyun started sewing dolls' clothes by hand at her home in Zhanjiang, Guangdong, using the materials from her old clothes. She started using a sewing machine when she was about 11.
Wen Li brought home dolls of different sizes for her niece to dress up. "Caiyun's grandma would tell me with joy over the phone that Caiyun had made a new and better piece of clothing," the aunt said.
Wen Caiyun said she liked playing with dolls and making clothes for them.
"It's a rather simple process," she said. "If I think a design is beautiful and convenient to make, I make it."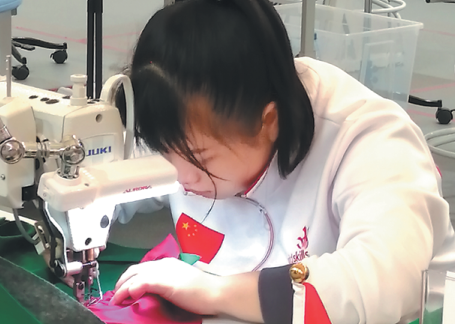 Wen uses a sewing machine to finish a project. [For China Daily]
Learning her craft
After junior high school Wen Caiyun failed to get into her preferred high school. Once again Wen Li was her guardian angel, accompanying her on a trip to Guangzhou to select a vocational school.
Based on her interest in fashion, Wen Caiyun landed a place in a five-year program in fashion brand design and brand planning at Baiyun Technician College of Business and Technology.
"It was interesting and fun. In design classes, we drew pictures together. The atmosphere was nice. In craft classes, we made clothes and some small items like animal patterns and bags. My favorite clothes are evening dresses," Wen Caiyun said. She also learned the latest trends from fashion magazines in the school library.
A teacher recommended she try to compete in the 44th WorldSkills Competition in Abu Dhabi, United Arab Emirates, in 2017.
She became one of the 10 national candidates, but failed to secure the top place needed to qualify for the competition.
Wen Caiyun then took a one-year internship at an evening dress company, designing in lace and patterned cloth.
When the qualifying events for the competition in Kazan approached last year, teachers persuaded Wen Caiyun to try again. Jiang Shaorong, head of the fashion department at the college, said she was feeling discouraged by her previous failure.
The training was tough, both for Wen Caiyun and the teachers, who spent plenty of their spare time helping her perfect her skills and preparing her to cope with the psychological ups and down.
Training in the last few months before the contest was tough, with more than 12 hours' work a day. "Sometimes I felt tired and bored. Then I took a rest," Wen Caiyun said.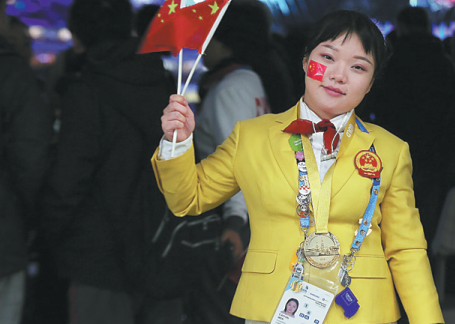 Wen attends the competition's award ceremony. [For China Daily]
She also prepared herself through simulated contests. "Every day, a teacher gave me a picture and I started to work on it immediately. This was meant to test my on-the-spot capabilities."
The training helped Wen Caiyun become calm and her performance during the contest in Kazan was steady, except for one incident.
During the last module, with 10 minutes left to complete the task, she found she could barely sew up the back of the dress because she had hastily made the cut at the hip too straight. She fixed the problem by reducing the seams.
Winning the contest was not only reward for years of training, but also a result of the teamwork involving teachers, Wen Caiyun said.
The training helped her improve her knowledge, techniques and communication skills, which helped her overcome her natural introversion. It also gave her access to some of the best teachers in the country and has been financially rewarding.
Wen Caiyun has received more than 1.6 million yuan ($227,100) in awards from governments and the school.
Jiang Shaorong, head of the fashion department at the college, said: "Caiyun is now outstanding in skills, design, pattern-making and manufacture. I hope she can further improve her design knowledge and theories."
Wen Caiyun will soon apply for admission to the Guangzhou campus of a French fashion school to further her studies. She is also considering setting up a workshop at Baiyun Technician College of Business and Technology where she hopes to make designs and help train students.
(Source: China Daily)