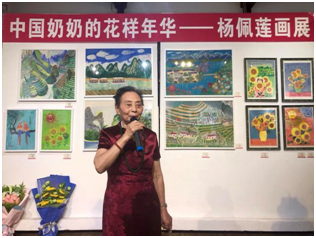 Yang Peilian speaks at her painting exhibition in the 798 Art Zone in Beijing earlier this year. [For Women of China]
If you thought a famous painter should have painting as a hobby at an early age, think again.
Yang Peilian, an 80-year-old lady, started to learn painting at 75 and has gained fame for the childlike delight in her works.
An enxhibition of her paintings, which lasted from September 21 to October 21, was staged at the 798 Art Zone in Beijing.
One of Yang Peilian's woks [China Women's News]
Though Yang's paintings have different styles and themes, covering flowers-and-birds, figures, landscapes and animals, visitors can easily find and be attracted by the commonalities among them — bright colors and childlike delights that create a wonderful world with warmth and brilliance.
Yang Peilian's woks [artron.net]
Pigs, trees, dogs, blue sky, white clouds, flowers, cottages, boats, the earth, the sun and the universe are all images in her paintings. She combines her experience and unique imaginings to create different stories with her brush, which also mirror her innermost being.
One of Yang Peilian's works [artron.net]
Born in a village in Ningxiang, in Central China's Hunan Province, Yang was once a teacher and businesswoman.
Huang Lin, Yang's daughter, still remembers her mother's first paining, which shows Yang turning a millstone to convert grain into millet. Her mother created it for her autobiography, which she was writing at that time.
One day, she told Huang that she wanted to show the millstone she remembered to her readers, but did not know how to describe it in words. But she could draw it out.
Huang was surprised to hear that and later she saw a millstone emerging on paper.
From then on, Yang fell in love with painting and steered her interest from writing to painting.
Though she had not attended regular training courses, Yang developed her own style of painting — taking everything in nature as her source of inspiration.
Most of her works capture the trifling details in daily life and originated from her real experience.
"In my mother's paintings, every plant and animal is psychic, and every person has a unique taste," Huang said, adding that they show their natural instinct of curiosity just like children.
Yang's paintings are gaining more popularity and have been exhibited in Beijing, Macao Special Administrative Region and Zhuhai, a city in South China's Guangdong Province.
Her personal collection of works has been published, and some of her masterpieces are collected by institutions and collectors from Beijing, Hong Kong Special Administrative Region. Her masterpieces are even collected by collectors in the United States and the United Kingdom.
(Source: China Women's News/ Translated and edited by Women of China)