Zhuo Changli, chairperson of Sunshine Elder Sister, a housekeeping-service company in Jinan, capital of East China's Shandong Province. [China Women's News]
Zhuo Changli will never forget October 1 of this year, when she stood on one of the floats in the parade during the celerations marking the 70th anniversary of the founding of the People's Republic of China at Tian'anmen Square in Beijing as a representative of national excellent Party members.
Zhuo, 56, is in charge of a housekeeping service company named Sunshine Elder Sister in Jinan, East China's Shandong Province. Over the past 16 years, the company has helped offer nearly two million jobs to the unemployed, mostly laid-off workers and migrant workers from rural areas.
Zhuo was once a laid-off worker. Nearly 30 years ago, Zhuo ran a hotel after she was laid off, helping over 60 laid-off women regain jobs and making herself a model of reemployment.
In 2003, she was entrusted by the Women's Federation of Jinan City to take charge of Sunshine Elder Sister. Since then, she has devoted herself to helping housekeepers live a better life by bringing high-quality services to customers and contributing to the development of the local housekeeping service.
On March 8, 2018, General Secretary Xi Jinping joined in a panel discussion of the National People's Congress attended by Zhuo and other deputies from Shandong Province, saying housekeeping was a sunrise industry, and played a significant role in providing jobs to migrant workers while catering to the needs of urban families for baby and elder care.
General Secretary Xi Jinping's instructions gave her a lot of confidence, Zhuo said, and made her more determined to do a better job in the housekeeping sector.
To improve the housekeeping service, Zhuo led her company in developing a systematic housekeeping-service training system.
By providing professional training sessions, the company has helped more than 7,000 people grow into senior housekeepers, including some 40 housekeepers who enjoy governmental allowances or have received awards for their outstanding vocational skills and service quality.
In 2019, the company was listed as the only housekeeping company having the qualification to evaluate vocational education in China. It is qualified to issue vocational skill certificate of maternal-child nursing.
Zhuo established standardized management concepts and took scientific measures to manage her company. She built a 50,000-square-meter housekeeping project integrating training, research and innovation, informatization and business incubation to upgrade the industry. She has also launched an information management platform of housekeeping service to develop intelligent housekeeping service and better serve people. Her company has become a demonstration project for standardizing the service industry.
"People are at the core of the domestic service industry. What we do is to turn 'nannies into talents'," Zhuo said. "I will not forget my original aspiration and continue to do better in housekeeping service sector."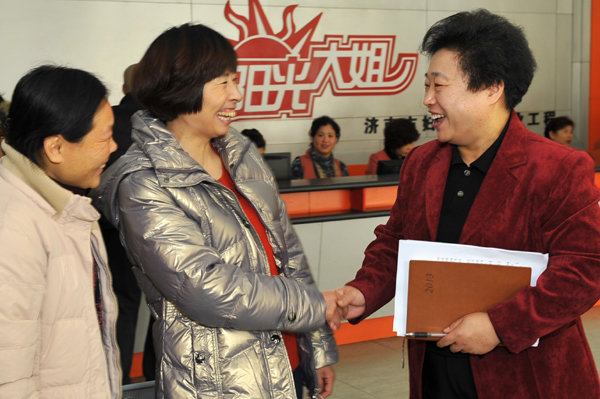 Deputy to National People's Congress Zhuo Changli (R) talks with nannies at the housekeeping company Sunshine Elder Sister in Jinan, capital of East China's Shandong Province, February 20, 2013. [Xinhua]
(Source: China Women's News/Translated and edited by Women of China)