Zheng Xuan teaches students sign language. [Chinanews.com]
This is a mute class.
Zheng Xuan, standing at the front of a classroom in Chongqing Normal University, is using sign language to teach 24 deaf students how to communicate in the Chinese language with their hands.
Dressed in a black formal suit, she has short hair and speaks fluent Mandarin. It is hard to connect her with hearing-impaired people if we ignore the hearing-aid device on her ears.
Zheng was born in Wuhan, capital city of Central China's Hubei Province, in 1981. She lost her hearing at 2 years old in an accident.
"My parents didn't give up on me," Zheng said. They saved money to buy a recorder for her in order to train her pronunciation. With long and arduous family rehabilitation training, she learned to communicate at a marvelous level with others by a hearing-aid device and lip-reading.
Zheng successively studied at Wuhan University in Hubei and then Fudan University in Shanghai. She got a PhD in 2009, the first sign language doctorate holder in China. She is good at Chinese, English and Chinese and American sign languages.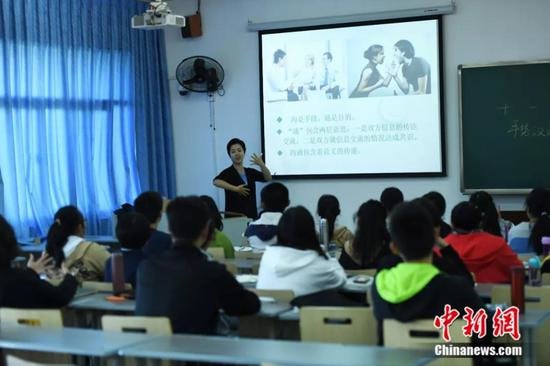 Zheng Xuan teaches a class [Chinanews.com]
"When I was young, I didn't have complete and fluent communication. Sometimes, the teacher told a joke and all the students laughed except me, because I couldn't hear what the teacher was saying," said Zheng, adding that she felt like an outsider who was isolated from information.
The experience in her childhood makes her understand how tough it is for an exceptional child to grow up to be a talent.
"It may take 10 times as much energy to teach something to a hearing-impaired student as it does to teach a student with normal hearing," said Zheng. In order to teach hearing-impaired students well, she usually prepares content design for class late at night for the better presentation of each gesture.
To give students in-depth knowledge on various topics and to encourage them to communicate, Zheng and students usually play games in class. The relaxing and interactive class atmosphere and Zheng's proficient gestures have even attracted many students from other universities to attend her classes.
Zheng won the title of "the most popular teacher among graduates of Chongqing Normal University" for several consecutive years, and she was elected as "the most beautiful teacher in China" in 2018.
Not only focused on teaching students sign language, Zheng pays great attention to rebuilding their confidence. Liu Shuangshuang, who graduated six years ago, still remembers Zheng's encouragement.
Because of her impaired hearing, Liu was afraid to communicate with others; however, with Zheng's encouragement and support, she confidently gave play to her talents in dancing and participated in many dance performances. Her performance Invisible Wings was even staged on Dream Show, one of China's most popular programs, and moved countless viewers.
Believing that "Disability is not a defect, it is a characteristic of human life diversification," Zheng encourages her students not to refuse to embrace beautiful things in the world just because of their physical defects. She follows her own advice. Zheng can dance, sing Yueju Opera and write articles. Her versatility has exerted great influence on her students who are becoming more positive in their lives.
Zheng set up the Research Center of Sign Language and Deafness Education in Chongqing Normal University to promote the professionalization of sign language translation and to carry out teaching, scientific research and social service. She also visits local special schools or agencies for the disabled when she can, even on business trips. To date, she had been to more than 30 provinces, municipalities and autonomous regions.
Over the past decade, Zheng has concentrated on educating hearing-impaired people in sign language and has expanded her research subjects to areas such as sign language, early intervention in hearing-impaired children and integrated education for hearing-impaired students. She has released 25 academic papers and published four books and textbooks. In the future, she will dedicate herself to researching China's common sign language and make new contributions to China's sign language education for people in need.
(Source: China Women's News/Translated and edited by Women of China)