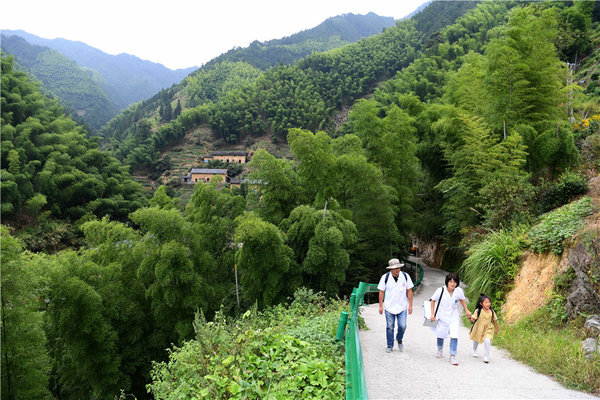 Zhang Qingyu and her parents in Qingxi Village, Anhui Province. [Xinhua]
The young daughter of two doctors makes herself at home deep in the mountains as she follows her parents on their medical mission.
Seven-year-old Zhang Qingyu recently bid farewell to her teachers and classmates in Hefei, Anhui Province, and transferred to Huangjian Central Primary School in Xiuning County, in Huangshan City, more than 400 kilometers away. Together with her parents, she has started a two-year "resident in the village" life.
Qingyu's mother Xu Xiaochan and her father Zhang Jianming are doctors at the Second Affiliated Hospital of Anhui University of Traditional Chinese Medicine and the Second Affiliated Hospital of Anhui Medical University.
Zhang Qingyu and her parents in Qingxi Village, Anhui Province. [Xinhua]
The couple signed up to participate in the "Healthy Poverty Alleviation in the village" program in Anhui. At the beginning of July, the family moved near Qingxi Village and Xujia Village in Huangjian Township to begin their two-year stint as resident doctors.
Huangjian township is located in the mountains at the junction of Xiuning County of Anhui Province and Chun'an county of Zhejiang Province. The average elevation is 820 meters. The area is sparsely populated and has poor transportation. The two villages did not have enough doctors, and the couple's arrival has filled the gap.
The duo will cater to the medical and public health needs of about 700 permanent residents there. Prior to their arrival, the villagers in Qingxi had to walk 6 kilometers to see a doctor at the Huangjian Township Health Center.
Xu Xiaochan practices cupping therapy in the Huangjian Township Health Center. [Xinhua]
While the villagers' medical issues have been resolved with the arrival of the doctors, the doctors' daughter had to find a proper school as she insisted on being with her parents and was willing to transfer to the village. So, the couple then decided to make her transfer to the Huangjian Central Primary School.
Speaking about the school, Xu says: "We (she and her husband) both grew up in the countryside and hope that our daughters will have the same experience. The green mountains and water here will become a second class for her."
There are more than 90 students in the school, and 15 students in the second grade. And Qingyu quickly integrated into the new group.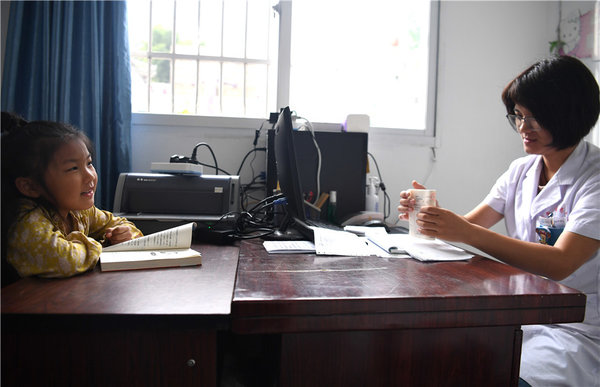 Zhang Qingyu accompanies her mother in Qingxi Village's clinic. [Xinhua]
Qingyu's parents provide medical services for the villagers in Qingxi. [Xinhua]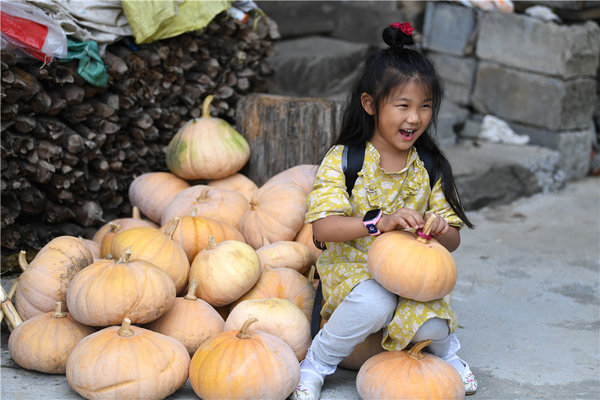 Zhang Qingyu sits on a pile of pumpkins in a villager's home. [Xinhua]
Qingyu attends a class at the Huangjian Central Primary School. [Xinhua]
Qingyu sits in a chair in front of Qingxi village's clinic. [Xinhua]
(Source: Xinhua)