Lu Yutong outshines in the field of supercomputing, where men greatly outnumber women. She leads the National Supercomputer Center in Guangzhou, and is deputy chief designer for the Yinhe supercomputers, as well as the Tianhe-1 and Tianhe-2. [For China Daily]
Women like Lu Yutong are a rare exception in this field.
When it comes to supercomputing — a field dominated by men — it's unusual to see a woman in high places. But here she is.
Lu Yutong served as the first program chair for the world's oldest conference dealing with high-performance computing, the ISC, which was held in Frankfurt, Germany, in June.
Lu is unusual in China, too. She is director of the National Supercomputer Center in Guangzhou, Guangdong Province, and one of 10 fellows of the conference, a group of people deemed to have made important contributions to the advancement of high-performance computing.
Although she has been participating in the event for 10 years and was the first Chinese to deliver a keynote speech at the event in 2015, she sees herself as representing something bigger-the global position of China and the influence of the country's technological achievements.
"If not me, someone else would do it sooner or later," she says, adding that the relatively small club of people devoted to high-performance computing worldwide wants more participation-from research to volunteer work.
Gender equation
Gender parity remains elusive among researchers, according to a UNESCO science report in 2015. Globally, women's participation in research is something of a leaky pipe, it says.
Women are actively pursuing bachelor's and master's degrees and even outnumber men at those levels, with 53 percent of graduates, the report says. But their numbers drop off abruptly at the PhD level. Suddenly, male graduates (57 percent) overtake women. The discrepancy widens at the researcher level, the report says, with men representing 72 percent of the pool globally.
"The sheer drop in female researchers to less than 30 percent globally indicates that serious barriers remain to the full participation of women in science and engineering," the report says."At the transition from master's to PhD level then, as they climb the rungs of the career ladder, a number of women are lost to science. Even women who embark on a career in science or engineering often leave their jobs for family reasons or change career paths more often than men."
Nevertheless, Lu says, in the field of supercomputing, where men greatly outnumber women, they are not competitors but colleagues, because the project is massive and calls for concerted cooperation in a team of only a few hundred people.
"We work for the same cause," Lu says. "I don't think women have obstacles in scientific research. They are by no means inferior in intelligence or capability to men. They should not set limits on themselves and should instead make their presence felt in their professions, capitalizing on their strong logic and communication skills."
Lu's career in supercomputing started before university graduation, when one of her teachers was involved in the development of the Yinhe-2. Back then, all the programs used character-based interfaces and any typographical error would mean starting the work all over again.
Lu needed to concentrate and take every step patiently.
"The older generation of workers for the Yinhe project developed the processor and all the hardware and software independently and with meticulous care," she says. "Their spirit has been passed on all the way to Tianhe-2."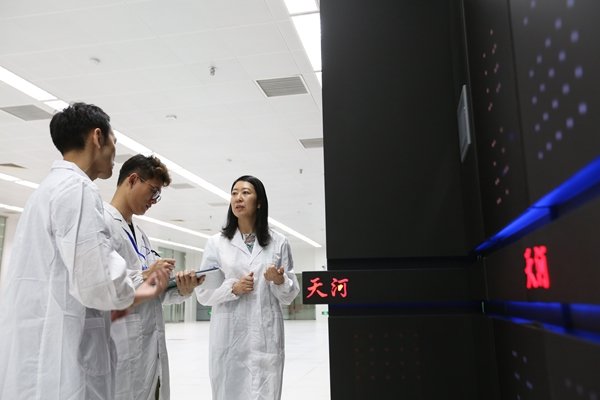 Lu Yutong outshines in the field of supercomputing, where men greatly outnumber women. She leads the National Supercomputer Center in Guangzhou, and is deputy chief designer for the Yinhe supercomputers, as well as the Tianhe-1 and Tianhe-2. [For China Daily]
Power game
China continues to be at the cutting edge of supercomputing as measured by number of systems, according to a semiannual ranking of the Top 500 published at the 2019 supercomputing conference. With 219 systems, it had more than the 116 in the United States and the 29 in Japan.
US-built supercomputers, dubbed Summit and Sierra, retained the first two positions for overall computing power.
China's Sunway Taihu Light supercomputer held the third position and China's Tianhe-2A at Lu's center was fourth on the list. Competition is fierce, and different systems worldwide seem to take turns leading the pack, Lu says. Tianhe-2 scored No 1 for six consecutive times after being installed in Guangzhou in 2013.
What differentiates Tianhe-2 from other systems is its ability to foster applications, she says.
Direct users surged from fewer than 700 to 3,600 last year, including more than 500 corporate users. Nearly half of the uses are located in Guangdong province, the largest provincial-level economy in China.
"Local governments hope we will support their industrial transformations and upgrades. Supercomputing has a rather high threshold for enterprises to use. So we have developed different application platforms for various fields to allow researchers to use it through tools they are familiar with," Lu says.
The center has developed six applications in the fields of smart cities and artificial intelligence; astronomy and geophysics; atmospheric and marine environments; biopharmaceuticals and health; strategic engineering and advanced manufacturing; and new energy and new materials.
"Supercomputing means creativity. And it plays a very important role in building an international innovation center in the Guangdong-Hong Kong-Macao Greater Bay Area," Lu says.
Supercomputing capacity, which allows talented people to move higher from their already high standing, helps attract them to the region, she says.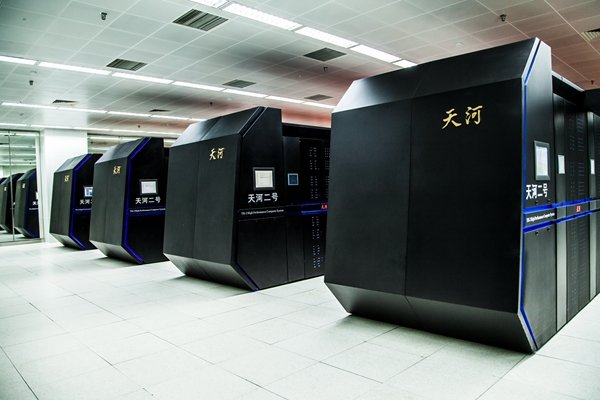 Tianhe-2 [For China Daily]
Following the dream
Lu's center, which is operated and managed by the Guangzhou-based Sun Yat-sen University, plans to double or triple the Tianhe-2's capacity by next year and to upgrade the entire system in the five-year period after that.
Lu, who holds a doctorate from the National University of Defense Technology, is deputy chief designer for the Yinhe (Galaxy) supercomputers, as well as the Tianhe-1 and Tianhe-2.
"Everybody has a dream of becoming a scientist in childhood," says Lu, smiling. And she learned about the successful development of Yinhe-1, the country's first supercomputer, in 1983, when she was in high school. So, she applied to the university and started down the high-tech road.
She transferred to the National Supercomputer Center in Guangzhou in 2016 and improved its structure and management system. She is currently director of the China Computer Federation's committee for women's computing.
As for the low share of women in the science-and-technology workforce, she says: "I was barely aware of this issue before I joined the committee for women's computing. But I have been lucky. I didn't feel gender inequality in my teams, either in ability or effectiveness. Women took long night shifts, without resorting to cigarettes."
Female scientists excel in some particular ways, she says. While keeping in mind the full technological spectrum, they are better with details. And they communicate well, Lu says, adding that teamwork and coordination are crucial in large projects like supercomputing.
But women are even less present in the supercomputing field than in some other science sectors, such as biotech, she says, noting that there were more women at the international supercomputer conference this year than last.
"I tell myself and my students, including women, don't set limits on yourself. There is no substantial difference in the working ability between men and women," Lu says.
"Women are not doing some work as much as men for various reasons, but that doesn't mean they are not able to do it. As society and the economy develop, women are increasingly being freed from family chores. And they will accomplish more as they reach their full potential."
A number of the research achievements made with the aid of Tianhe-2 were published in international science journals, including Nature, Cell and Science.
And corporate clients of Tianhe-2 include automobile makers, shipbuilders, wind-power generators and home-appliance producers.
Research success
Fast is the watchword: An industrial design or genetic analysis, for example, which may normally require three to six months, can be completed in an hour using the supercomputer.
The system also supports smartcity applications, including traffic management.
So far, seven subcenters have been established in Guangzhou, Zhuhai, Zhongshan, Shenzhen, Huizhou and Foshan in Guangdong to facilitate innovation. And others are being considered for Dongguan and Zhaoqing.
Midea, a leading home-appliances maker in China, has been using the services of the National Supercomputer Center in Guangzhou since 2017. And with digital-simulation technology, calculation time can be reduced from two to three weeks to one or two days, says Chen Feifan, advanced research senior engineer of the group's small-domestic-appliance division.
"Midea has been speeding up its input in fundamental technology research," Chen says.
The Hong Kong University of Science and Technology's Fok Ying-tung Research Institute has been aided by the supercomputer center in doing oceanic-simulation research involving the South China Sea, as well as for research in biomacromolecule simulation, nanotechnology and mechanical engineering, says Gao Min, division manager at the institute.
A great deal of tech research would be impossible without supercomputers, he says.
Through a multiservice transfer platform, the supercomputing system is connected through its subcenter at Gao's institute in Guangzhou's Nansha district to Hong Kong University of Science and Technology, from which the system extends to some other universities in Hong Kong.
Universities also use the services of the National Supercomputer Center in Guangzhou. And many teachers are using it in a substantial way, Gao says. He hopes to extend the service to all eight universities in Hong Kong.
A supercomputer alliance covering Guangdong and the Hong Kong and Macao special administrative regions was set up last year.
(Source: China Daily)