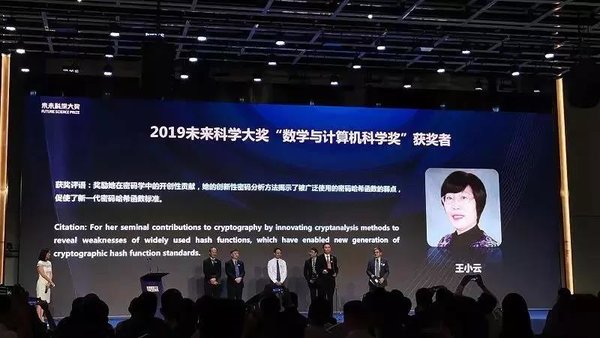 The award ceremony of the 2019 Future Science is held in Beijing on September 7. Wang Xiaoyun became the first female winner of the Future Science Prize.
Wang Xiaoyun, with the Institute for Advanced Study of Tsinghua University, became the first female Future Science Prize winner since the prize was established in 2016, according to an announcement made by the award committee in Beijing on September 7.
Wang won the prize in mathematics and computer science for her contributions to cryptography by innovating methods to reveal weaknesses of widely used hash functions and make a new generation of hash function standards.
The prize was established by a group of domestic scientists and entrepreneurs in 2016.It aims to award scientists who have made original and innovative research achievements in the three categories of life sciences, physical science, and mathematics and computer science in the Chinese mainland, Hong Kong, Macao and Taiwan regardless of their nationalities.
The prize is given to each of the three categories with U.S. $1 million for each award. Each category has four selected donors.
Other winners of the 2019 Future Science Prize included Shao Feng, a senior researcher from National Institute of Biological Sciences, Beijing for life sciences; Wang Yifang, a professor at the Institute of High Energy Physics of the Chinese Academy of Sciences, and Luk Kam-Biu, a professor at the Physics Department of the University of California (Berkeley), for physical science. They discovered a new type of neutrino oscillations, which could be the key to understanding the matter-antimatter asymmetry in the Universe.
An introduction to Shao Feng, another winner of the award in life sciences
Wang Yifang and Luk Kam-Biu jointly win the prize for physical science.
(Source: Women Voice / Translated and edited by Women of China)
Please understand that womenofchina.cn,a non-profit, information-communication website, cannot reach every writer before using articles and images. For copyright issues, please contact us by emailing: website@womenofchina.cn. The articles published and opinions expressed on this website represent the opinions of writers and are not necessarily shared by womenofchina.cn.