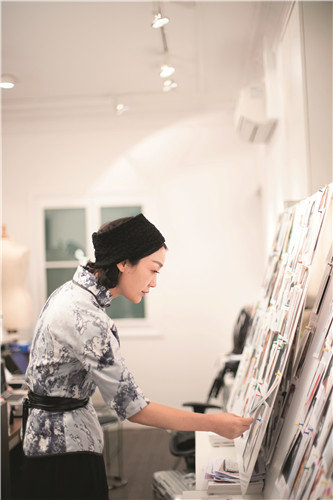 Xiong Ying, founder and art director of fashion brand Heaven Gaia [Women of China]
Xiong Ying, founder and art director of fashion brand Heaven Gaia, is the first Chinese fashion designer to be featured in Show Details, the top Italian fashion magazine. She is also the first Chinese designer to hold a fashion show in the renowned Opéra de Paris, in France. Xiong attaches great importance to the combination of Chinese culture and fashion design, and her fashion shows always stun spectators. She strives to both create beautiful dresses and use those designs to spread Oriental beauty throughout the world.
Growing in Love
Xiong is grateful that her family is full of love, and that she grew up in a loving and comfortable family environment. Her mother, who is extroverted and kind- hearted, always encourages and takes good care of her.
When she was a child, her mother and some relatives often bought her stylish clothes. She usually looked more fashionable than other children. At that time, she began developing a sense of fashion. She still remembers the details of some of her childhood clothes.
Her mother had some precious embroidered clothes and ornaments, which were handed down from generation to generation. Xiong was fascinated by those clothes and ornaments. Her mother hangs those items in the sun once a year to prevent them from being destroyed by moths.
Xiong's mother, with love and wisdom, has a great influence on her. Xiong admires her mother, whose love always leaves her feeling energetic. The name of her brand, Heaven Gaia, is related to a mother, Gaia, who is the primordial Goddess of Earth, and who is known as the Mother of All in Greek mythology. Xiong hopes the dresses she designs will promote the beauty of women, especially Chinese women.
Talented Designer
Xiong has a keen sense of beauty and fashion. She developed an interest in fashion design when she was still a child. She knew how to match her clothes in an admirable fashion.
She also used her pocket money to buy various kinds of cloth. She drew designs and took her drawings to tailors, who helped make clothes based on her designs.
Xiong's diverse designs embody the beauty and charm of Oriental culture. Xiong says she is lucky to have become a fashion designer in a country that has more than 5,000 years of history.
"Chinese culture resembles an endless treasure that constantly offers inspiration for me to make good designs. Chinese fine arts and crafts, such as porcelains, ink-and-wash paintings and handmade dyeing skills, give me great inspiration when I design clothes," she says.
Xiong is referred to as the "Queen of Spring Festival," because she has been chief costume designer of the Spring Festival gala, directed and broadcast by China Central Television (CCTV), many times since 2008.
She has also designed clothes for hostesses and celebrities. She designs dresses according to her customers' characteristics and the occasions during which they will wear the dresses.
Xiong knows how to design dresses that look fabulous in front of the camera. She also helps her customers select the most appropriate make-up, hairstyles, ornaments and shoes to match the dresses.
It is the dream of many young hostesses to be able to host a gala while wearing a dress designed by Xiong. Many celebrities ask her to make a tailored dress for them to wear as they walk the red carpets at international film festivals.
Creating a Brand
Xiong and her friend, Wang Tingying, cofounded Heaven Gaia in 2013. Xiong has described the brand's concept as "showing gratitude to heaven and the earth." She hopes to blend fashion designs with ancient Chinese philosophy, which emphasizes harmony between nature and humans.
During China Fashion Week in 2015, a fashion show featuring Heaven Gaia dresses impressed the spectators. The brand has been growing in popularity since then.
The next year, Heaven Gaia highlighted, on stage, top-quality clothes on the last day of Paris Fashion Week (October 5). It was the first time a Chinese brand held a show in Opéra de Paris.
The designs of the dresses were inspired by the Old Summer Palace (or Yuan Ming Yuan, originally called the Imperial Gardens, a complex of palaces and gardens in Haidian District, Beijing).
The colors of the clothes reflected marvelous landscapes, as depicted in traditional Chinese ink-and- wash paintings. Many of the spectators were impressed by the embroidering and other ornaments, which represented the elegance and beauty of Chinese fashion designs.
Some spectators were even moved to tears when they watched the stunning fashion show. "I felt happy people recognized our brand, and they were touched by the Oriental culture that our designs conveyed," Xiong recalls.
In September 2017, Xiong and her team staged a fashion show, with the theme of Inheriting, in Opéra de Paris again. That show provided a visual feast to spectators. The designs of the dresses during that show were inspired by the stories of four ancient beauties in China, including Xi Shi, Diao Chan, Yang Yuhuan and Wang Zhaojun.
Xiong attributes the success of her brand to the united and professional team of employees, who have passion for both design and Chinese culture.
"I am confident that Chinese designers can produce really good designs. Only if we truly understand our traditional culture, introduce it to the world, and help people from other countries understand what Chinese culture is about, will we produce good designs, which are widely accepted by people from around the world," she says.
Enjoying Work and Life
Xiong always remains calm, and she is always able to overcome the difficulties she encounters. She has both the courage to face challenges and the ability to solve problems. Therefore, she is often referred to as a "fire extinguisher" in the fashion industry. "She always solves problems in a calm and powerful manner," her colleagues say.
"When a person is doing a great thing, he/she will probably meet more difficulties than before. Since the brand was established, we have indeed encountered several major crises, but we have pulled through. The wonderful fashion shows on stage cannot happen without our teamwork off the stage," Xiong says.
To seek inspiration for her designs and shows, she visits many fashion cities, both at home and abroad, each year, and she experiences the culture and nature in different places. "When you enjoy your work, you may find that you have a continuous stream of inspiration," she says.
Xiong likes to smile. In her opinion, smiling dissolves all the troubles. She also has a good personality, and she rarely loses her temper. When she feels upset, she usually sits in meditation and listens to gentle music.
Xiong has a good relationship with her family, especially with her mother and daughter. In her daughter's eyes, Xiong is a super woman, who balances work and family no matter how busy she is. Xiong is also good at decorating the house in a beautiful and comfortable way.
"Nowadays, China has an increasing number of excellent fashion designers, who have made remarkable achievements. I hope China will have more say in the global fashion industry in the future," Xiong says. In September, Heaven Gaia will stage a fashion show, with the theme of Chinese Operas, in France.
"We hope our designs will touch the hearts of more people in the world, and those people will have a better understanding of traditional Chinese culture through our designs," she says.
(Women of China English Monthly July 2019 issue)