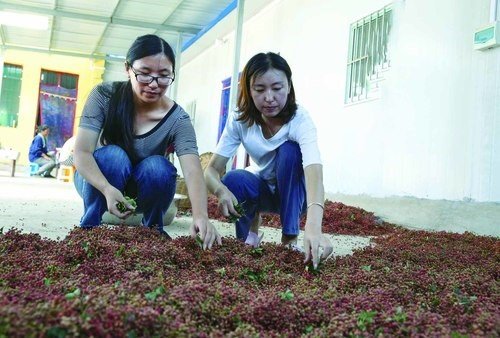 Dong Lihui (R) and Dong Huibo dry pepper in their cooperative. [China Women's News]
In the early autumn, you will find numerous Sichuan peppers hanging along the mountain roads, near the drying fields and on the ditch slopes in Xiaping Village, Caochuan Town, Pinglu County in North China's Shanxi Province.
It is the planting base of Zhongda Sichuan Pepper Planting Cooperative. Two sisiters, 33-year-old Dong Lihui and 28-year-old Dong Huibo, run the cooperative.
They became engaged in planting Sichuan pepper by following their father, who began to plant Sichuan pepper saplings in 2001. He kept increasing his investment by improving the equipment and infrastructure of the planting base.
In 2008, Dong Lihui returned to her hometown after graduating from university, to help her father with the Sichuan pepper business. In 2013, they established the pepper planting cooperative. The cooperative has developed well, and it has attracted many pepper merchants.
Thanks to the high quality, the purchasing price of local Sichuan peppers remains stable and slightly higher than those in the surrounding areas, which helps reduce risk for cooperative members and increases their income.
In 2016, Dong Huibo also went back to her hometown after graduating from the college, to run the cooperative with her sister.
To enhance the cooperative's development, they conduct planting and management in a scientific way. They use electric drying and screening equipment for stable quality and agricultural machinery for higher efficiency.
In 2017, they obtained 100,000 yuan (US $14,011.69) from the county's poverty–alleviation project, built a Sichuan-pepper greenhouse and purchased pepper baking and screening equipment that greatly improved their processing capacity.
In addition to offline marketing, they have also used online platforms to publicize and sell Sichuan pepper. By using the combined methods, they have attracted a large number of customers from other places.
The cooperative's Sichuan pepper business now earns a net income of 2.8 million yuan (US $400,000) a year. It helps increase the income of its members, especially poverty-stricken families and elderly villagers. Inspired by the cooperative, surrounding farmers planted more than 266.67 hectares of Sichuan peppers.
The cooperative's success played a demonstration role in the local Sichuan-pepper industry.
Local people in Pinglu County have planted nearly 4,000 hectares of Sichuan pepper which has become an important industry to help the locals escape poverty.
"We will provide all the services needed for local farmers to achieve mutual benefits," said Dong Lihui. "We will try our best to develop and expand the local Sichuan pepper industry to continuously improve the income of the farmers."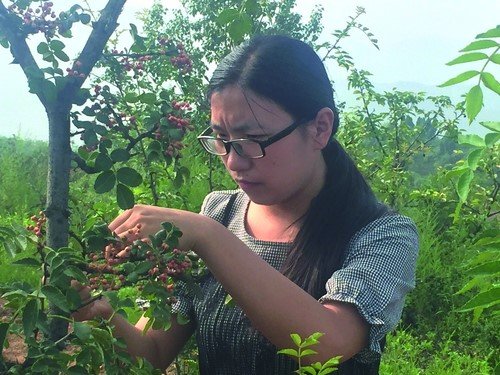 Dong Huibo inspects Sichuan peppers in the planting base. [China Women's News]
(Source: China Women's News/Translated and edited by Women of China)