Wang Jinxia [China Women's News]
A talented painter won first prize in the 3rd Guizhou Female Artists Exhibition recently, which was held at the Guizhou Museum, southwest China's Guizhou Province.
Wang Jinxia works in Guizhou Painting Institute. She recently spoke to journalists to share her story about her life and career.
Wang was born into an ordinary family without any connection with painting. She discovered her talents at an art class when she was nine years old.
She drew a perfect Santa Claus she had seen on a wall calendar, winning her lots of praise from teachers and classmates.
The affirmation and encouragement made her longing and aspiring for art all the more intense.
However, due to complicated reasons, Wang had no chance to learn painting in a systematic way.
Fortunately, she was admitted to Haimen Normal University. There, professional painting instructors taught her how to draw.
During the next 16 years, she experienced countless ups and downs in different cities, but Wang never gave up painting.
"Painting gives me the inner freedom I have been cherishing," said Wang.
Unlike many others, Wang focuses on traditional Chinese realism. For years, she focused on portraits of females.
"You can't paint well without patience, especially for realistic painting," she explained.
In her paintings, characters ranging from the elderly to lively or dynamic girls and innocent children are always composed of elegant colors and soft lines.
"My previous understanding of painting was superficial by focusing on simple techniques. It was Guizhou that inspired my creation," Wang admitted.
Wang's artistic career restarted as she walks into ancient villages, feeling their gorgeous color and local ethnic minority customs.
Two weeks ago, Wang's painting Little Bolisha and Her Partner won first prize at the exhibition.
It took her almost two weeks to paint the work showing a young girl in Miao ethnic costume. According to Wang, her inspiration comes from the Miao epic hero Yalu King's wife, Bolisha.
Wang, who has a keen interest in the Miao epic, has created a series of works on the theme of Bolisha, combining ancient and modern motifs with her own thoughts.
Although she is already a well-known painter, Wang said her dream now is to be an outstanding artist who contributes to the society.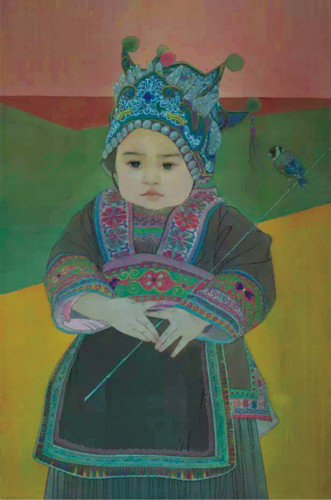 Wang Jinxia's work Little Bolisha and Her Partner [China Women's News]
(Source: China Women's News/Translated and edited by Women of China)